The
veterinarian platform

to help manage your practice
Acquire new patients, book revenue, get reviews and send patient reminders, all from one platform
Acquire new patients
Acquire new patients with multi-channel advertising
Get more reviews
Become one of the highest-rated veterinarian practice in your area
Appointment reminders
Appointment reminders, alerts, booking and scheduling
Marketing automation
Automate, manage and grow your veterinarian practice
Everything you need to help manage and grow your veterinarian practice from one platform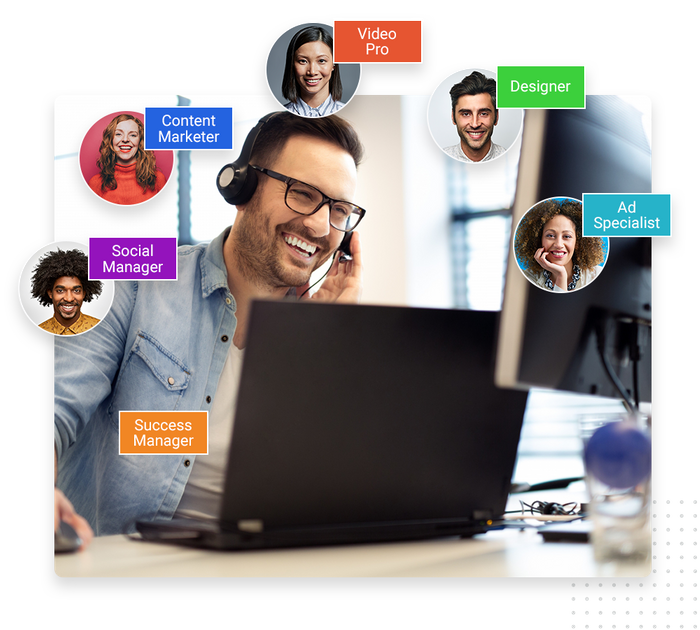 The marketing team to help you grow your veterinarian practice
Get the tools you need to help scale and manage your veterinarian practice, as well as do-it-for-you marketing programs and a dedicated marketing team — all from one platform. Let us focus on growing your veterinarian practice so you can focus on running it. Learn more.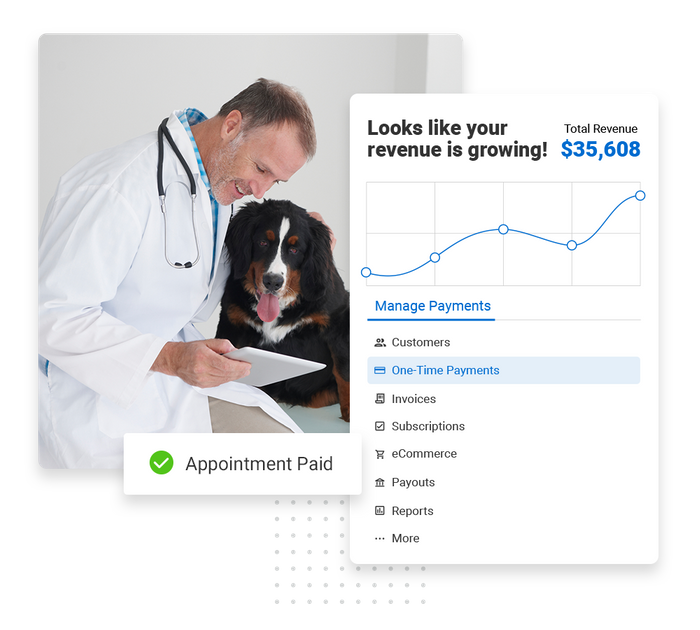 Easy and secure payment processing for your practice
Accept payments securely with Payments. It has everything you need to manage all of your payments from one place, as well as create and manage professional invoices.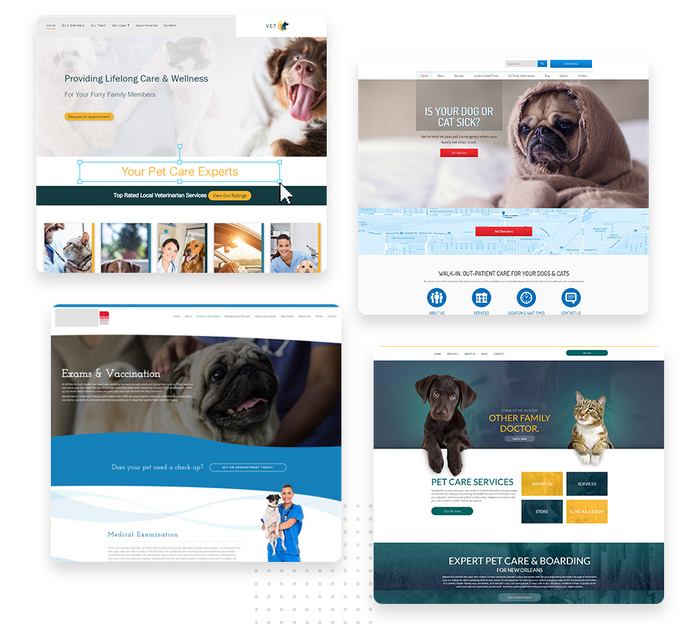 A veterinarian website that sets your practice apart
Make the right first impression on pet owners who only want the best for their companions with a modern, professional veterinarian website. Websites 360™ makes building your own website cost-effective, fast and easy.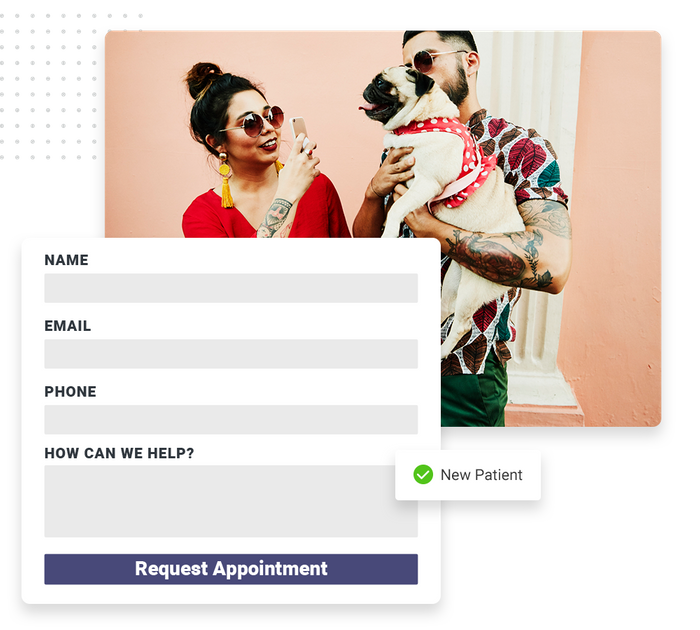 Ready-to-go veterinarian forms for your website
Get ready-to-go veterinarian forms for your website that sync with the CRM. All forms are easy to edit and customize. Marketing 360™ Forms gives you everything you need to build appointment request forms, contact forms, feedback forms and more.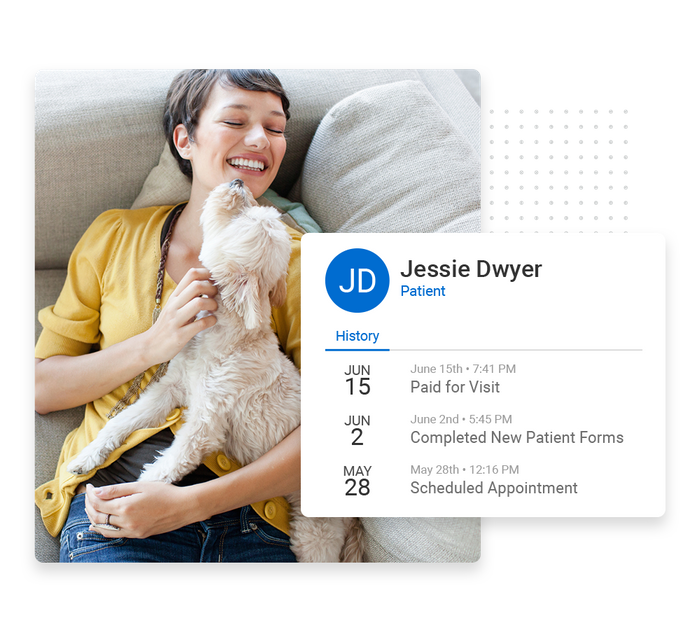 Simplify patient management in your veterinarian practice
Keep track of all patient data — birthday, breed, medical history, allergies, etc. — as well as your contacts, calendars and more with a veterinarian CRM. It's a powerful tool to help you stay organized while managing your business.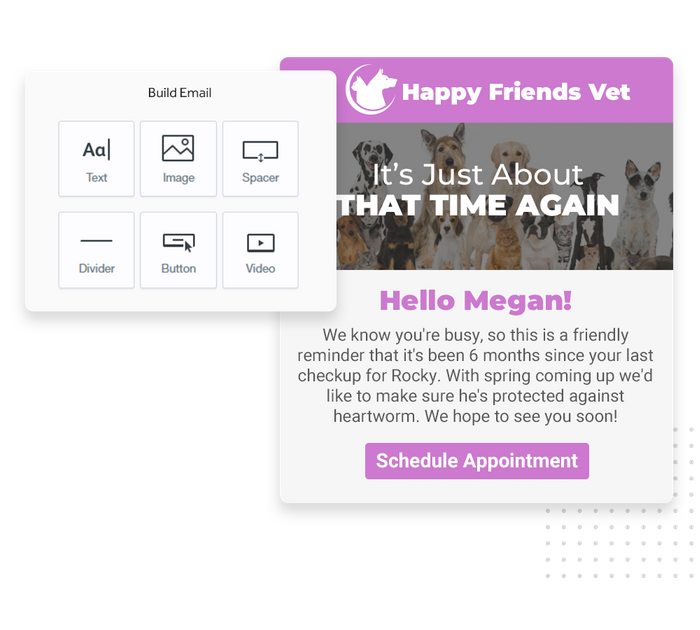 Be the first veterinarian practice pet owners think of
Email marketing is a great way to stay top of mind. Stay connected by sending out pet care tips, practice updates, appointment reminders and follow-ups, feedback requests and more. Automated email campaigns are quick and easy. Create free account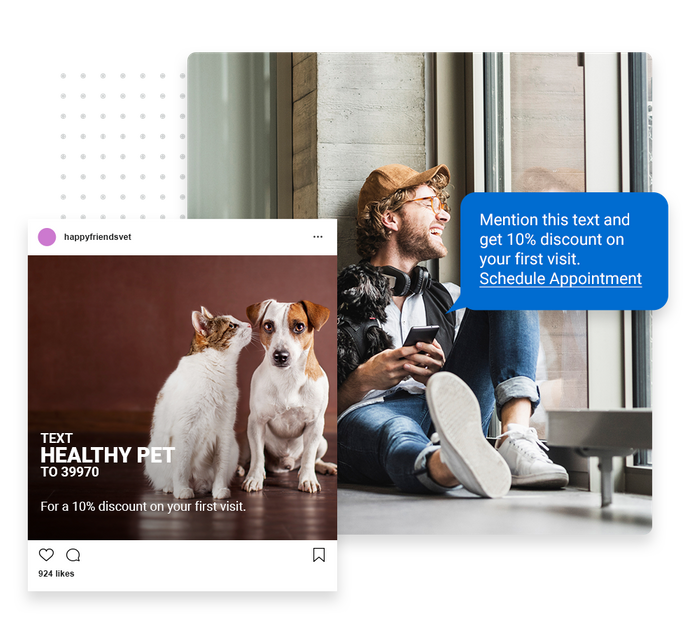 Grow your practice with text message marketing
Most texts are read immediately, making text message marketing the perfect option for time-sensitive communications, like appointment reminders, pet birthday wishes, limited-time specials and more. Nurture makes automated text campaigns easy to build and send.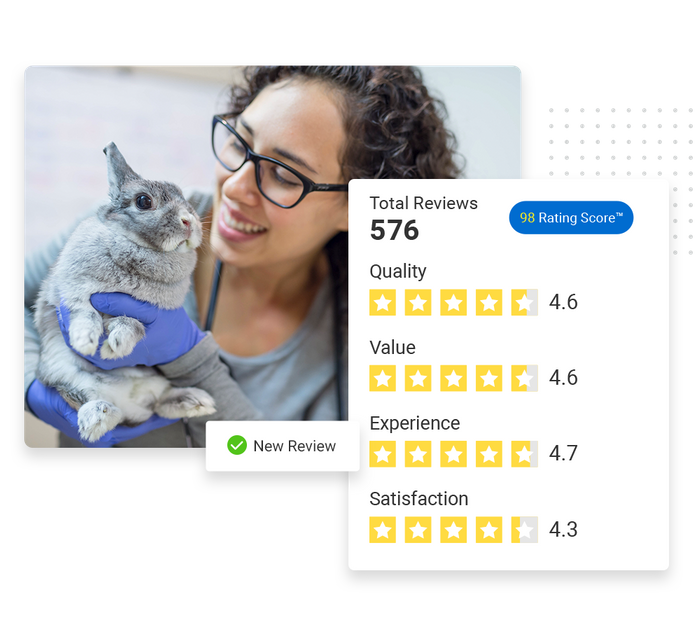 Become the highest-rated veterinarian practice in your area
Give pet owners peace of mind by building a strong reputation for your veterinarian practice with Reputation. You can request reviews, manage reviews on all verified sites, create and embed a reviews widget on your site and more.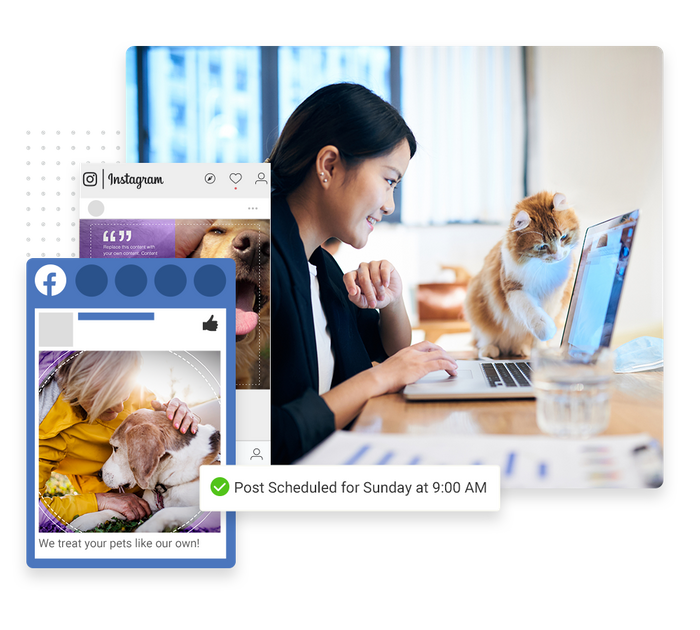 Simplify social media management in your practice
Social media is an important channel for forging community connections, and with Social, managing your presence across multiple profiles doesn't have to be time-consuming. Save time by creating and scheduling out social posts on multiple profiles.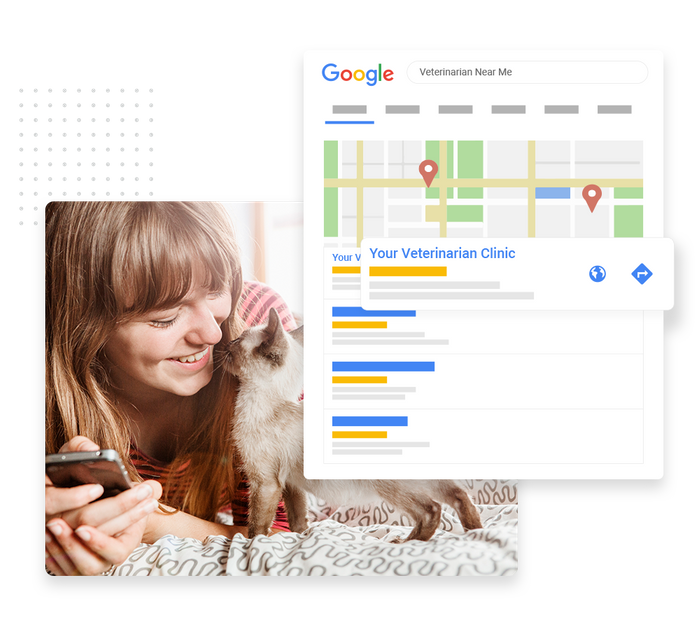 Increase keyword rankings on search and get low-cost leads
Get to the top of page one on Google for relevant keywords with content marketing. Content gives you easy-to-understand SEO reporting tools to help you keep track of your keyword rankings and monitor your organic performance over time.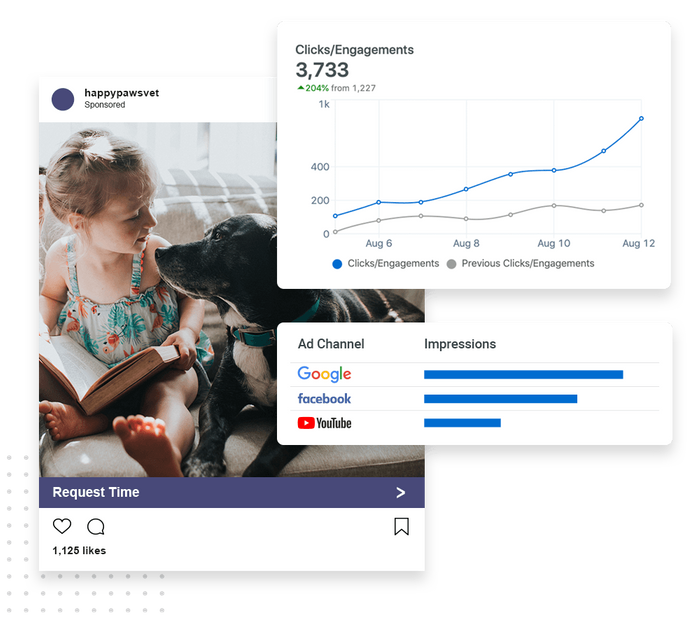 Capture market share on Google, Facebook and more
With multi-channel advertising, you can drive traffic and leads to your website on popular channels, including Google, Instagram, Facebook, YouTube and more. Plus, you can compare and monitor the results of your campaigns to maximize your ROI.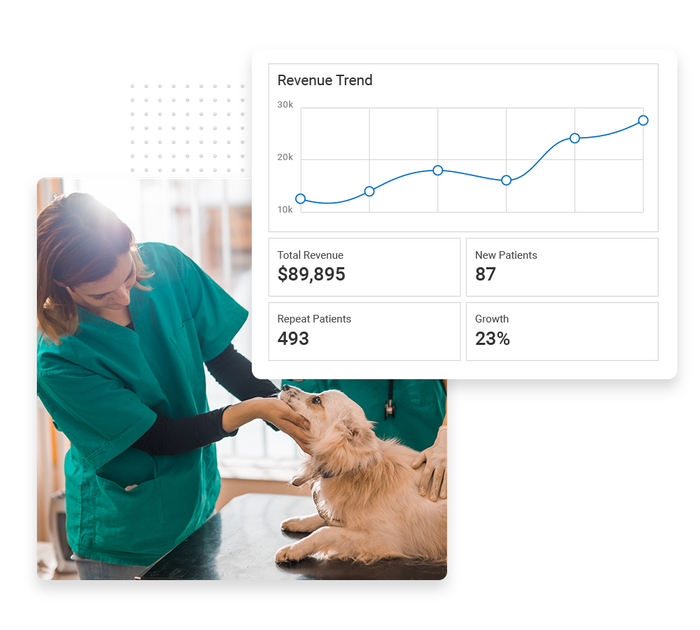 Maximize your results and increase your ROI
Make every dollar you spend on veterinarian marketing count with easy-to-understand overall performance reporting. Intelligence provides you with the clear-cut data you need to always be in the know about what's working and what's not for your practice.
"Fantastic service and a huge boost in business!"
Jennifer B. | Veterinarian
"Absolutely love it. Great software for any office."
Elizabeth G. | Office Manager
"The best part about Marketing 360™, at least for me, is that fact that they do everything for you."
Gina K. | Owner
"Awesome platform that brings new people in the door!"
Graham R. | Owner
"I really like the ease of use and the ability to access the information I am looking for just by logging in."
Jeff S. | Owner
"Best investment for my new business. Excellent product! Easy to access and use. Fantastic results."
Juliana P. | Owner
"Easy to navigate and generate reports. Gives you ability and viability to monitor your day-to-day campaign."
Ahmed A. | COO
"Targeted advertisement has grown our company exponentially! Marketing 360™ is a pleasure to work with!"
Brandon K. | IT/Web Management
"I like that it combines my email marketing, text marketing, social media marketing and has a CRM."
Jonathan D. | CEO/President
Get the tools you need to help
manage and grow

your business.