Everything you need to help grow and manage your
real estate business
Get more five-star reviews, display real estate listings on your website, manage your leads and clients, stay connected and more.
Highlight listings
Display real estate listings on your website
Get reviews
Request reviews and build a strong reputation
Capture market share
Drive leads on Facebook, Google, Instagram and more
And so much more
Everything you need to help manage and grow your real estate business from a singular platform
Everything you need to help manage and grow your real estate business from one platform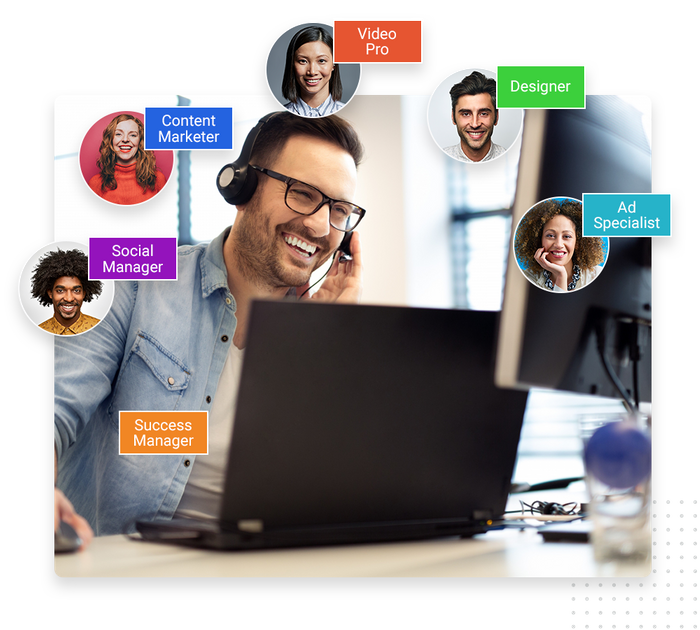 The marketing team to help you grow your real estate business
Not only can you get the tools you need to help scale your real estate business, but you can also get access to do-it-for-you marketing programs and a marketing team dedicated to helping your real estate business grow. Let us focus on growing your real estate business so you can focus on running it. Learn more.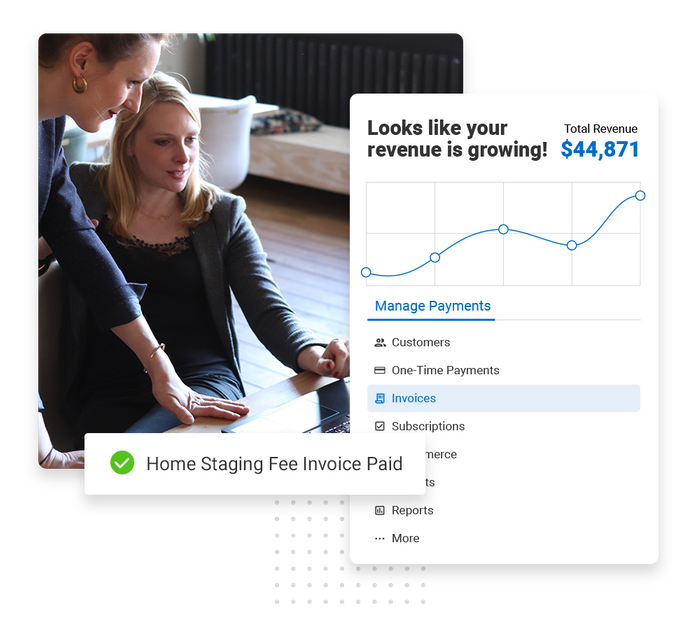 Invoice management made easy
Marketing 360™ Payments is your all-in-one invoice management solution. Create and send professional invoices that can be paid directly, and quickly see which invoices are paid, open or overdue from one dashboard.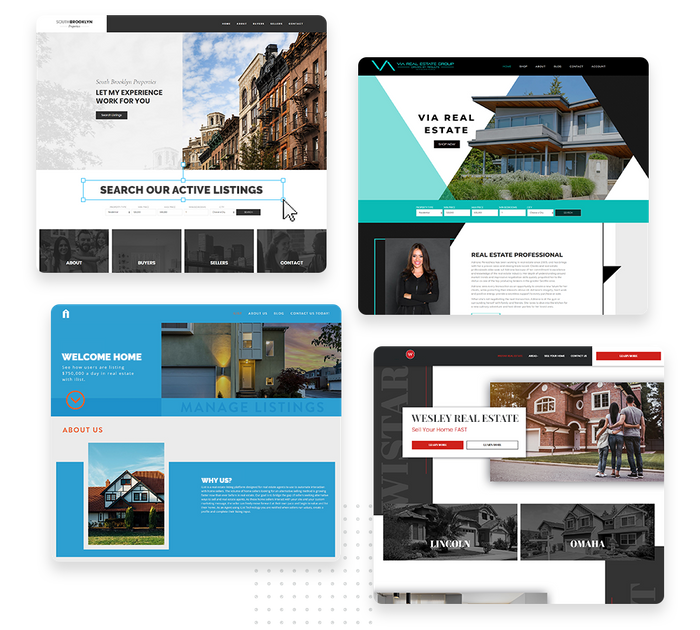 Close the deal with the right real estate website
Highlight local real estate listings, make it easy for clients to schedule listings and more. With a library of ready-to-go design templates made for real estate brokers and a drag-and-drop editor, it's easy to build an elegant, modern website.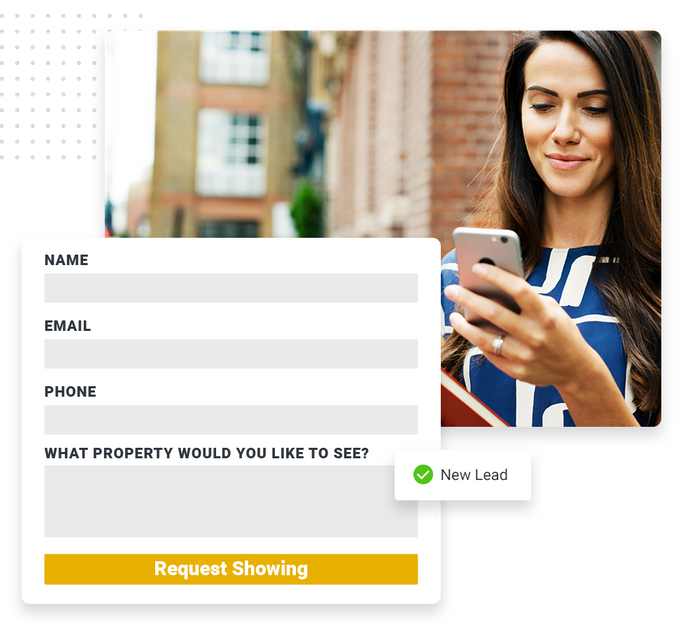 Ready-to-go real estate forms
Get ready-to-go real estate forms for your website that sync with the CRM. All forms are easy to edit and customize. Forms is the all-in-one tool you need to create showing request forms, contact forms and more.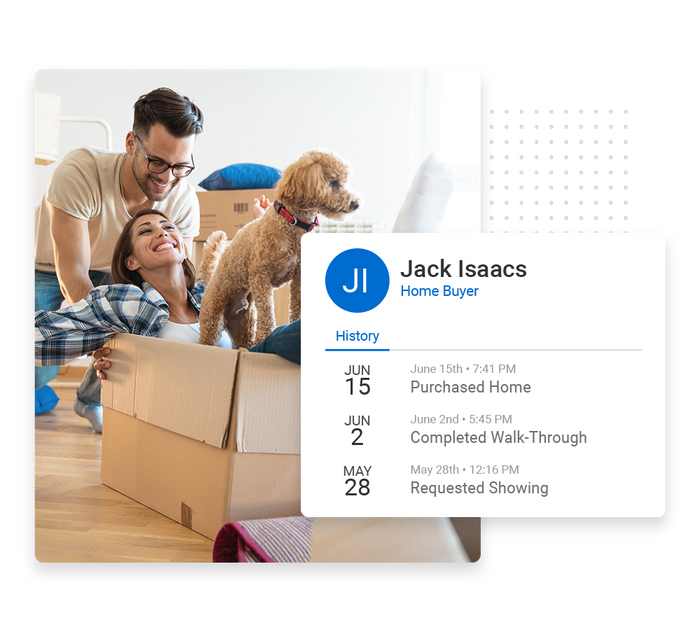 Build meaningful client relationships with a real estate CRM
Keep track of all of your leads, clients and partners from one place. Plus, manage everything, from property inquiries and client contacts to showing schedules and lead-flow. Get everything you need to stay organized and on top of it all with a real estate CRM.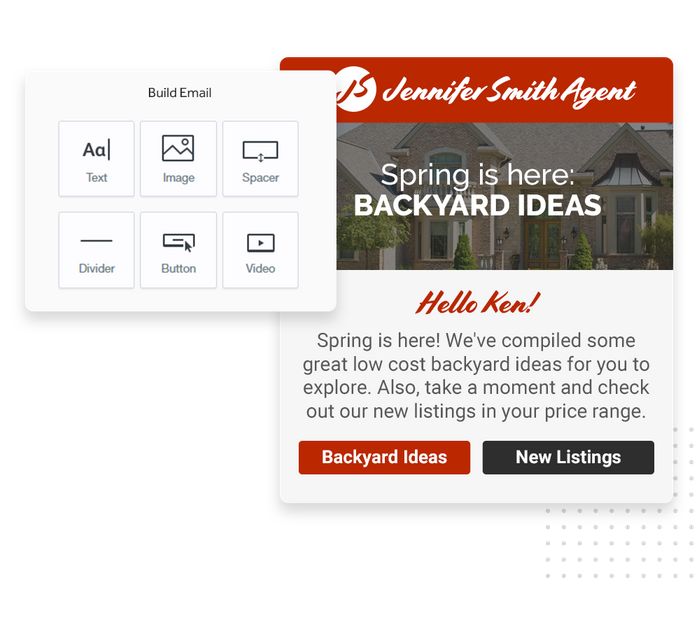 Maintain and grow your client base with email marketing
Build trust and stay connected with your clients by sending out useful information, sharing market trends, requesting reviews and more with email marketing. Automated email campaigns make maintaining and growing your client base quick and easy.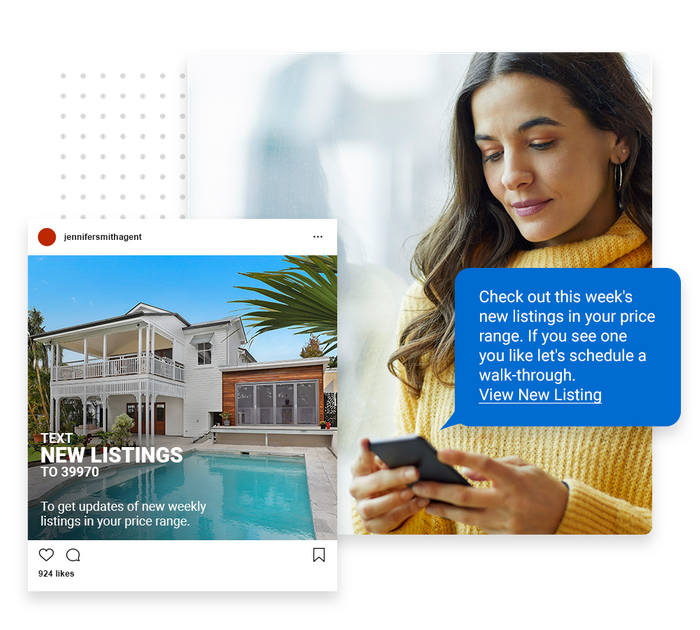 Get more leads with text message marketing
Real estate moves quickly. Text message marketing helps you keep up and instantly connect with your clients. Send listings and property information, gather data from prospects, follow up after showings and more with easy-to-build text message campaigns.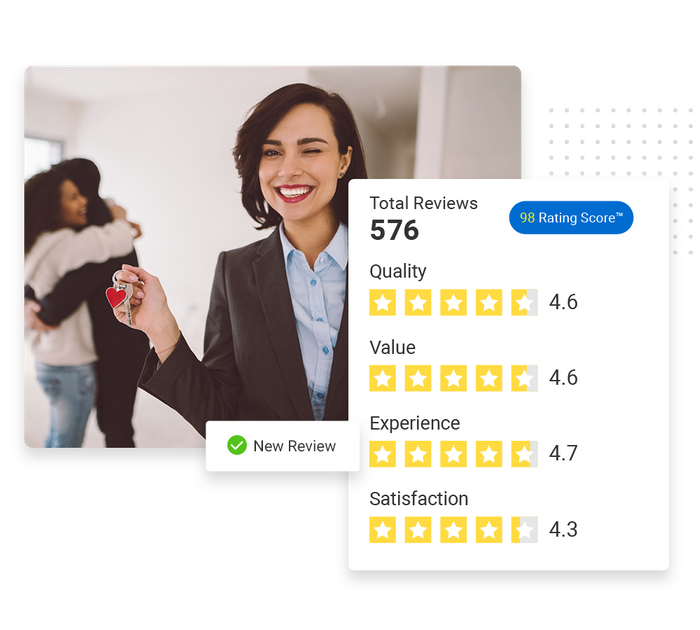 Manage your reputation and get more reviews
Build a reputation as one of the highest-rated real estate brokers in your area with Reputation. Request more five-star reviews, manage your reviews from across the web, monitor your Rating Score™, build a reviews widget for your website and more.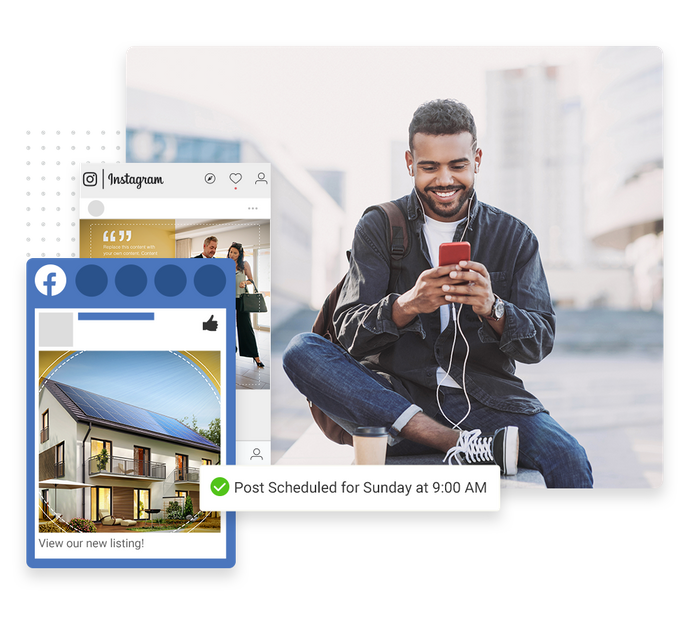 Build connections and get leads on social media
Want more high-quality leads and repeat business? Social media management is a must for every real estate business. Save time and simplify your strategy by scheduling posts and managing all of your profiles from one dashboard.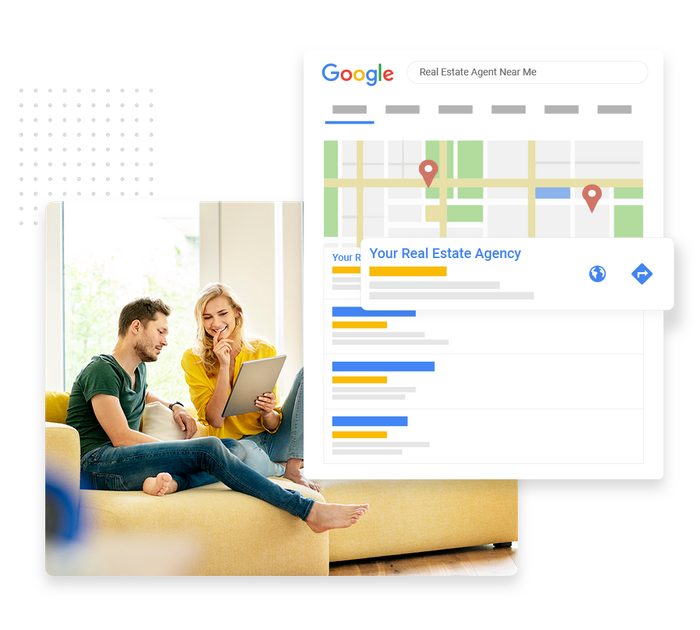 Improve your search rankings and get low-cost leads
Increase your visibility on search engines, rank for critical keywords, drive traffic to your website and get low-cost leads with content marketing. Marketing 360™ Content makes it easy to your keyword rankings and organic performance over time.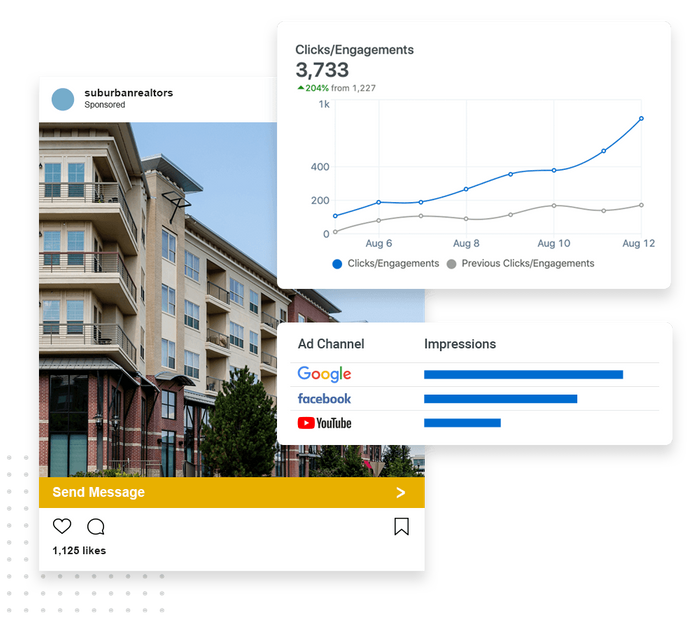 Capture market share with multi-channel ad campaigns
Get seen anywhere and everywhere buyers and sellers in your community are looking with multi-channel advertising. With Ads, you can run and monitor campaigns across Google, Facebook, Instagram and more.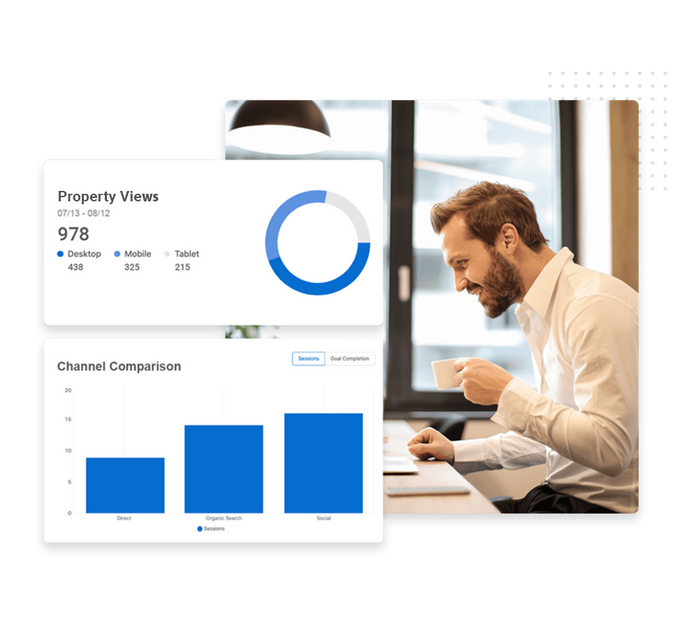 Maximize your ROI with overall performance reports
Make data-driven decisions about your real estate marketing budget and strategy, and gain insight into what's working and what's not with Intelligence. Overall performance reports make it easy to keep track of leads and sales, monitor your performance and more.
"I like how user-friendly it is and how quick they can make adjustments to tailor things to our needs"
Bob B. | Realtor
"As a small boutique real estate brokerage with a focus on client service, I find I'm able to stay in better communication with my clients."
Debbi M. | Principal Broker/Owner
"Great all-in-one solution for our brokerage and individual agents."
Andrew J. | Co-Owner
"Exceeded expectations by almost 100%"
Myron Z. | Realtor
"I love the friendly and helpful service at Marketing 360™. Everyone has been extremely professional and on the ball!"
Trish W. | Owner/Realtor
"Marketing 360™ has definitely helped me to reach out to my sphere of influence and other possible clients more and more."
Jami T. | Transaction Coordinator
"From the beginning to the end, this team was on point! Not one wasted moment of my time."
Michael A. | General Manager
"Love the transparency of the software, [and the] customer support is super responsive, light years beyond my previous service provider."
Nicholas M. | Owner
"Marketing 360™ has helped us get our company's name on the map."
Tania P. | Owner
Get the tools you need to help
manage and grow

your business.