Build a healthier
medical practice
Manage patients, staff, partners and appointments, simplify scheduling, get reviews, capture market share and more.
Simple scheduling
Schedule and manage appointments from a simple, organized dashboard
Manage reviews
Get more five-star reviews from your patients and build a strong reputation
Get organized
Build patient loyalty and long-lasting relationships with a medical CRM
And so much more
Everything you need to manage and grow your medical practice from a singular platform
Everything you need to help manage and grow your medical practice from one platform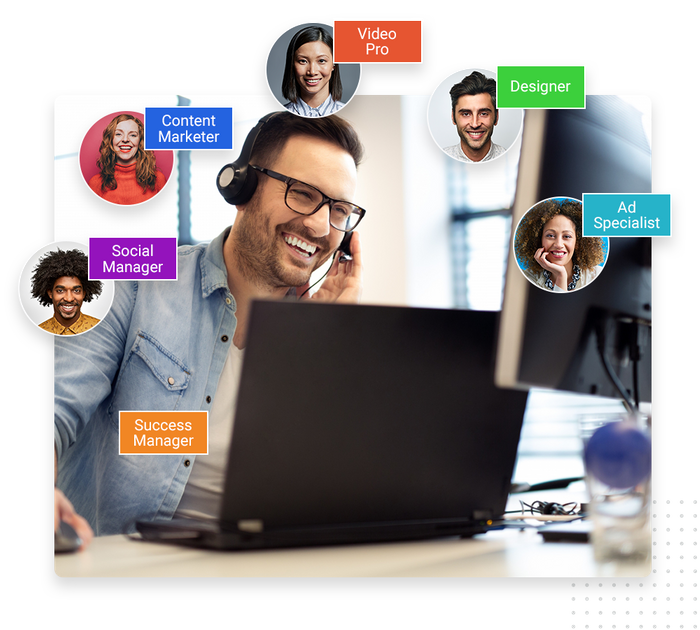 The marketing team to help you grow your medical practice
You can get the tools you need to help scale and manage your medical practice. Plus, you can get do-it-for-you medical marketing programs and a dedicated marketing team — all from one platform. Let us focus on growing your medical practice so you can focus on running it. Learn more.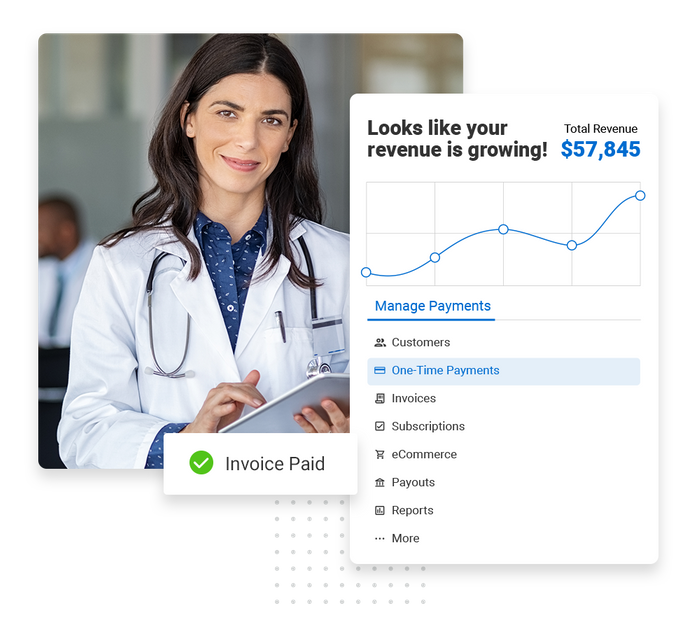 Save time and make processing payments easy
Allow patients to make payments online or on your website. Plus, draft and send professional invoices, and manage your payments and invoices from one place. It's the easiest way to manage payments and invoices in your practice.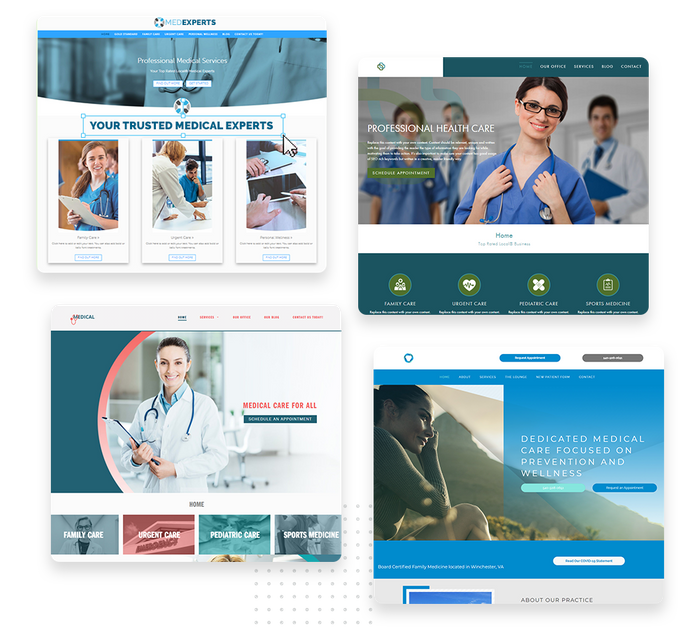 Get more patients with a professional, modern website
Your website is your practice's home online, so it's critical to get it right. Building a website that's everything you need it to be — attractive, functional, mobile-friendly and informative — is easy with a library of medical design templates and a drag-and-drop editor.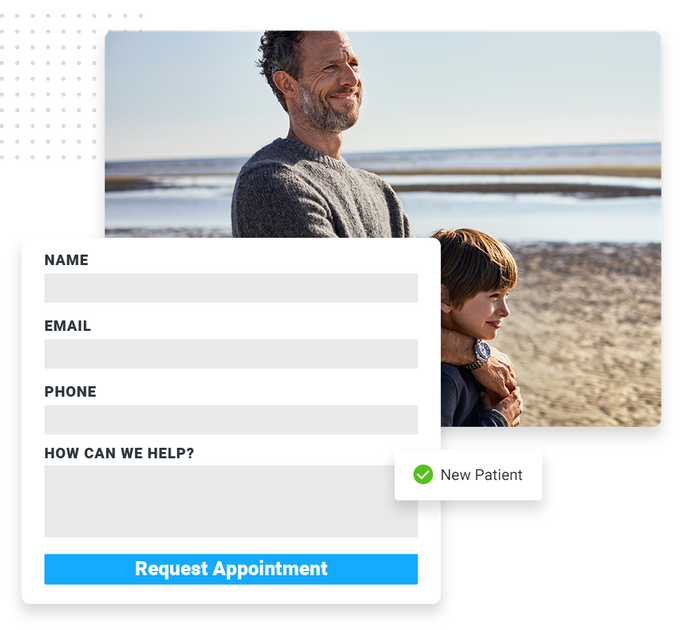 Ready-to-go medical forms
Get ready-to-go medical forms for your website that sync with the CRM. All forms are easy to edit and customize. With Forms, you can build appointment request forms, contact forms, feedback forms and more.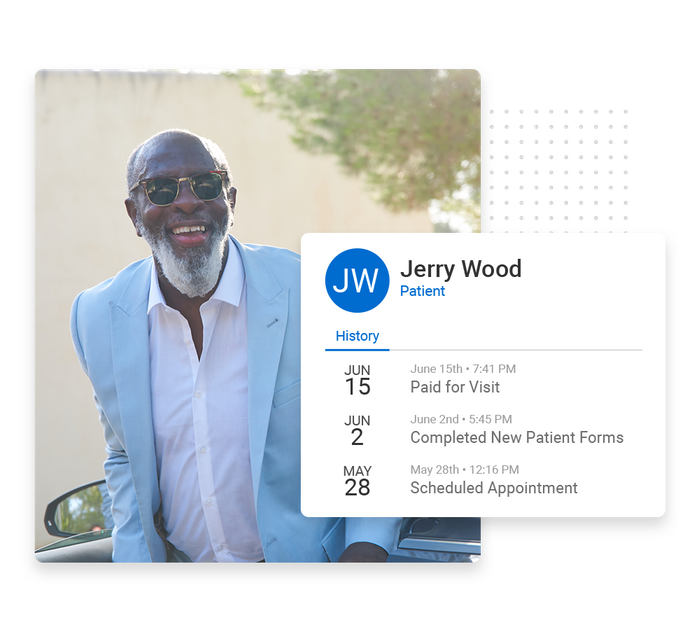 Get organized and manage your practice the easy way
Keep track of all of your patients, partners, schedules and more with a CRM made for medical practices like yours. An easy-to-use, customizable dashboard allows you to stay organized and manage your practice your way.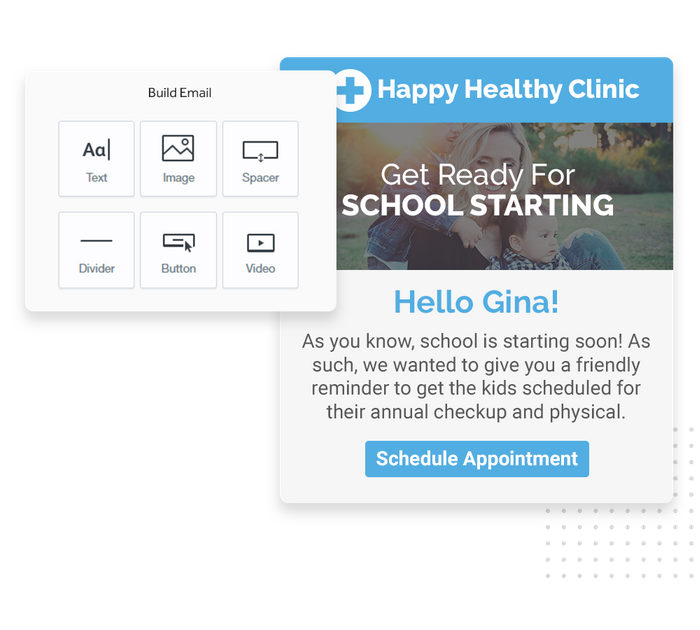 Stay connected with automated email journeys
Remind patients to schedule follow-up appointments, request reviews, send out wellness tips, promote patient specials and more with automated email campaigns. Ready-to-go, customizable, medical email templates make it easy.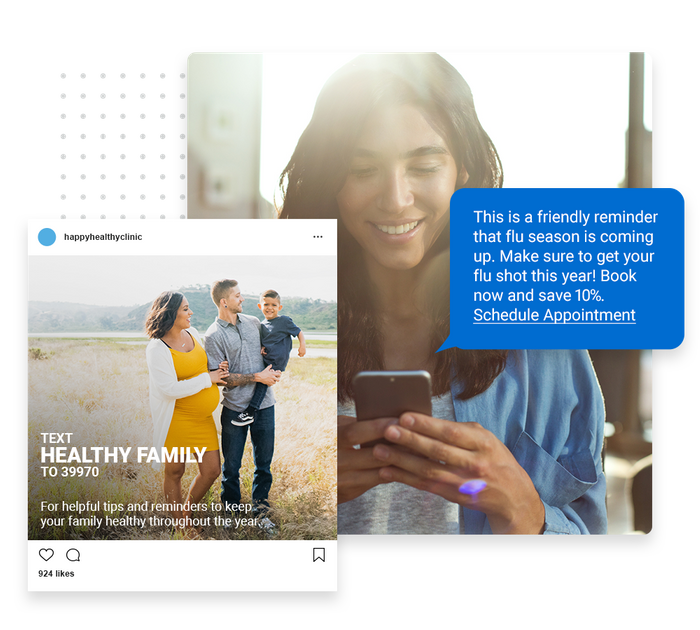 Connect with your patients instantly via text
Text message marketing is perfect for time-sensitive messages, like appointment, payment and medication reminders, as well as important announcements, like weather closures or changes in service. Build text campaigns quickly with Nurture.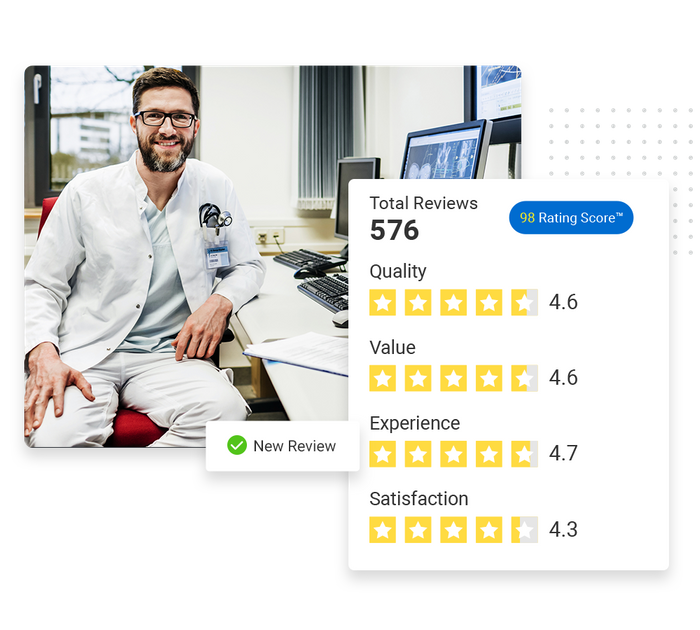 Generate reviews and build a strong reputation
Make a great first impression by generating more five-star reviews and building a reputation that gives prospective patients more peace of mind. Monitor your reviews from across the web, request reviews and display patient testimonials right on your website.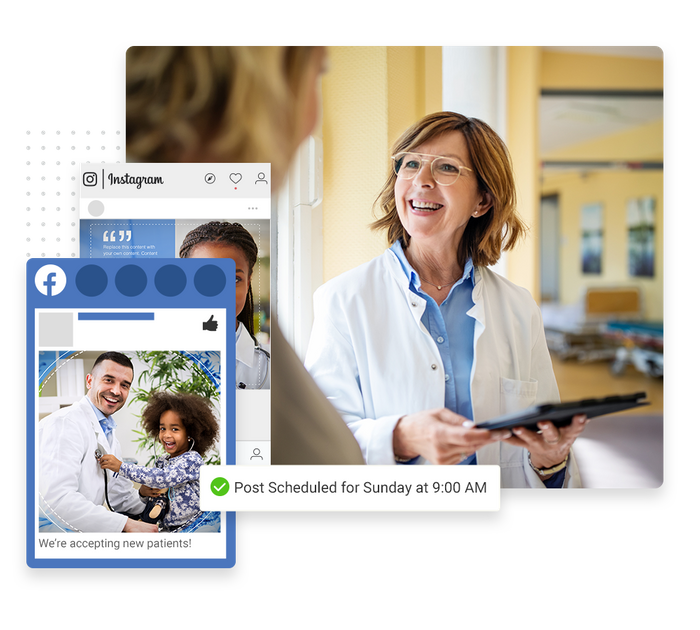 Connect with your community on social media
Share tips to help your community make healthy decisions and lifestyle choices, give updates about your services and practice, announce patient specials and more. Marketing 360™ Social makes it easy to get the message out and manage multiple social profiles from one place.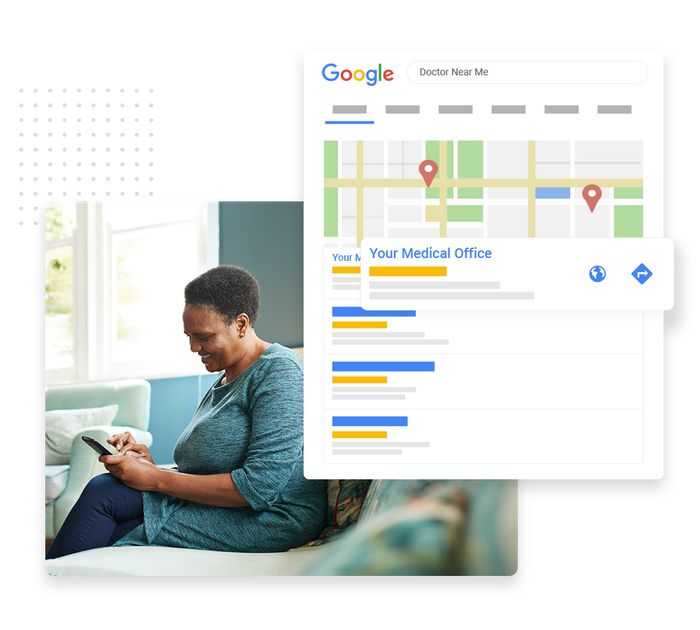 Outrank your competitors on Google
With content marketing, you can outrank your competitors on Google. Plus, you'll be able to keep track of your keyword rankings and organic performance over time with easy-to-understand reports.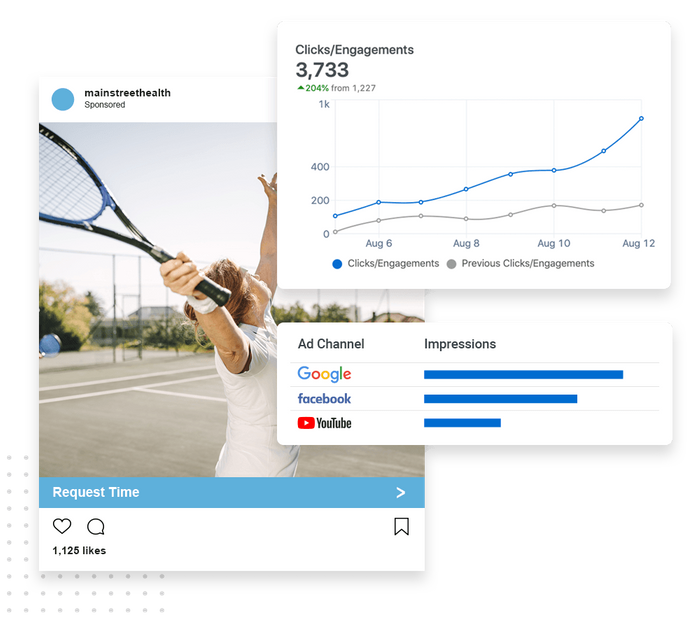 Be visible on the most popular channels
Make your practice known anywhere people in your community are looking with multi-channel advertising. Create and launch ads on popular channels, including Google, Facebook and YouTube, and get the data you need to fine-tune your campaigns.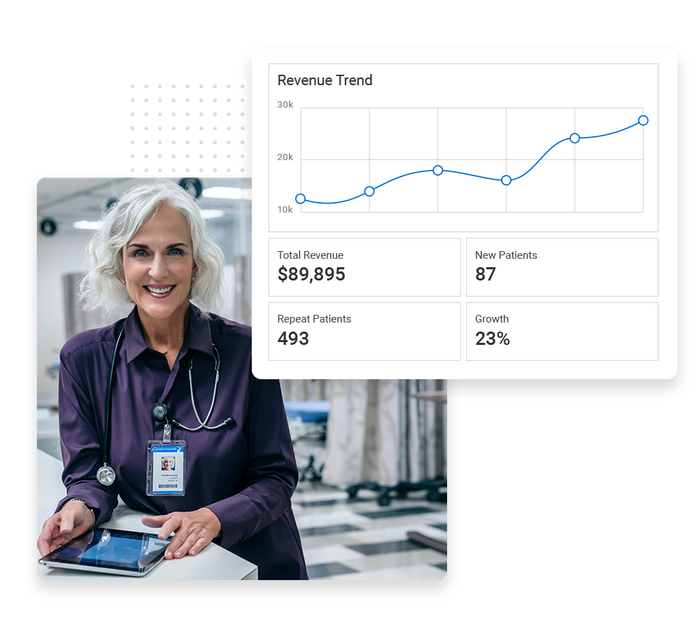 Make intelligent, data-driven marketing decisions
Which channel is yielding the best results for your practice? Where should you invest your marketing budget? Are your campaigns successful as is, or do they need a little fine-tuning? Intelligence offers the data you need to make the most of medical marketing.
"Business has progressed since our company has been with Marketing 360™!"
Pat F. | Administrator
"Easy to use, and the training made it smooth sailing to get up and running."
Christy G. | Marketing
"My business and social media exposure has increased significantly with their help."
Danielle W. | Owner
"The software is user friendly, and the staff is AMAZING!"
Megan C. | Marketing Manager
"I'm very happy with my experience so far, and the agent was an outstanding individual to work with."
Angela R. | Doctor
"It is definitely worth the investment. If you are looking to grow your business, this is company you want to work with."
Stacey P. | Owner
"The customer service is top-notch."
Suzanna D. | Marketing Manager
"This company works hard to provide us with excellent service and value for our money."
Tracey M. | Office Manager
"I like the service that is provided with this product and the ease of use of the dashboard."
June F. | Administrator
Get the tools you need to help
manage and grow

your business.