Pamper your
spa or massage business
Increase your visibility, drive high-quality leads, build a strong reputation, stay organized while managing your clients and more.
Get reviews
Request reviews and build a strong reputation for your spa or massage business
Incredible SEO
Drive organic traffic and low-cost leads to your website
Manage contacts
Keep track of clients, calendars and more from a single dashboard
And so much more
Everything you need to help manage and grow your spa or massage business from a single platform
Everything you need to help manage and grow your spa or massage business from one platform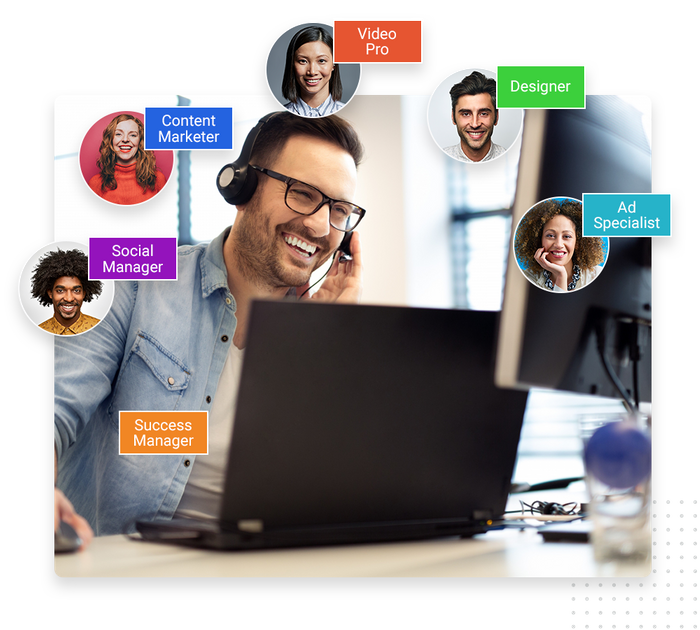 The marketing team to help you grow your spa or massage business
Not only can get the tools you need to help scale and manage your spa or massage business with Marketing 360™. You can also help grow your spa with do-it-for-you marketing programs and a dedicated marketing team — all from one platform. Let us focus on growing your spa or massage business so you can focus on running it. Learn more.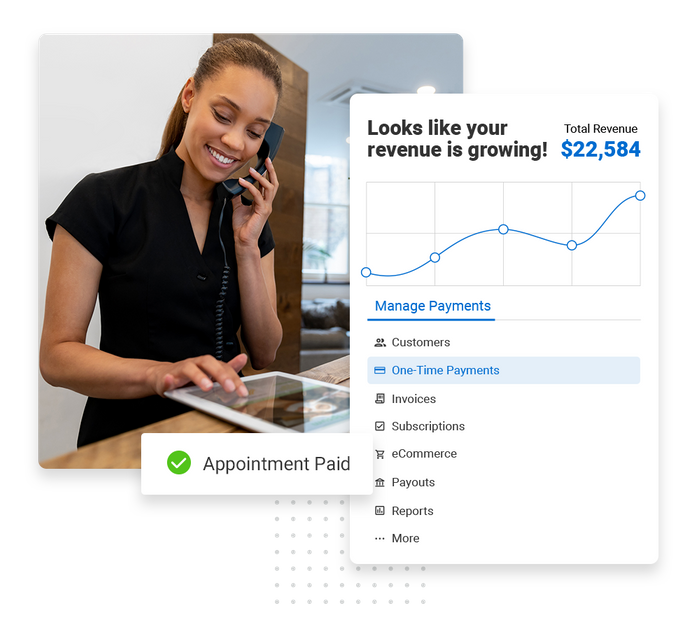 All-in-one payment and invoice management
Whether you're making a house call or serving a client in your spa, Payments makes it easy to accept credit card payments. You can also simplify and save time by managing all of your payments and invoices from a single app.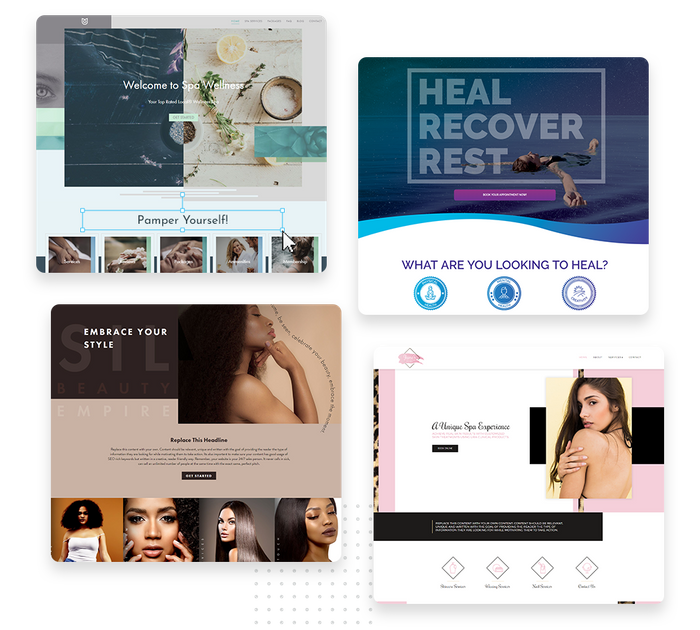 A spa website that works out the knots
Make it easy for clients to learn about your services, scheduled appointments, make payments and more with a modern, attractive website. Build your own with Websites 360™. A library of spa design templates and a drag-and-drop-editor make it easy.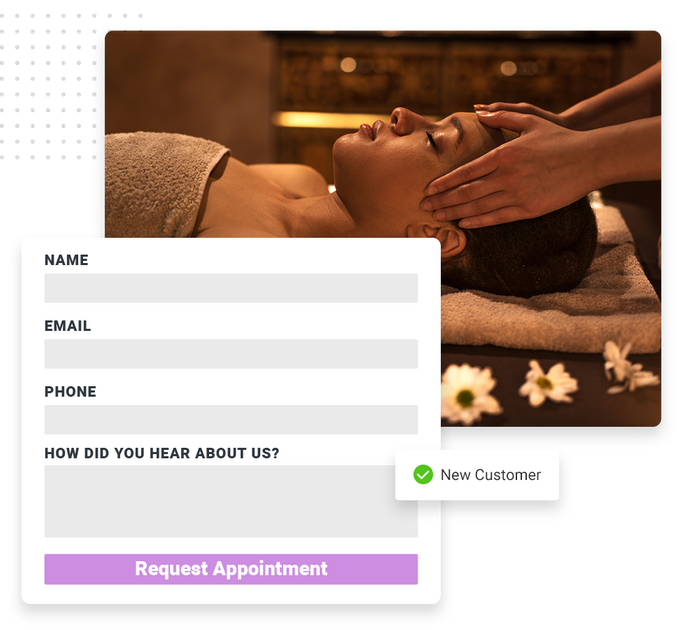 Ready-to-go spa forms for your website
Get ready-to-go spa forms for your website that sync with the CRM. All forms are easy to edit and customize. It's the easiest way to build appointment request forms, contact forms, feedback forms and more.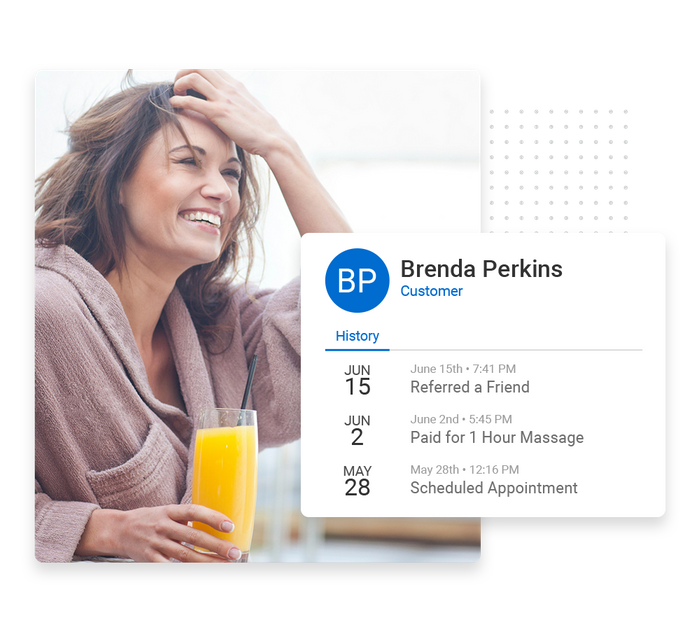 Manage all of your leads and clients from one place
Build long-lasting relationships with your clients with a spa CRM. Keep track of everything — leads, clients, client notes, day-to-day communications, calendars and more — from a customizable dashboard that allows you to manage your business your way.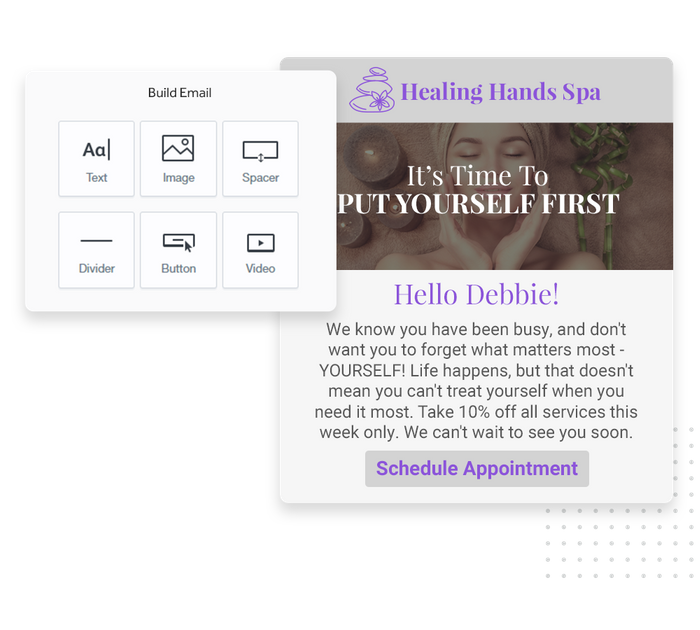 Stay relevant and top of mind with email marketing
Be the first spa or massage therapist your clients think of with automated email campaigns. With spa email templates and an intuitive editor, it's quick and easy to keep clients updated about new services, upcoming specials and so much more.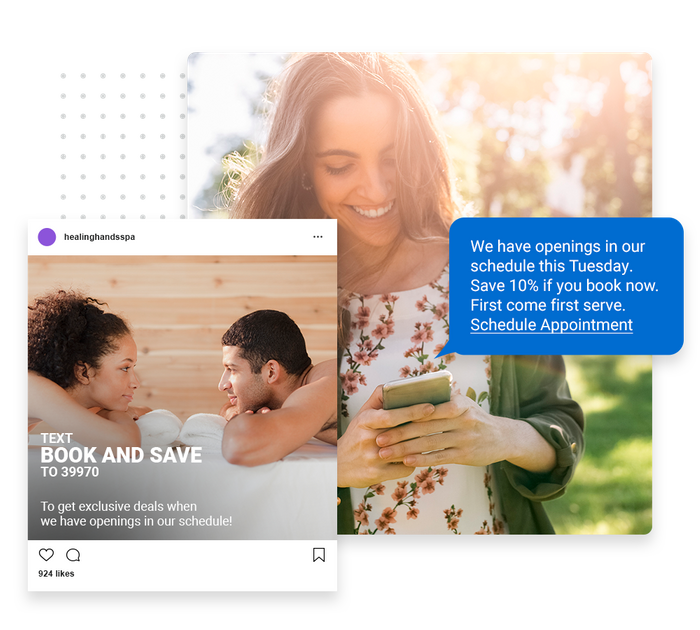 Grow your spa or massage business with text message marketing
When you need to get the message out quickly, text message marketing is the way to go. Text is perfect for appointment reminders and follow-ups, time-sensitive offers, review requests and more, and Nurture makes building text message campaigns easy.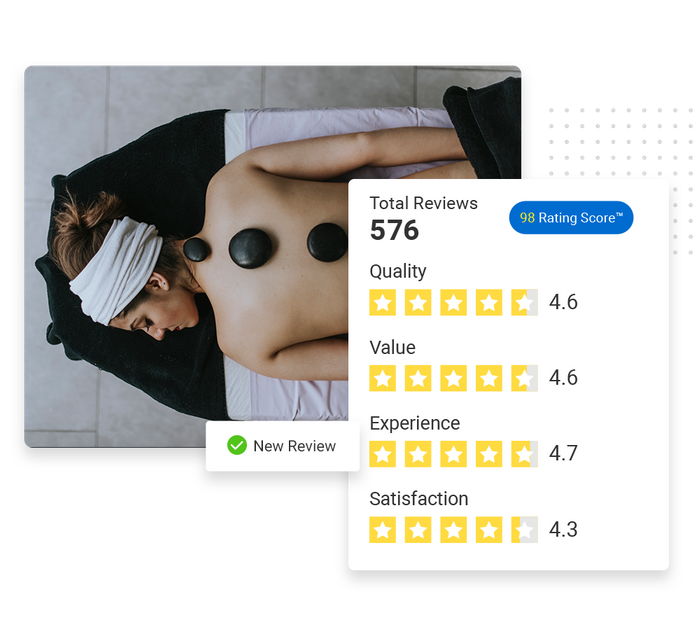 Build a strong reputation for your spa or massage business
Give prospective clients a reason to choose you when they want a massage or spa services. Request reviews, manage reviews across multiple sites, build a reviews widget for your website and more with Reputation. It's the only reputation management tool you need.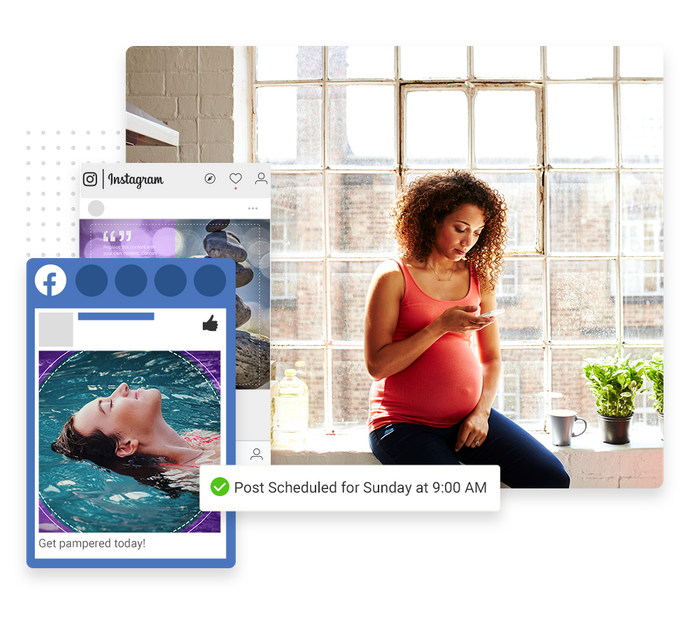 Save time and manage multiple social profiles at once
Staying active on multiple social media profiles can be time-consuming, but with Social, it doesn't have to be. Create and schedule out social posts on Facebook, Instagram and more from one place, saving you time and helping you post consistently.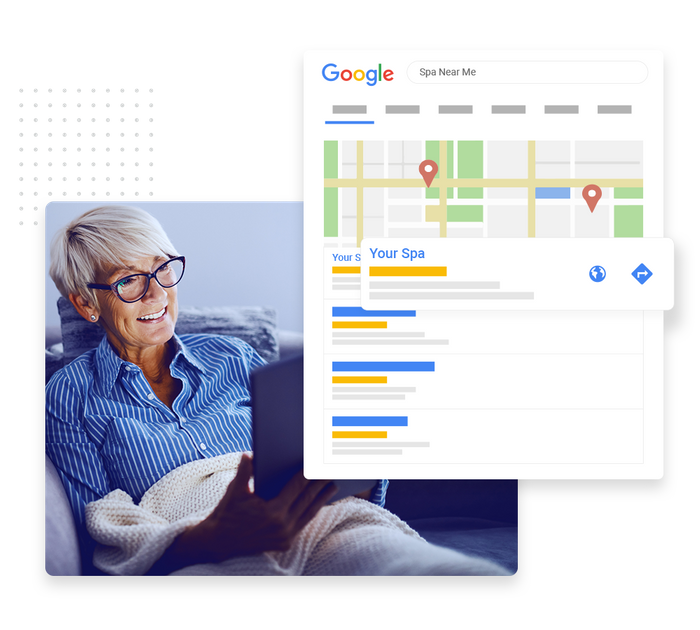 Outrank your competitors on Google
Get to the top of page one for relevant keywords and drive low-cost leads to your website with content marketing. Content gives you the SEO reporting tools you need to easily track keyword rankings, organic performance and more.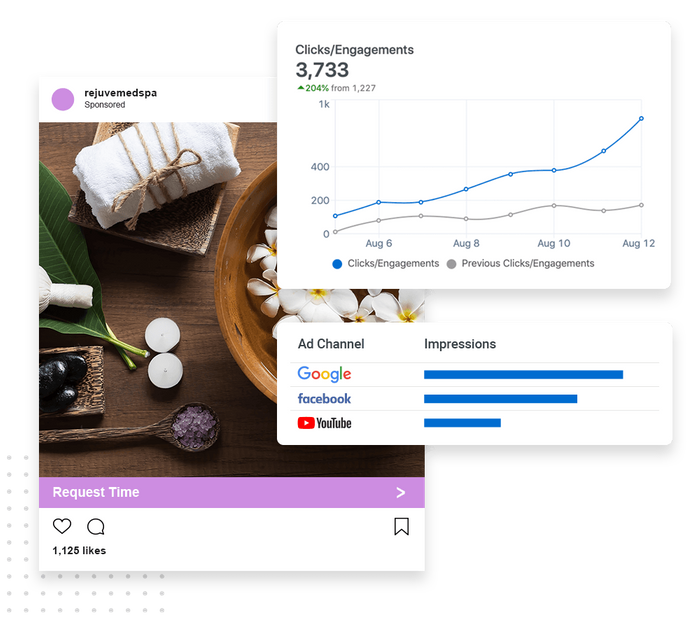 Capture market share on popular channels
Drive high-quality leads to your website and capture market share on Google, Facebook, YouTube and more popular channels with multi-channel advertising. Ads makes creating, launching and monitoring campaigns easy.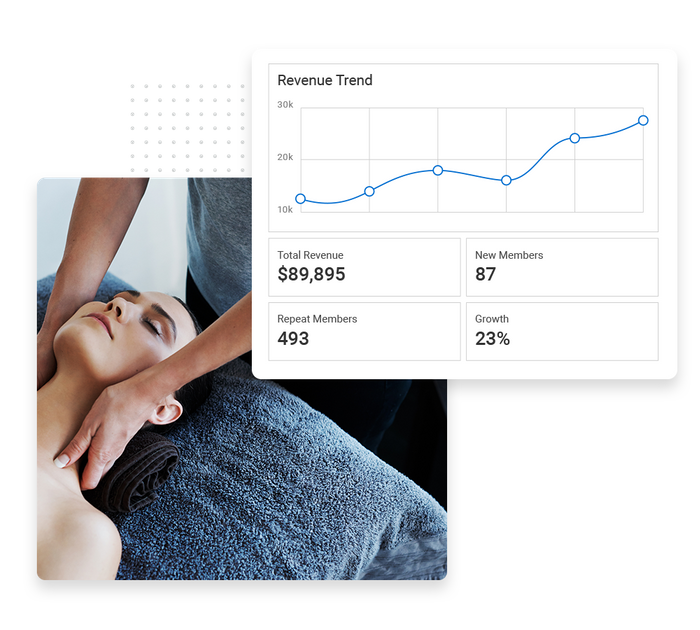 Maximize your ROI with overall performance reporting
Do more of what's working for your spa or massage business and less of what's not. Intelligence gives you the overall performance reporting, monitoring and analytics you need to make informed, data-driven decisions about your marketing strategy and budget.
"I basically have my own marketing team without the cost by working with Marketing 360™."
Gina K. | Owner
"We know immediately when something is working or not working. Most businesses are just shooting in the dark."
Roy H. | Vice President
"I can work leads generated by marketing activity without having to rely on extra systems."
Scott S. | Owner
"The amount of information available gives valuable insights into engagement so we can shape our future actions"
Sharon J. | Owner
"Working with Marketing 360™ has made my life so much easier."
Kim G. | Owner
"Everything is managed in one place - CRM, emailing, analytics. Great experience so far!"
Katherine P. | Marketing Director
"They are simply amazing! My rep treats my business as if it was her own."
Peter G. | President
"Working with Marketing 360™ has changed our business by bringing us leads and brand recognition!"
Summer P. | Co-Founder
"Marketing 360™ is a great tool for businesses looking to expand their marketing."
Drew M. | Support Specialist
Get the tools you need to help
manage and grow

your business.