Everything you need to help grow and manage your
self storage business
Build a strong reputation, manage your leads and customers, increase your visibility, capture market share, manage payments and more.
Manage payments
Securely accept and manage one-time and recurring payments
Get reviews
Become one of the highest-rated self storage centres in your area
Stay organized
Manage your leads, customers, employees and more
And so much more
Everything you need to help manage and grow your self storage business from a single platform
Everything you need to help manage and grow your self storage business from one platform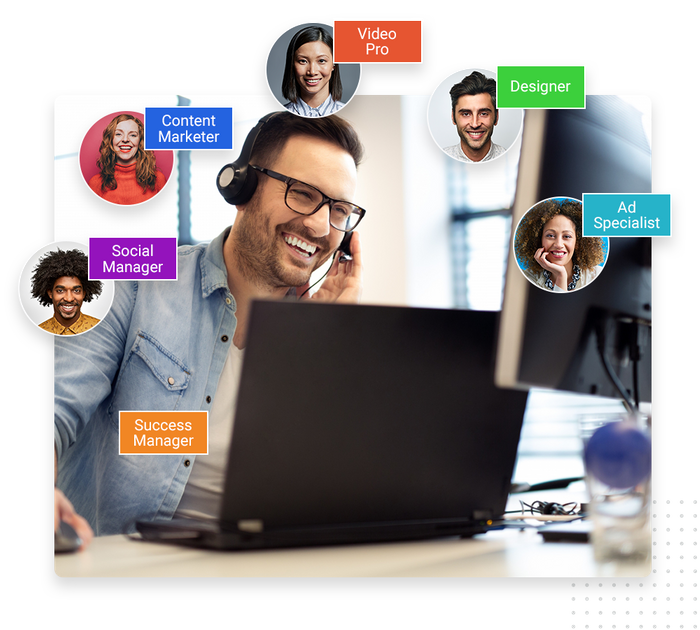 The marketing team to help you grow your self storage business
With Marketing 360™, not only can you get the tools you need to help scale your self storage business, but you can also get do-it-for-you marketing programs and a dedicated marketing team — all from one platform. Let us focus on growing your self storage business so you can focus on running it. Learn more.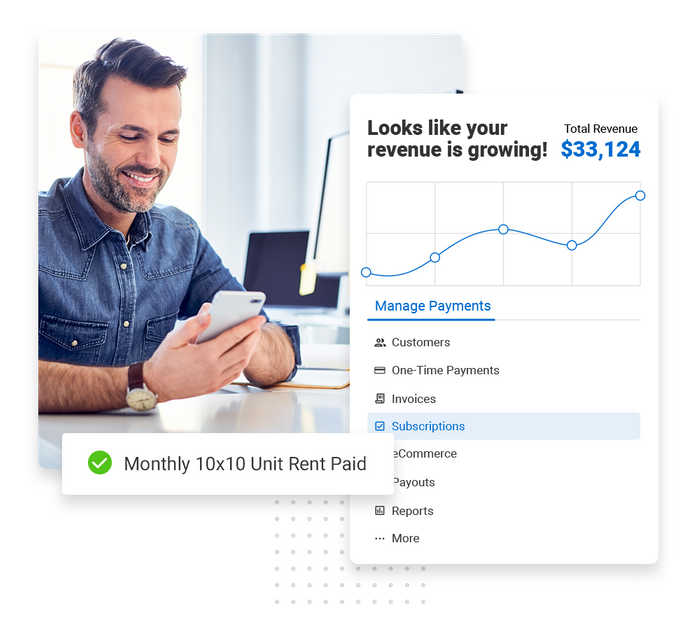 The easy and secure way to accept and manage payments
Accept and manage one-time and recurring payments the secure, easy way with Marketing 360™ Payments, and manage all of your payments from one place. You can also create, send and manage professional invoices.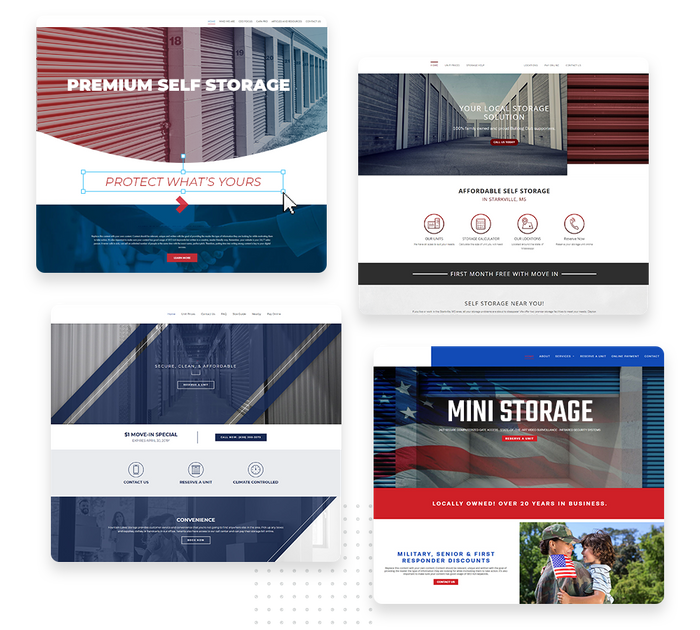 A self storage website that drives results
Introduce your self storage business to prospective customers with a modern, professional website. Websites 360™ makes it easy to build an effective self storage website with a library of design templates and an easy-to-use drag-and-drop editor.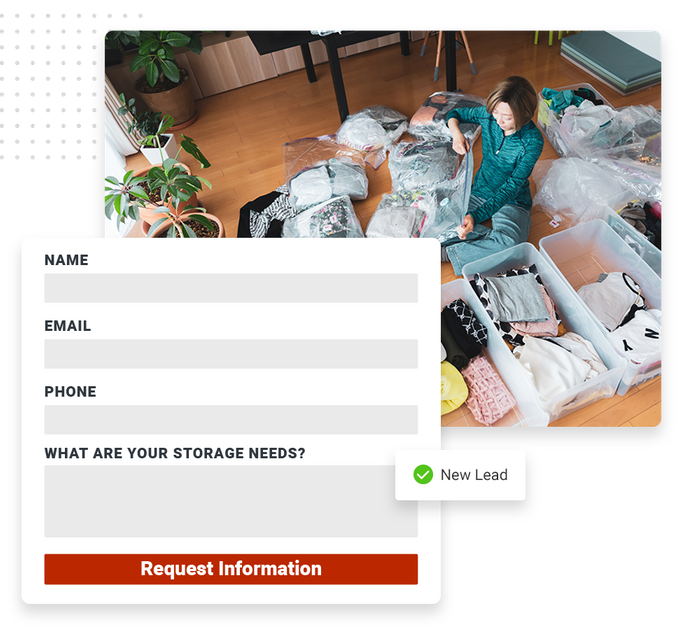 Ready-to-go self storage forms for your website
Get ready-to-go self storage forms for your website that sync with the CRM. All forms are easy to edit and customize. Forms gives you everything you need to build information request forms, contact forms, feedback forms, reservation forms and more, quickly and easily.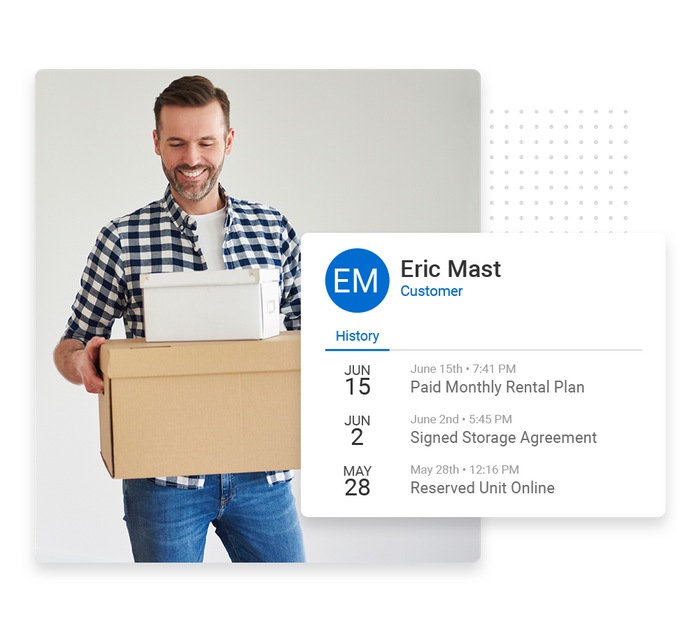 Manage your self storage business your way
Keep track of leads, customers, employees, partners, tasks, calendars and more with a customizable self storage CRM that allows you to manage your business your way. It's a powerful tool to help you stay organized and build long-term relationships with your customers.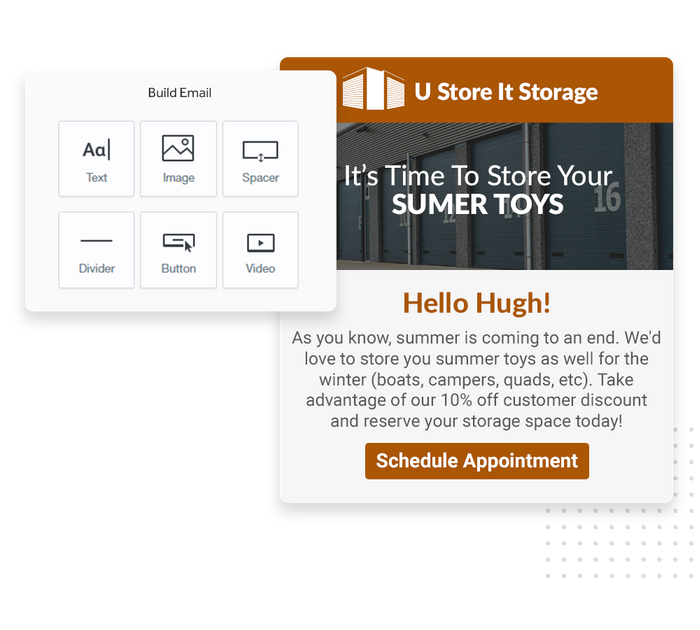 Nurture leads and build customer loyalty with email marketing
Turn more leads into customers and get more repeat business with email marketing. Automated email campaigns are quick and easy to build with Nurture. Create and send out newsletters, review requests, self storage tips and more in no time.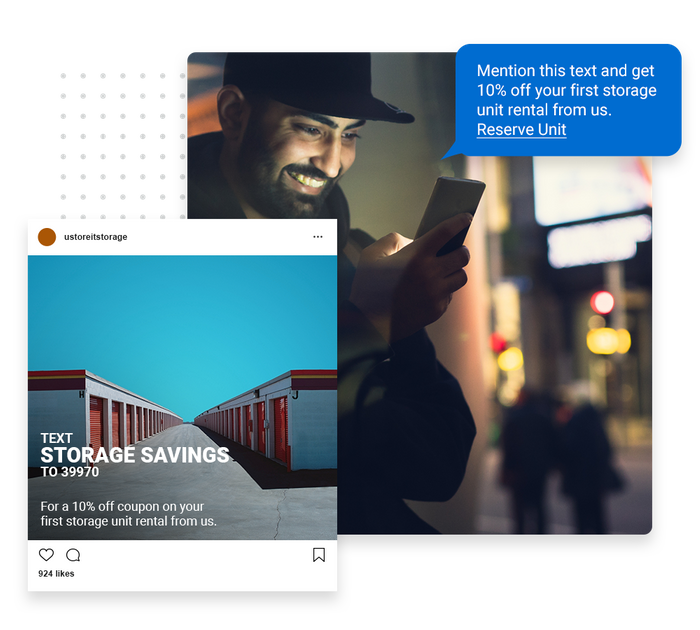 Grow your self storage business with text message marketing
Connect with your leads and customers with automated text message campaigns. Most texts are read quickly, making text marketing great for promoting time-sensitive offers, sending out rent reminders, requesting reviews and more.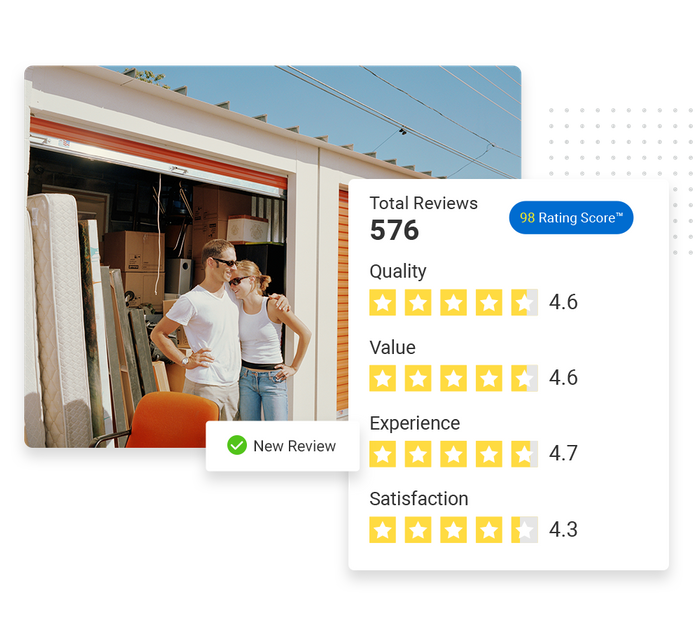 Be one of the highest-rated self storage centres in your area
With Reputation, you'll have everything you need to get five-star reviews and build a strong reputation. Request reviews, manage your reviews from across the web, monitor your overall reputation, build a reviews widget for your website and more.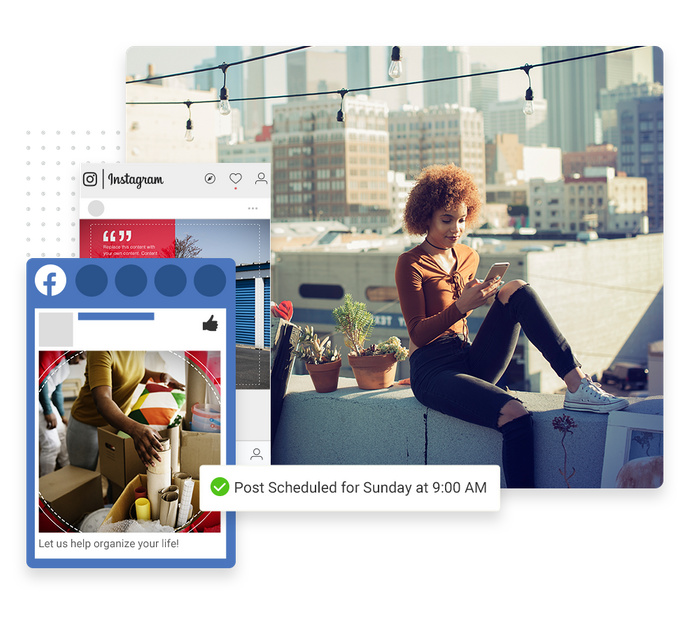 Make community connections on social media
Social media is where community connections happen online. Make managing your social media presence easier with Social. Save time by creating and scheduling out social posts in advance for multiple platforms from one place.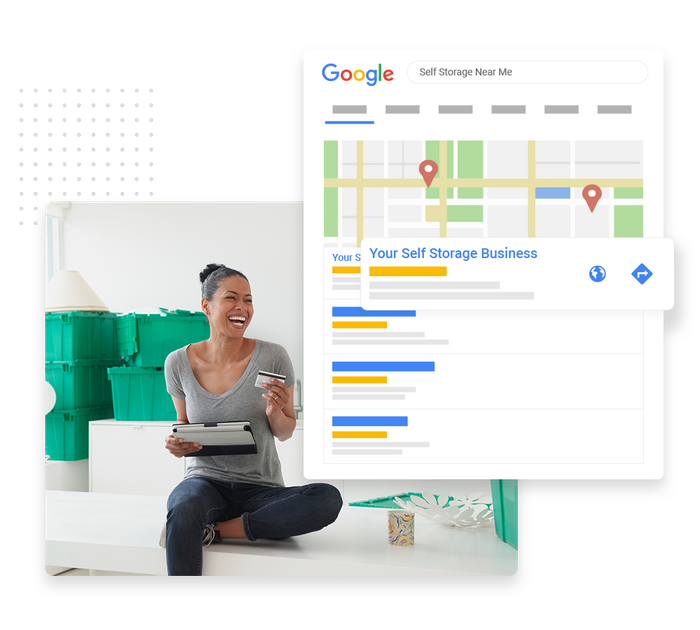 Outrank your competitors on search
When someone searches "self storage centre near me" on Google, make sure that you show up at the top of page one with content marketing. Content gives you easy-to-understand SEO reporting tools to make monitoring keyword rankings and organic performance easy.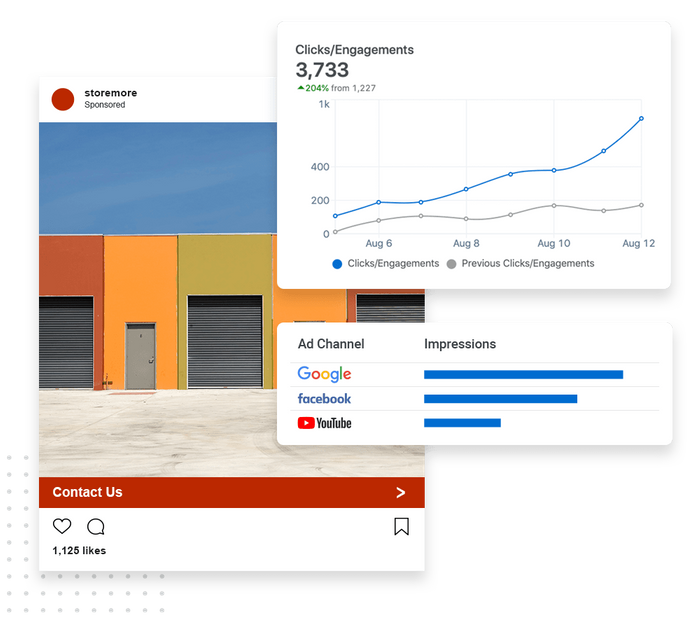 Capture market share on popular channels
Drive high-quality leads to your website on Facebook, Google, Instagram and more of the most popular channels with multi-channel advertising. With Ads, you can create, launch and monitor ad campaigns across multiple channels.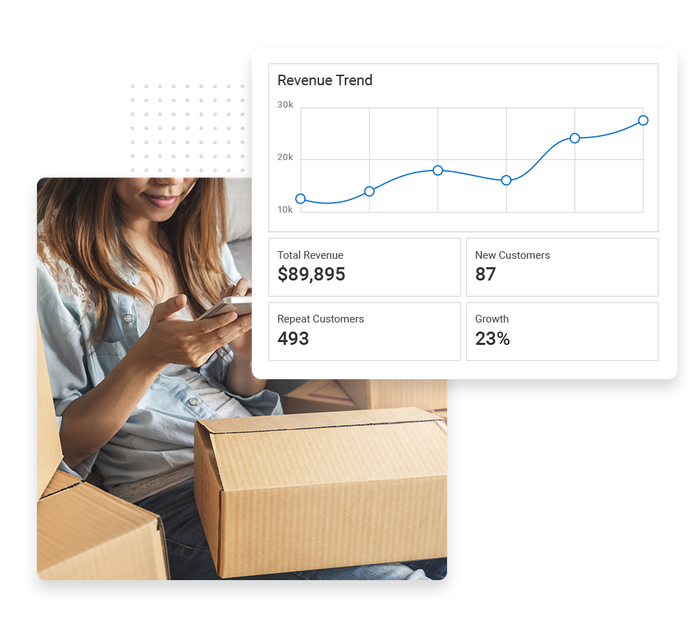 Get more out of self storage marketing
With Marketing 360™ Intelligence, you'll get transparent, easy-to-understand performance reporting, monitoring and analytics tools. It's everything you need to maximize your ROI by letting the data drive your marketing decisions.
"The knowledge and understanding of the software and the industry by the personnel is fantastic!"
Brad H. | Manager
"They have been able to capture my ideas into a creative website and turn it into income."
Steve T. | Owner
"If you are looking for a powerful platform to build your business on, I think you'll find Marketing 360™ is hard to beat."
Gina K. | Owner
"Great team of professionals to work with. It all works together. That is incredibly important."
Roy H. | Vice President
"I like the ease of use, how beneficial it is and how much overall time it saves."
Amanda Q. | Office Assistant
"This is a great company, and I am super happy that I found them. They are professional, honest and hard working."
Cody G. | COO
"It's easy to navigate, especially for people without the knowledge of marketing trends and Google ads."
Karla H. | Public Relations
"The CRM and automated email capabilities make it possible to have a one-stop shop for all of my marketing and sales needs."
Scott S. | Owner
Get the tools you need to help
manage and grow

your business.