Raise the roof for your
roofing business
Be visible wherever potential clients are looking, get more five-star reviews, manage multiple social profiles at once and more.
Increase visibility
Get to the top of Google and drive low-cost leads to your site
Manage reviews
Build a reputation as one of the highest-rated roofer in your area
Capture market share
Drive leads with ad campaigns across the top channels
And so much more
Everything you need to help manage and grow your roofing business from a single platform
Everything you need to help manage and grow your roofing business from one platform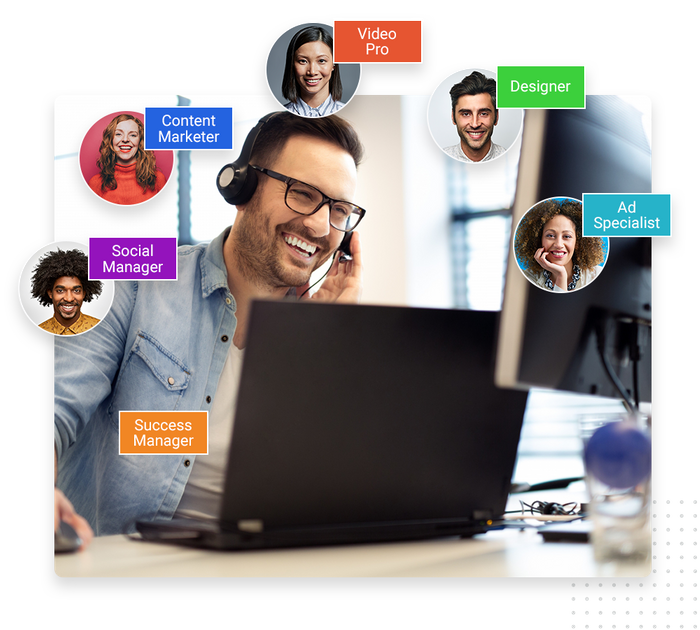 The marketing team to help you grow your roofing business
You can get the tools you need to help scale and manage your roofing business, as well as do-it-for-you roofer marketing programs and a dedicated marketing team to help you grow — all from one platform. Let us focus on growing your roofing business so you can focus on running it. Learn more.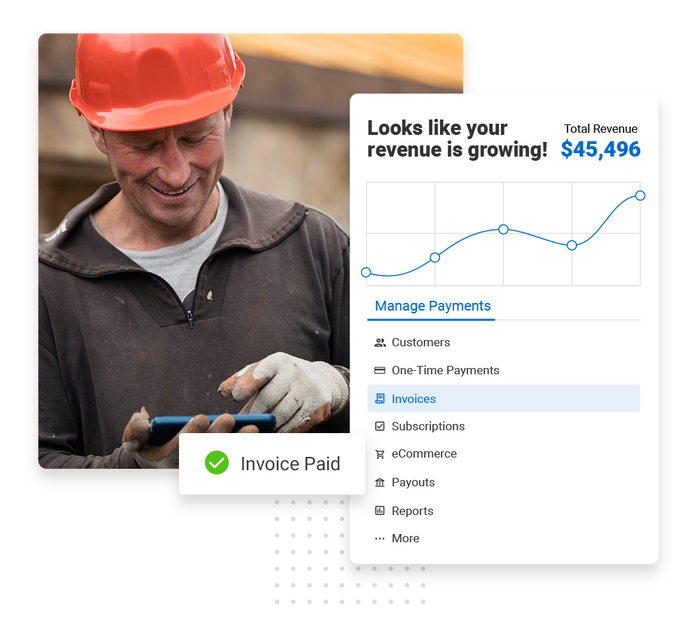 Payment and invoice management the easy way
Invoice management doesn't have to take a lot of time or energy. Streamline the process with Payments. Easily accept payments, create invoices that your clients can pay directly and monitor all payments and invoices from one place.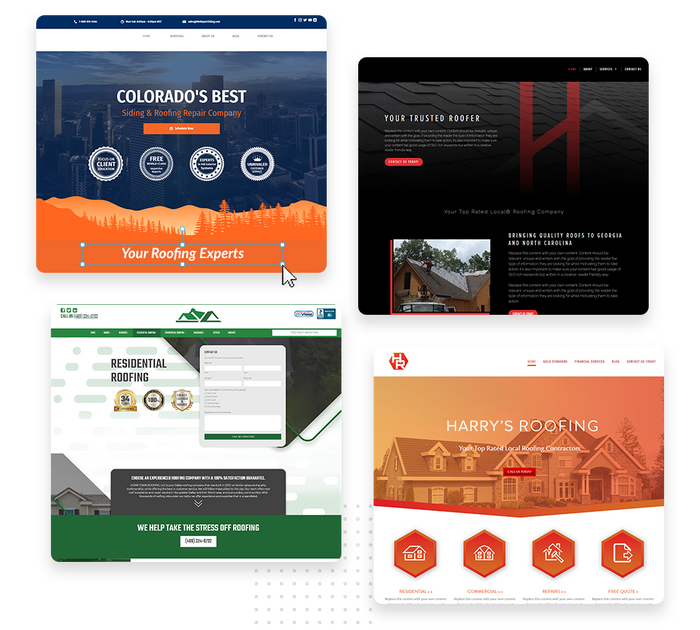 A website that drives through-the-roof results
Build a modern roofing website for your business that drives leads, makes the right impression on potential clients and increases your visibility. It's easy with a library of ready-to-go roofing design templates and a drag-and-drop editor.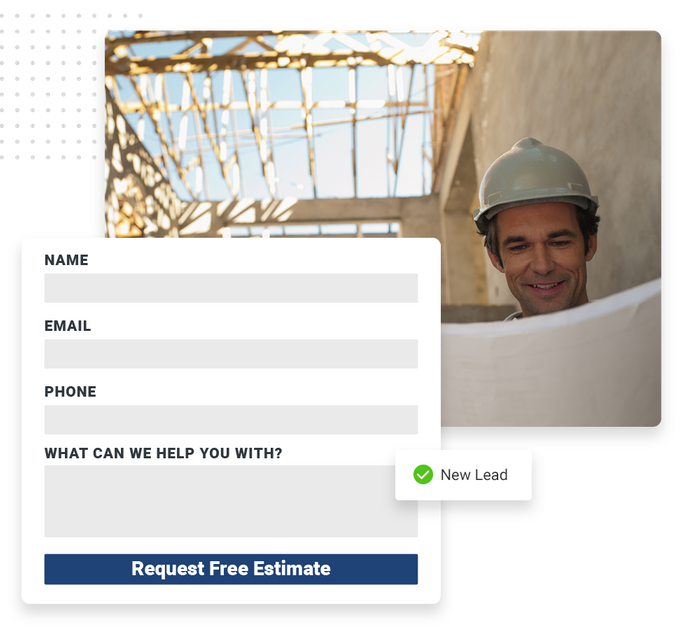 Ready-to-go roofing forms for your website
Get ready-to-go roofing forms for your website that sync with the CRM. All forms are easy to edit and customize. It's the easiest way to build free estimate forms, appointment request forms, contact forms, feedback forms and more.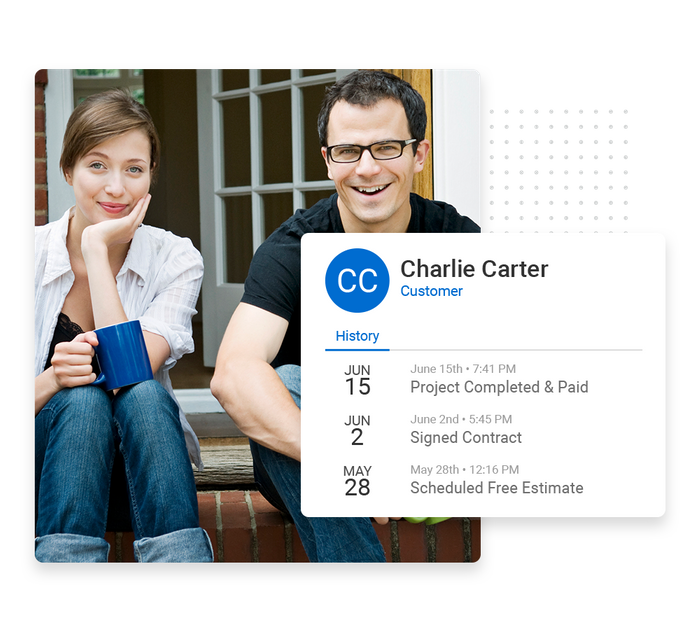 Manage loyal, long-lasting clients
Stay on top of managing client relationships in your business with a roofing CRM. With a customizable dashboard, you can manage it all —contacts, day-to-day client communications, jobs, calendars and more — your way.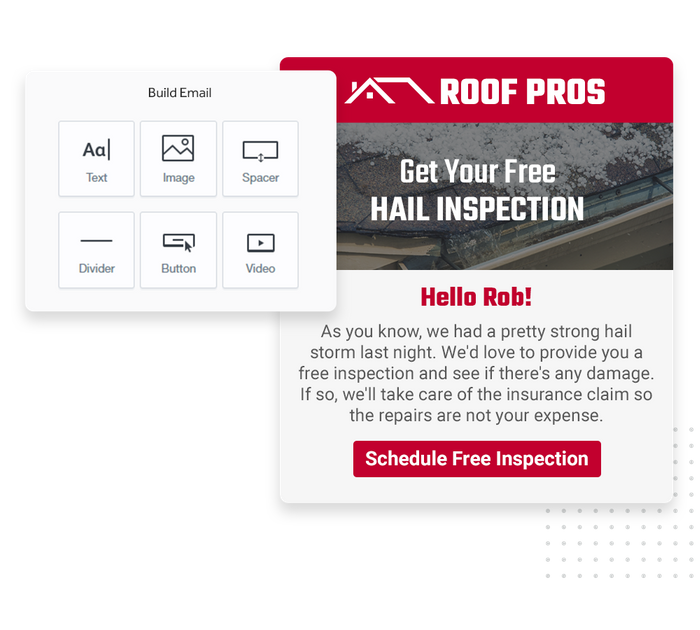 Stay top of mind with email marketing
Make sure that you are the first roofer your clients think of with email marketing. Email campaigns are easy to build and perfect for sending out weather-related promotions, requesting feedback, educating clients with valuable roofing information and more.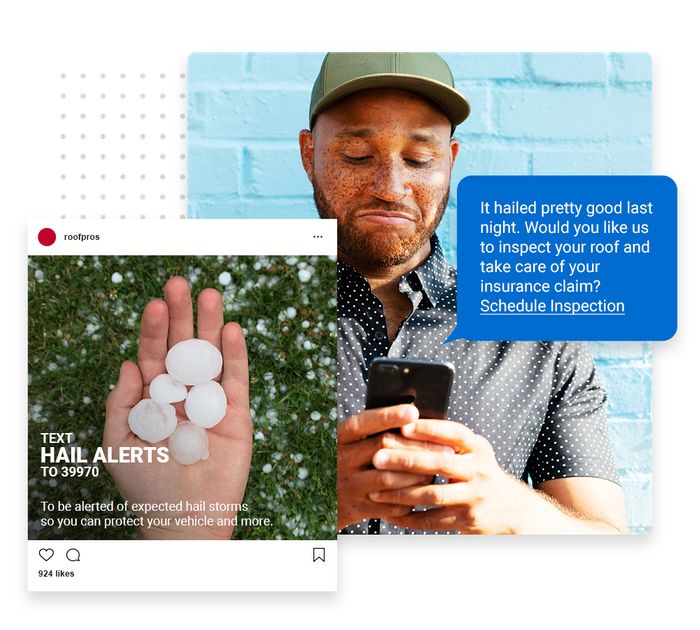 Grow your roofing business with text message marketing
Build automated text message marketing campaigns quickly and easily with Nurture. Generate business with weather-related promotions, remind clients about appointments and payments, request feedback and more.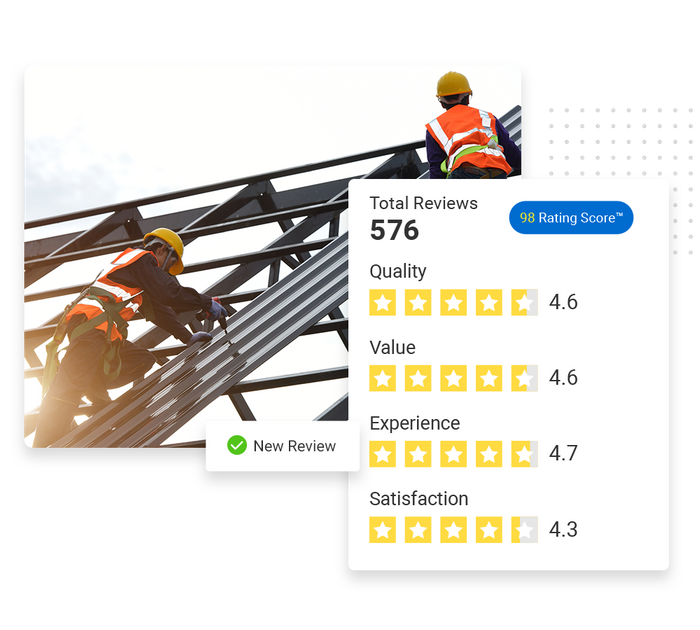 Build trust and get more five-star reviews
Reputation gives you all of the tools you need to gain more control over your reputation and become the highest-rated roofer in your area. Request and manage reviews from across the web, build a reviews widget for your website and more.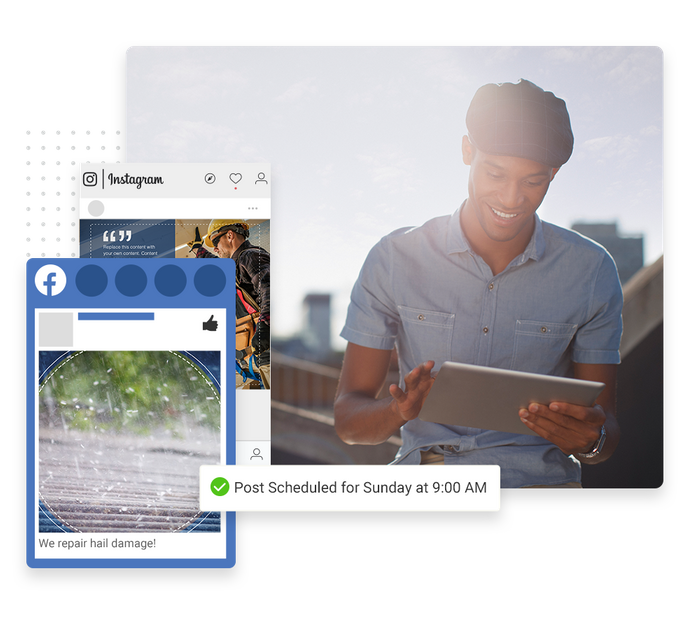 Manage all your social profiles from one place
Social media is the perfect place to expand your reach and connect with more people in your community. With Social, you can create and schedule posts for multiple profiles at once. It's the only tool you need to manage your social presence.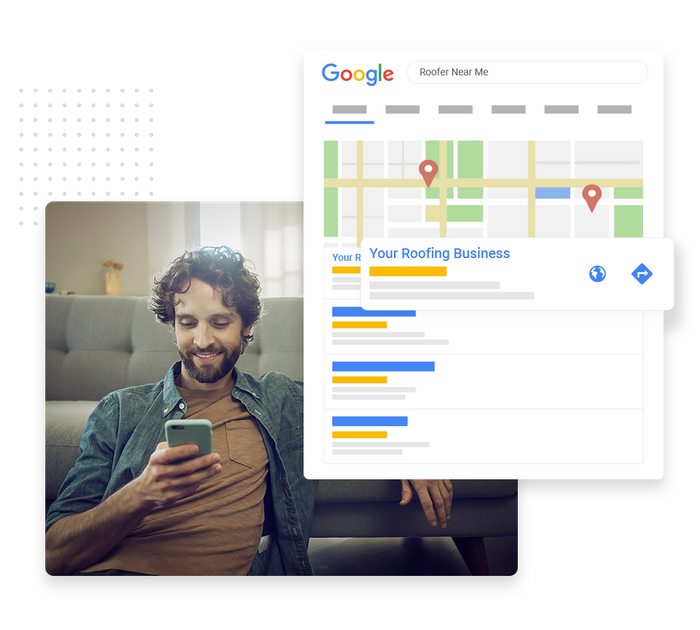 Drive organic traffic and leads to your website
Outrank your competitors on Google and get low-cost, high-quality leads with content marketing. With Content, you'll have the SEO reporting tools you need to make sure you are ranking for the right keywords and to track your performance over time.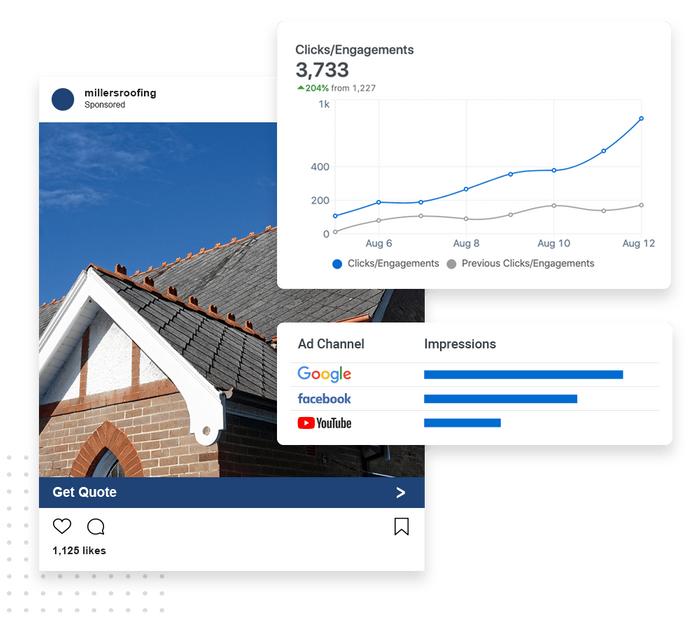 Capture market share on popular channels
Increase your visibility and get traffic and leads on all of the most popular channels, including Google, Facebook, Instagram and YouTube, with multi-channel advertising. Ads makes it easy to create, launch and monitor ad campaigns.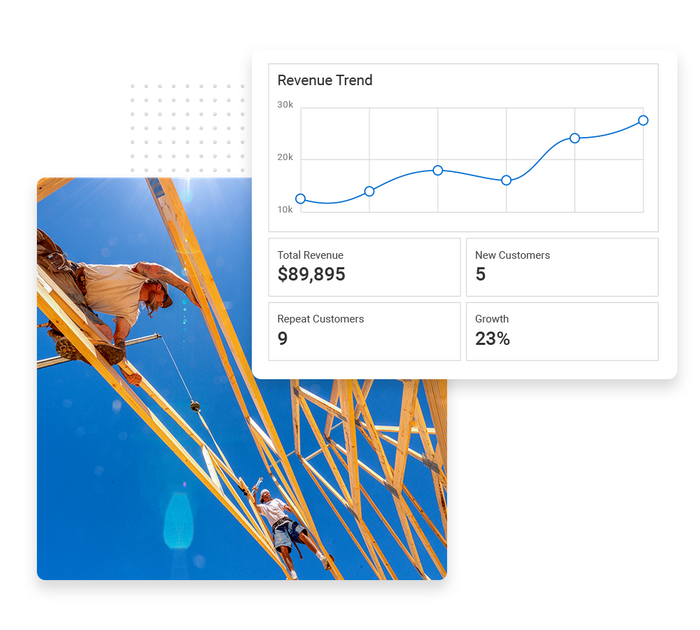 Maximize your ROI with overall performance reporting
Be in the know about what's working for your roofing business and what's not with Intelligence. Easy-to-understand performance reporting will help you make informed, data-driven decisions about your marketing budget and strategy.
"It made getting roof repair jobs an exact science. All in all, this is a sure fire way to get your phone ringing and jobs on the schedule."
Shane C. | Owner
"it is great to see what channels of marketing are hitting the most to be able to utilize the best strategy moving forward."
Steve T. | Owner
"The CRM is very easy to use and allows us to maximize each lead."
Joanna L. | Marketing Manager
"I can't image running my business at this point without Marketing 360™."
Gina K. | Owner
"Great marketing solution. This is the all-in-one marketing tool that you need."
Drew M. | Support Specialist
"Working with the team at Marketing 360™, I have an expert in every field working on my businesses that are working together."
Roy H. | Vice President
"A one-stop shop, plus an entire team working for you to help your business grow."
Tasha M | Marketing Manager
"Great marketing tool. I instantly knew this is was the perfect software for our company."
Amanda Q. | Office Assistant
"Easy to navigate and very simple to learn. It fulfilled all my needs and allowed me to create marketing campaigns fast and easy."
Marie P. | Independent Contractor
Get the tools you need to help
manage and grow

your business.