Build and grow your
retail store
Drive sales and capture market share, manage leads and customers, securely accept payments anywhere, get product reviews and more.
Be visible
Make your products and retail store more visible on popular channels
Boost sales
Build multi-channel ad campaigns to boost sales online and off
Manage payments
Accept credit card payments securely online
And so much more
Everything you need to help manage and grow your retail store from one platform
Everything you need to help manage and grow your retail store from one platform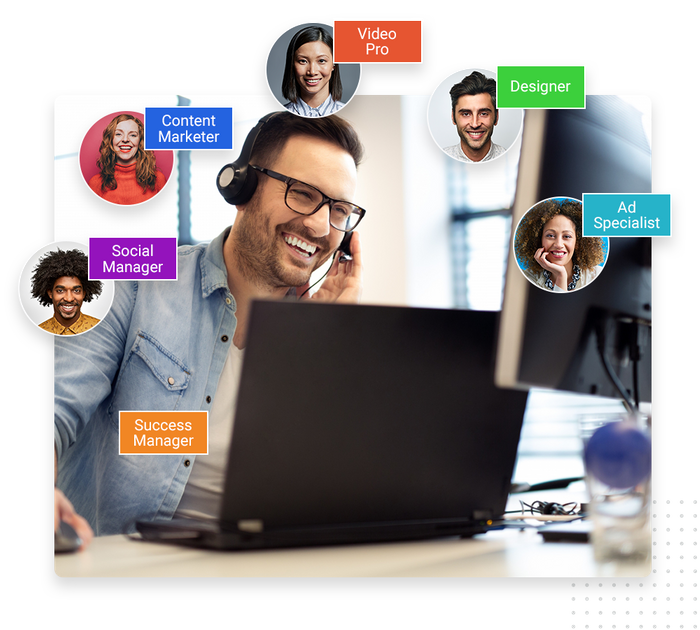 The marketing team to help you grow your retail store
With Marketing 360™, not only can you get the tools you need to help scale your retail store, but you can also get do-it-for-you retail marketing programs and a dedicated marketing team to help grow your store — all from one platform. Let us focus on growing your retail store so you can focus on running it. Learn more.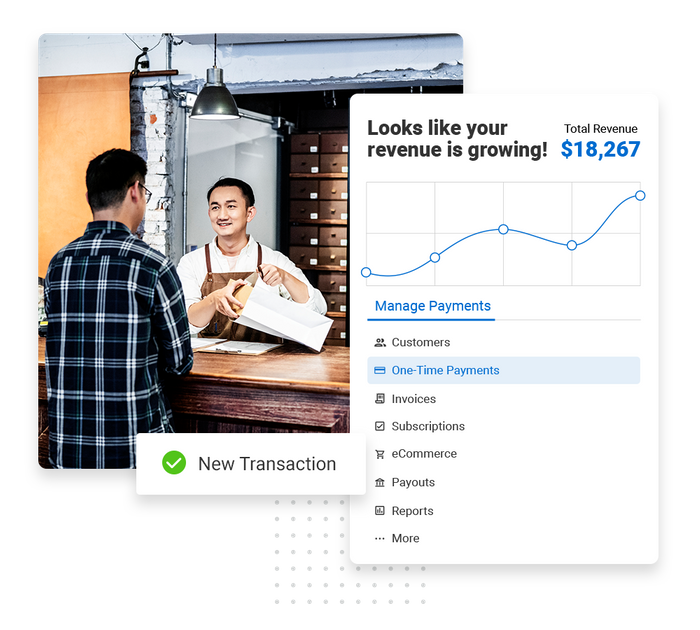 The easy, secure way to accept payments
With Payments, you can manage all payments and invoices from a single platform, monitor your inventory, keep track of customer purchase history and so much more.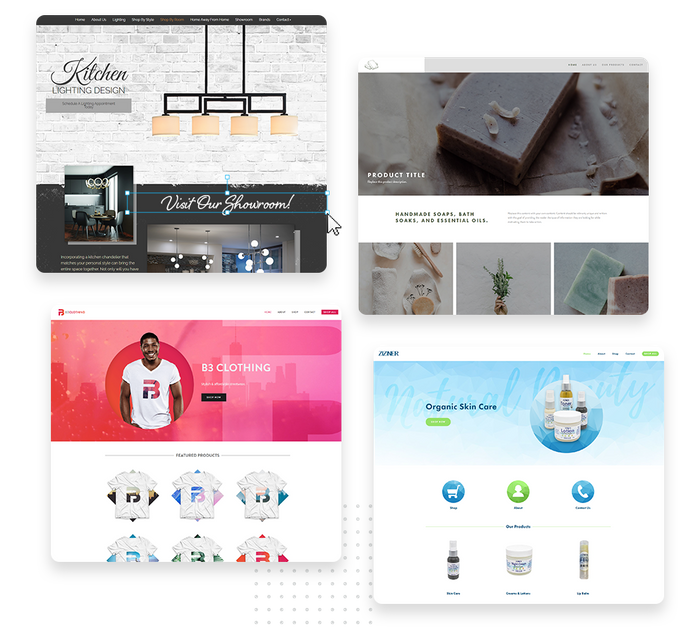 A website that drives sales and conversions
Make your retail store stand out online with a modern website that highlights your products and drives sales. With Websites 360™, you don't have to know a single line of code to build a convertible, mobile-friendly retail website. See how it works.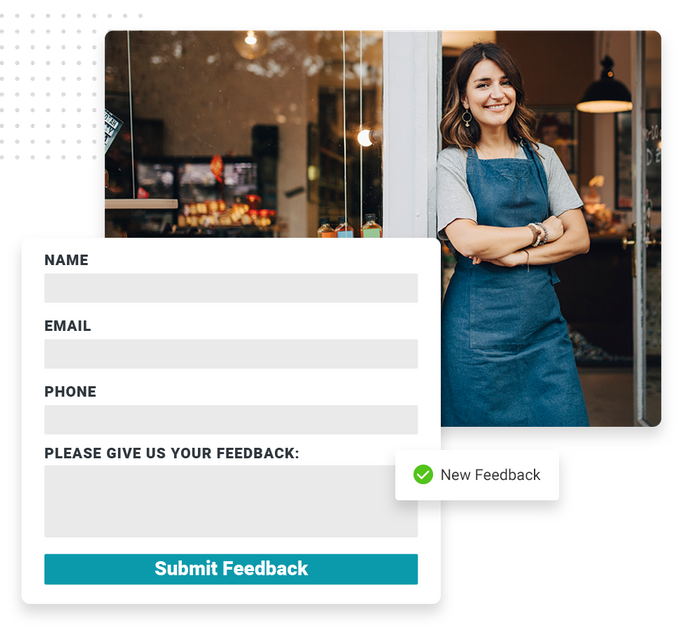 Ready-to-go retail forms
Get ready-to-go retail forms for your website that sync with the CRM. All forms are easy to edit and customize. Build any kind of form you need, including contact forms, feedback forms, application forms and more.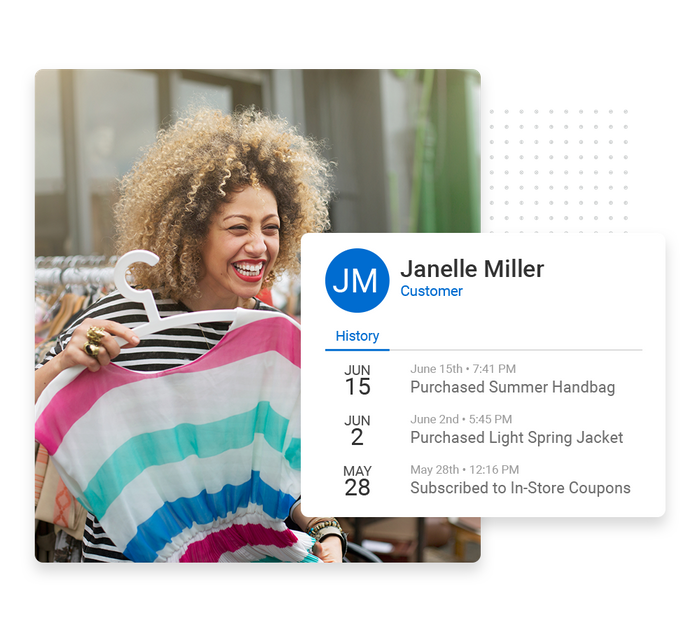 Manage leads and customers with a retail CRM
Increase the average lifetime value of your customers with a retail CRM. Marketing 360™ CRM allows you to manage all of your leads and contacts from a single platform, including day-to-day communications, purchase history and more.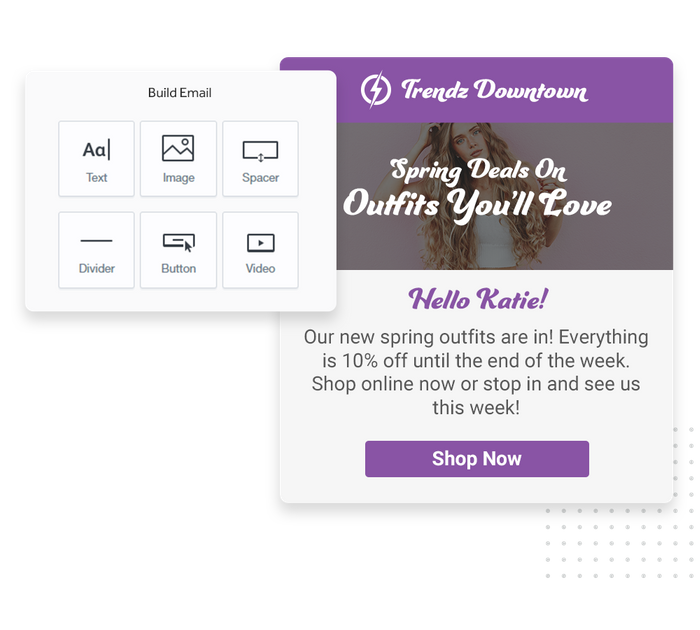 Stay top of mind and get repeat business with email marketing
Keep customers up to date with transactional emails — order confirmation, order shipment, etc. — provide curated offers based on purchase history, request product reviews and more. Nurture makes automated email campaigns easy to build.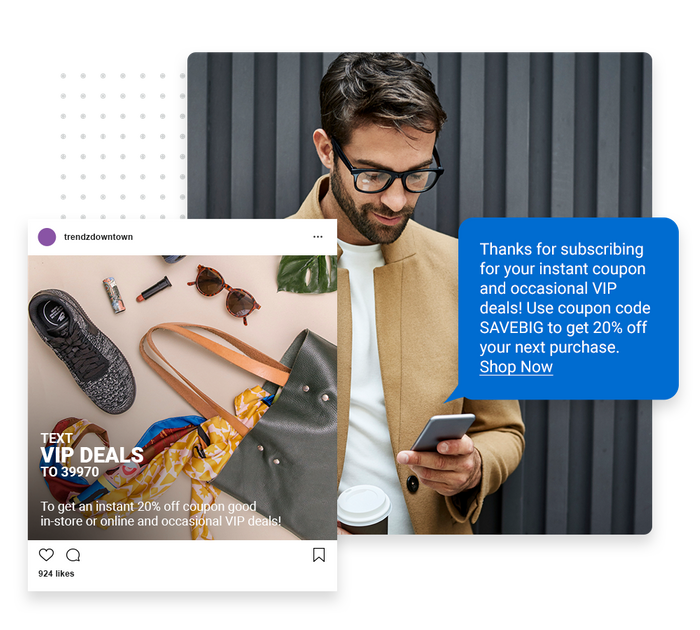 Boost sales with text message marketing
From coupon codes and special birthday offers to last-minute discounts, text message marketing is key when you want to connect with shoppers instantly. Nurture makes creating and sending text message campaigns fast and easy.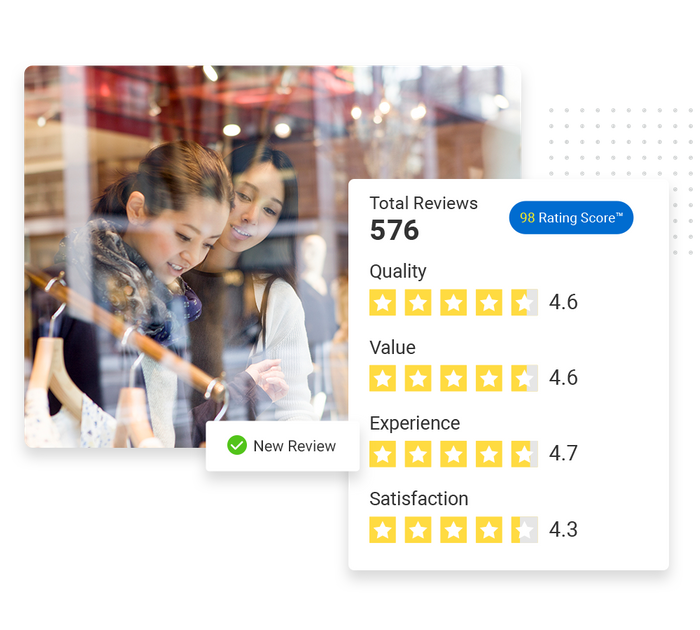 Build trust and manage reviews
From one platform, you'll be able to request and manage reviews across the web. You'll also be able to challenge fake reviews, send private notes to reviewers and more, giving you more control over your reputation.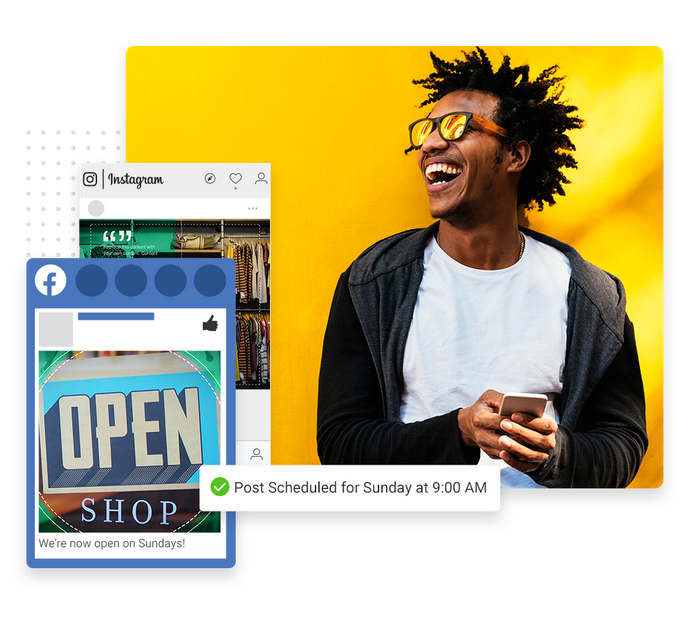 Create lifelong fans and followers on social
Run promotions, get the word out about sales and offers, build a voice for your brand and more across popular social media platforms. Create and schedule social posts on multiple social profiles at once with Social.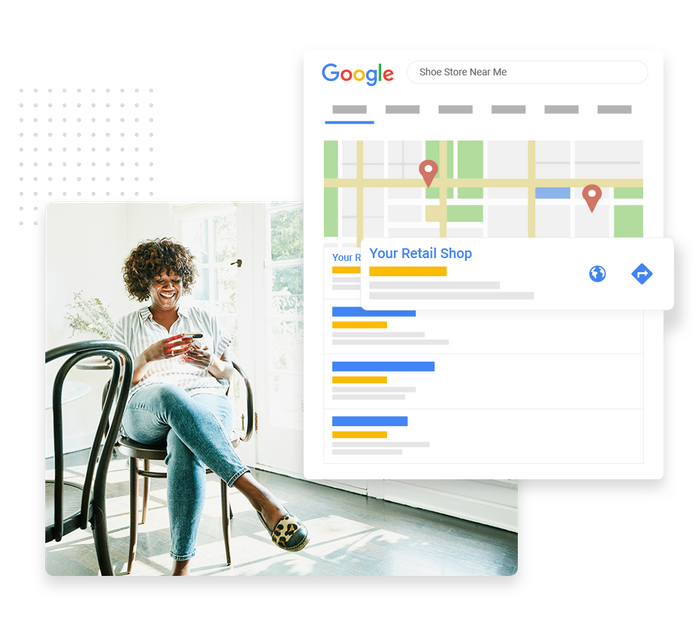 Drive sales and low-cost leads with content marketing
Get more customers and outrank your competitors on Google with content marketing. Plus, keep track of your keyword rankings and organic performance history with easy-to-understand SEO reporting.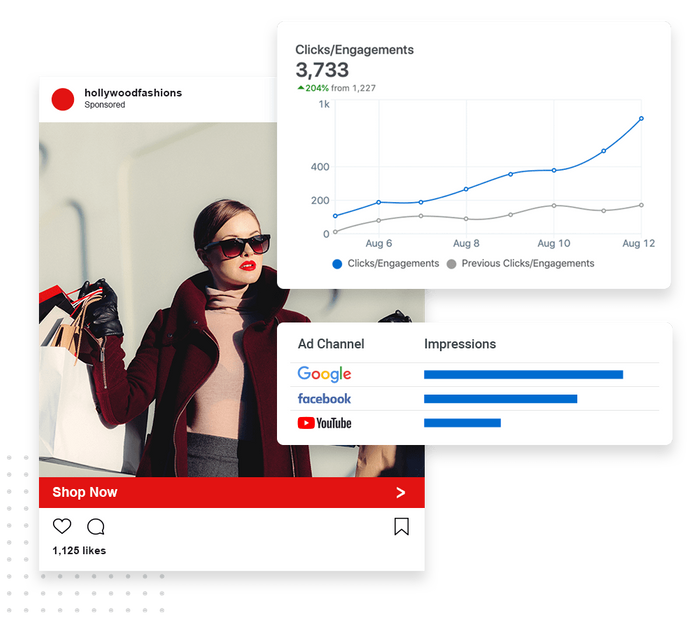 Get more leads and sales on popular channels
Ads makes creating and launching campaigns across the most popular channels — Google, Facebook, Instagram, YouTube and more — easy. Plus, get the reporting tools you need to maximize your ROI and get more value out of every advertising dollar.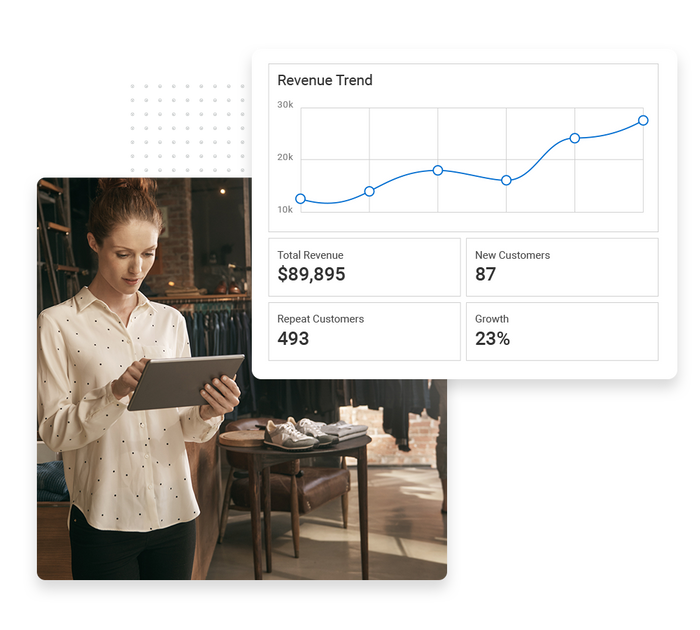 Maximize your ROI and increase your bottom line
Get the data you need to make informed, intelligent decisions about your marketing strategy and budget with overall performance reporting. Intelligence offers easy-to-understand reports that help you closely monitor what's working and what's not.
"Marketing 360™'s software allows us to make marketing and advertising decisions quickly with informed metrics."
CJ K. | Owner
"It has helped our business improve drastically. We are so excited to keep working with them!"
Kaden B. | Owner
"Working with a talented, professional and passionate company is a necessity for my brand."
Jaimie S. | Owner
"Sales more than tripled within the first months. It is indispensable for the growth of the business."
Mercedes S. | Marketing Director
"In less than one month's time, we have already begun to see increases in customers visiting our website and social media."
Dawn T. | CEO
"Online marketing is so complex, and with Marketing 360™, it's all in one place."
Matthias B. | President
"Our ROI is more than we ever expected! Six months with Marketing 360™, and we couldn't even imagine our business without it!"
Hilary L. | Owner
"Our company saw a dramatic difference in our sales, and we know that we are on the right track for success."
Brenda B. | Owner
"Marketing 360™ has been great for our business."
Amy J. | Owner
Get the tools you need to help
manage and grow

your business.