Manage and grow your
plumbing business
Increase your visibility, get more repeat business, manage invoices and payments the easy way, build a strong reputation and more.
Stay organized
Manage all of your leads, customers, contacts and more
Manage reviews
Get reviews and become one of the highest-rated plumbers in your area
Incredible SEO
Outrank your competitors on Google for relevant keywords
And so much more
Everything you need to help manage and grow your plumbing business from a single platform
Everything you need to help manage and grow your plumbing business from one platform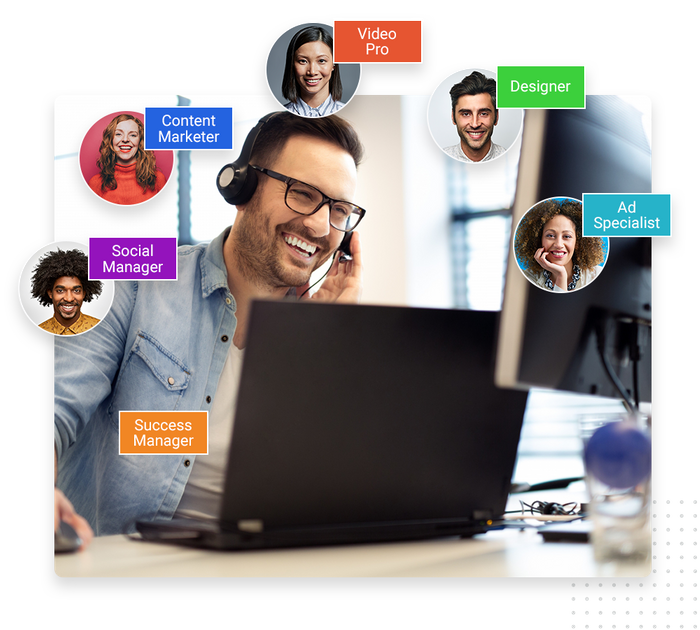 The marketing team to help you grow your plumbing business
With Marketing 360™, not only can you get the tools you need to help scale your plumbing business, but you get do-it-for-you marketing programs and a marketing team dedicated to helping your business grow. Let us focus on growing your plumbing business so you can focus on running it. Learn more.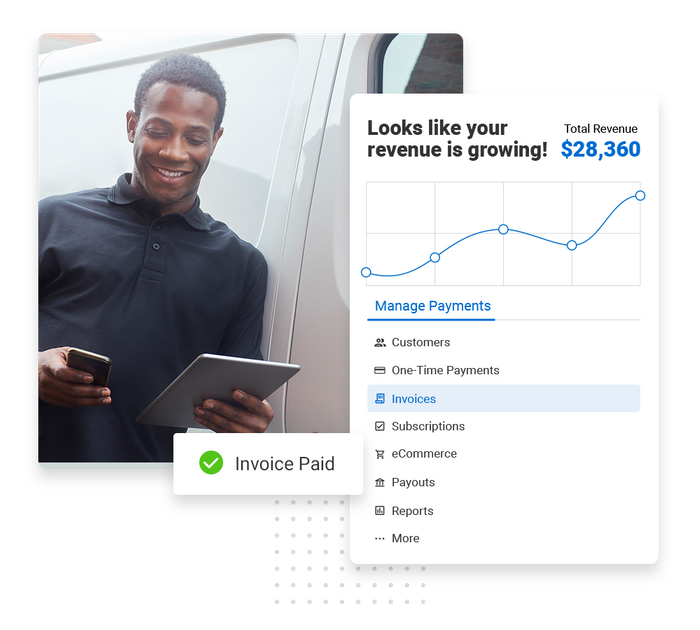 Create and manage invoices the easy way
Payments makes creating and sending professional invoices easier than ever. Invoices can be paid directly, and you can manage all of your invoices from a single dashboard, quickly seeing which invoices are open, overdue or paid.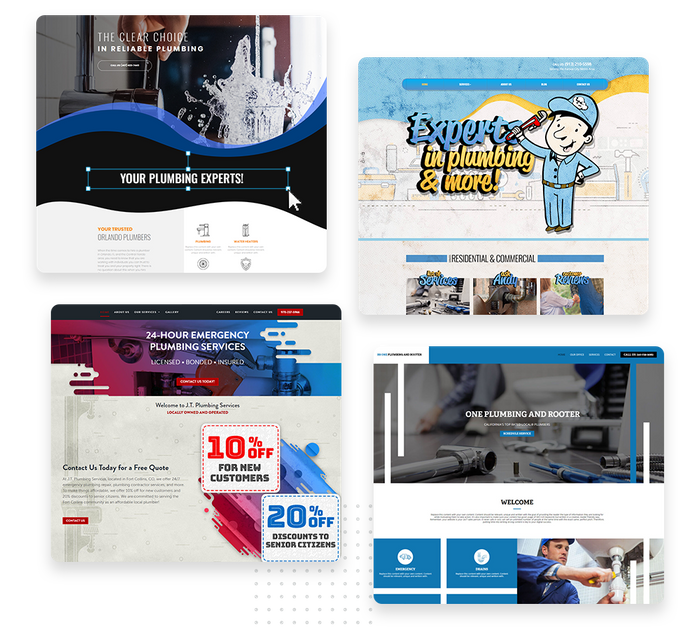 A plumber website that flushes the competition
Make the right first impression on prospective customers with a professional, modern website where they can learn about your services, schedule estimates and more. Websites 360™ offers a library of templates and a drag-and-drop editor that make it easy to build your own.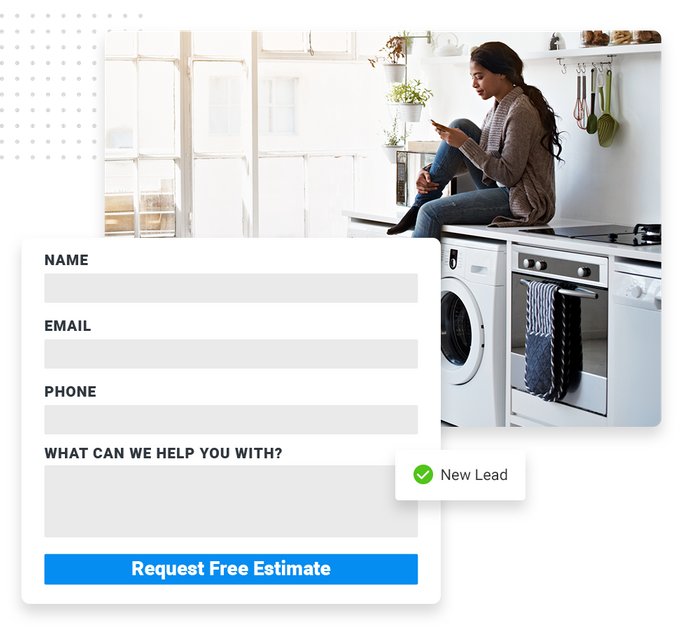 Ready-to-go plumber forms for your website
Get ready-to-go plumber forms for your website that sync with the CRM. All forms are easy to edit and customize. Forms gives you everything you need to build estimate request forms, contact forms, feedback forms and more.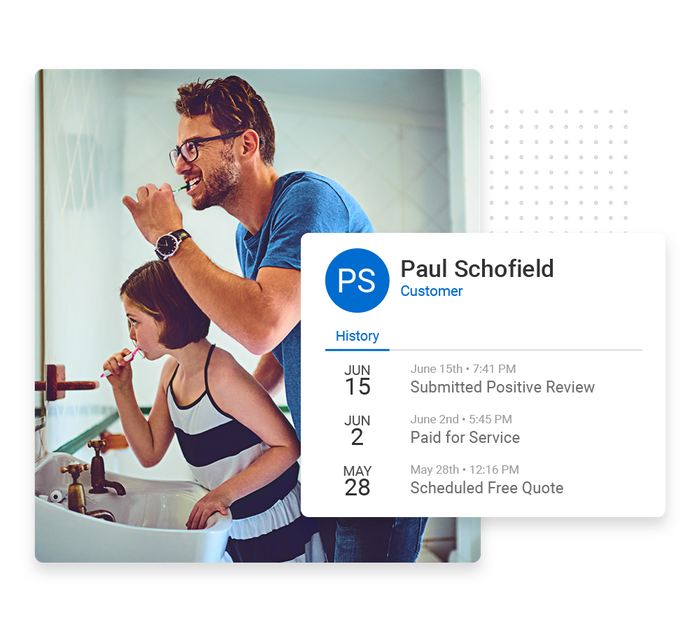 Manage long-lasting customers with a plumber CRM
Manage all of your contacts — leads, residential and commercial customers, partners, etc. — from a single dashboard with a CRM designed for plumbers like you. It's everything you need to stay organized and manage your business your way.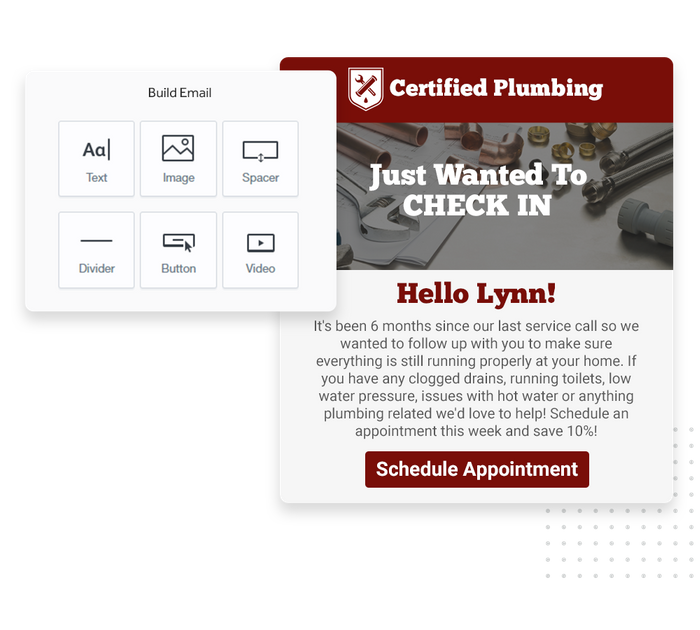 Be the first plumber your customers think of
Whether they need plumbing services or they're giving a referral to a friend, be the first plumber your customers think of with email marketing. Automated email campaigns are quick and easy to build with Nurture.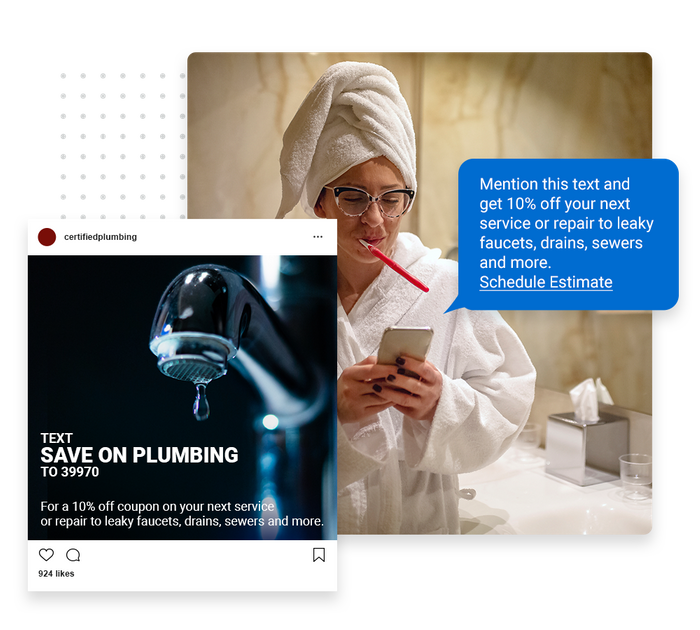 Grow your plumbing business with text message marketing
Most texts are read quickly, which makes text message marketing ideal when you need to get the timing just right. Check-in with customers after a big freeze, send out appointment reminders and follow-ups, request reviews and more.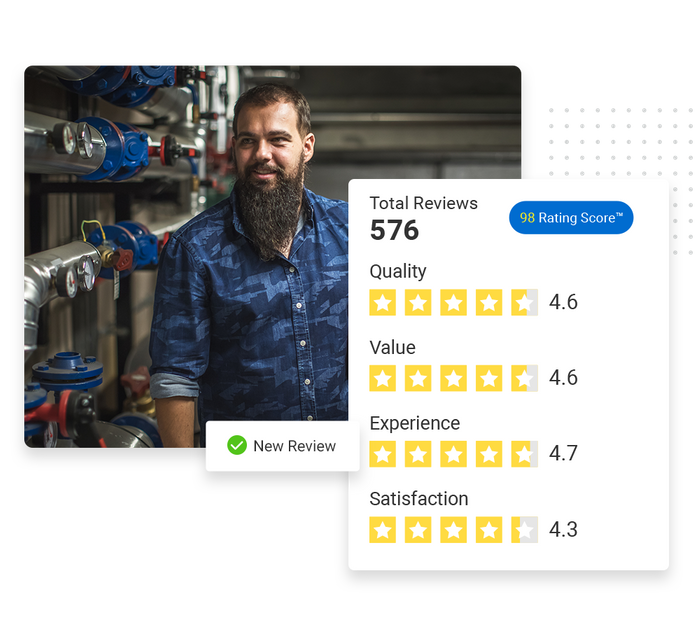 Become one of the highest-rated plumbers in your area
Reputation has everything you need to build a strong reputation for your plumbing business. Request reviews, manage reviews from across the web, monitor your overall reputation, build a reviews widget for your website and more.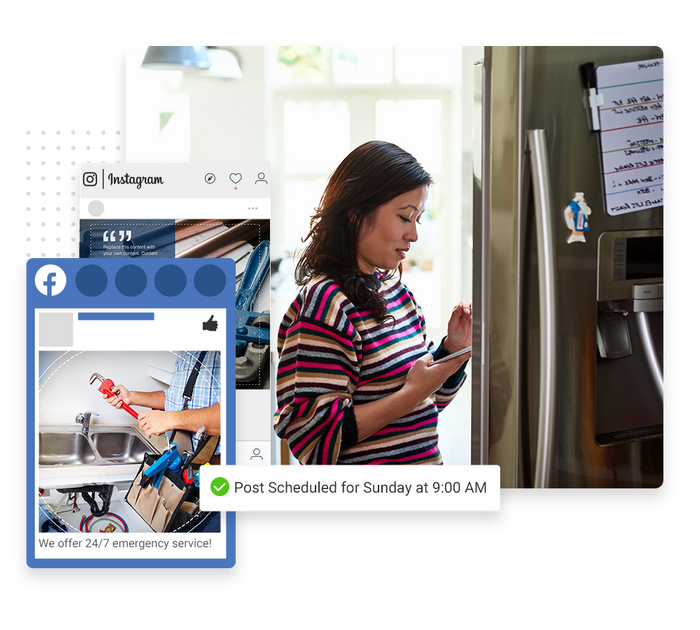 Connect with your community on social media
Social media is where community connections happen online, and Social makes managing your presence across Facebook, Instagram and LinkedIn easy. Create and schedule out social posts for multiple profiles at once to save time and stay consistent.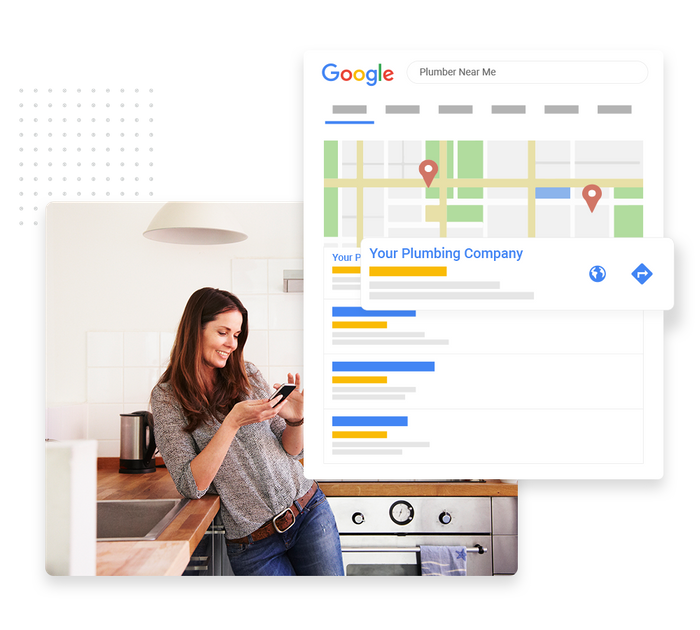 Outrank your competitors on Google
Get to the top of Google for relevant keywords and drive more low-cost organic leads with content marketing. Content gives you access to SEO reporting tools that make it easy to monitor keyword rankings, performance over time and more.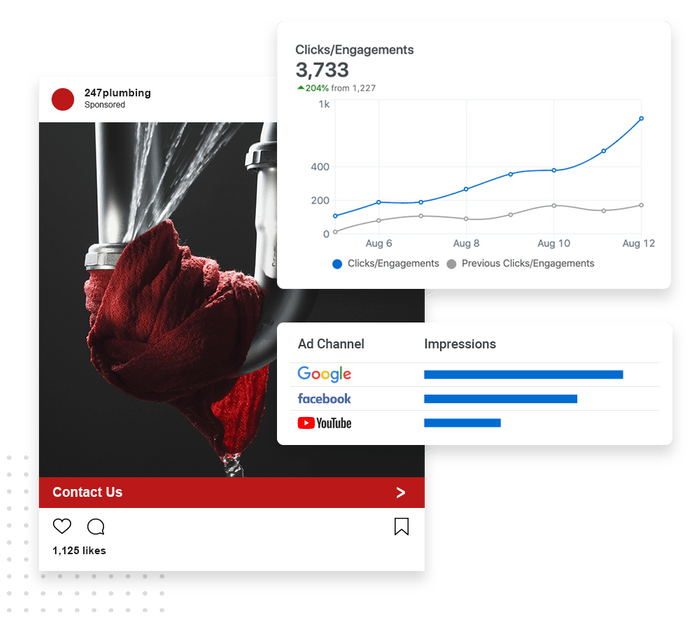 Drive high-quality leads with multi-channel advertising
Make your plumbing business visible and drive leads to your website on all of the most popular channels, including Google, Facebook, Instagram and YouTube. Ads gives you what you need to create, launch and monitor advertising campaigns on multiple channels.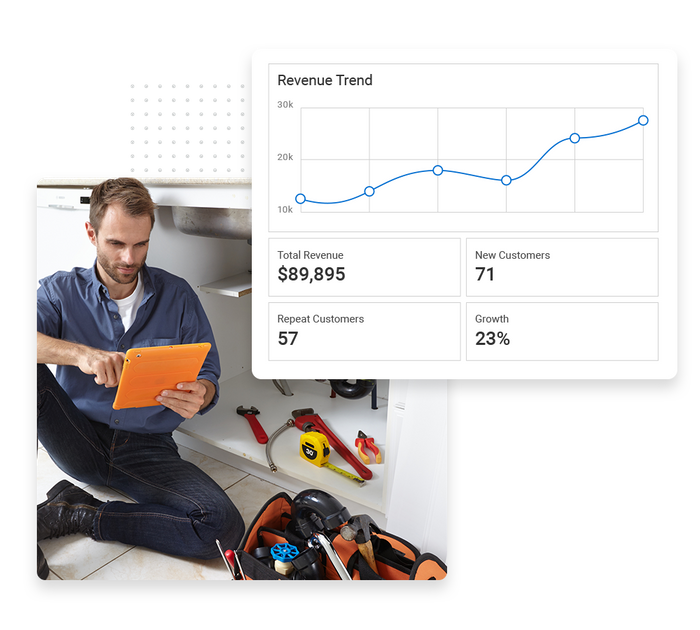 Get more out of plumber marketing
Maximize your ROI by doing more of what's working for your plumbing business and less of what's not. Intelligence gives you easy-to-understand overall performance monitoring, reporting and analytics tools to help you make data-driven marketing decisions.
"Take control of your destiny now and have Marketing 360™ give you awesome results."
Jeffrey H. | Master Plumber
"All the info you need in one place. I haven't had any issues using the platform."
Taryn R. | Owner/Founder
"With the support of an outstanding support team, Marketing 360™ has been a win for our company."
Jim P. | Marketing Director
"For what you pay, I can not imagine a higher value in return. Thanks!"
Joseph T. | Owner
"There was always someone on hand to walk me through everything, and the dashboard was easy to read."
Amy S. | Owner
"Their software is very user friendly and easy to use. Fantastic company!"
Steve T. | Owner
"I like that the CRM is very easy to use and that the emails can be automated."
Joanna L. | Marketing Manager
"From day one, the level of service I received from every person I worked with was exceptional."
Gina K. | Owner
"All in all, this is a sure fire way to get your phone ringing and jobs on the schedule."
Shane C. | Owner
Get the tools you need to help
manage and grow

your business.