Everything you need to help manage and grow your
pest control company
Build a strong reputation, manage your customers, create and send professional invoices, capture market share and more.
Get reviews
Become one of the highest-rated pest control companies in your area
Incredible SEO
Get to the top of Google for relevant keywords
Build loyalty
Get repeat business and build long-lasting customer relationships
And so much more
Everything you need to help manage and grow your pest control company from a single platform
Everything you need to help manage and grow your pest control company from one platform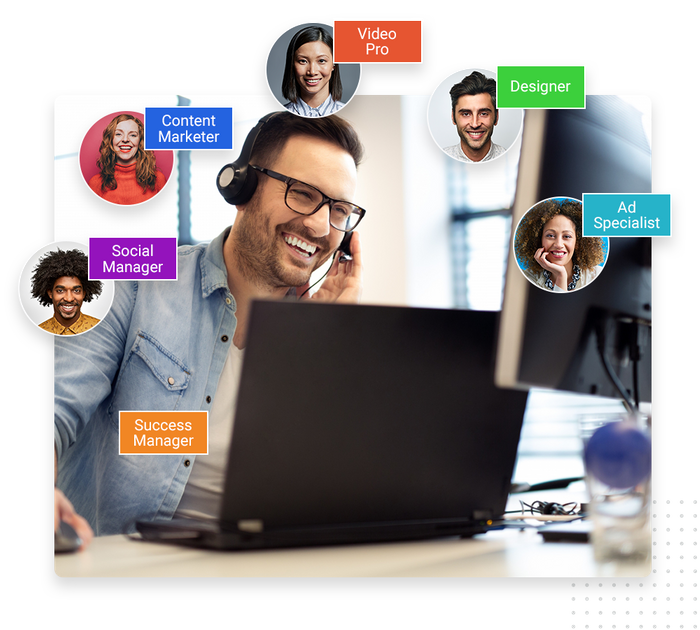 The marketing team to help you grow your pest control company
Not only can you get the tools you need to help scale your pest control company with Marketing 360™, but you can also get do-it-for-you marketing programs and a dedicated marketing team — all from one platform. Let us focus on growing your pest control company so you can focus on running it. Learn more.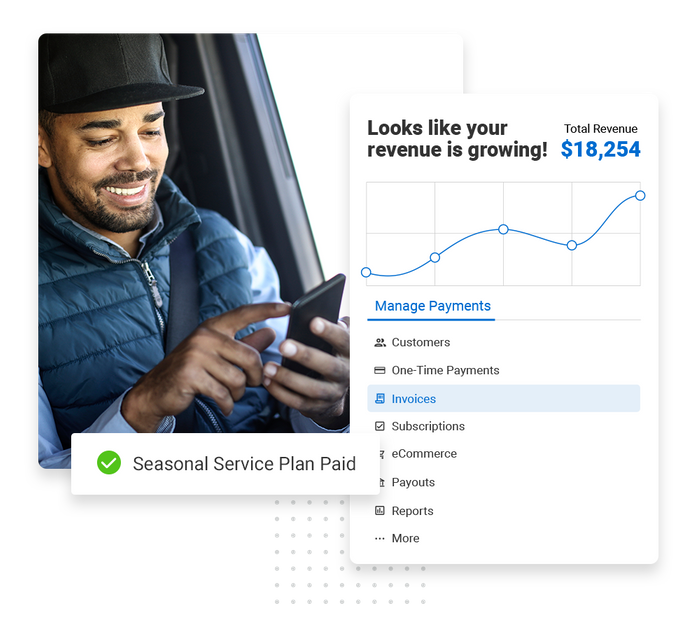 The easy way to process and manage payments
Marketing 360™ Payments offers secure payment processing. Manage all one-time and recurring payments from one place. Plus, create and send professional invoices with ease, and see which invoices are open, paid or overdue at a glance.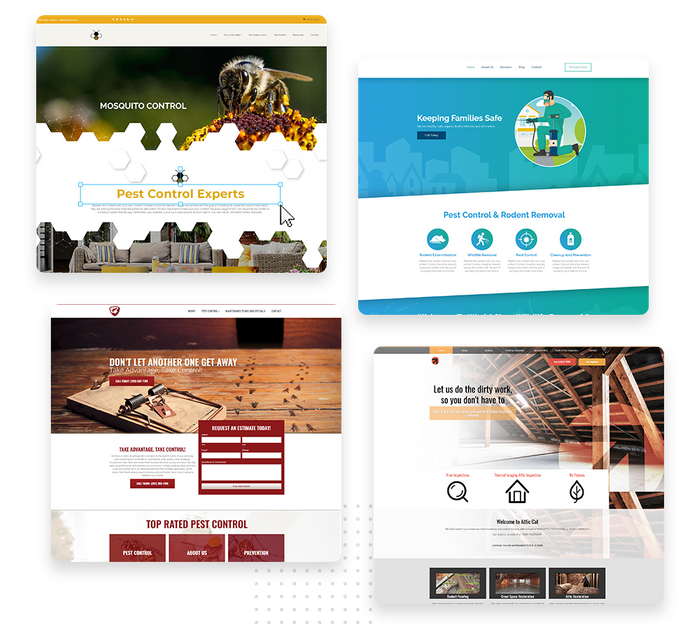 Turn leads into customers with a bug-free pest control website
Introduce your pest control company to prospective customers with a modern website, where they can learn about your services, schedule consultations and more. Building your own website is easy with a library of pest control templates and a drag-and-drop editor.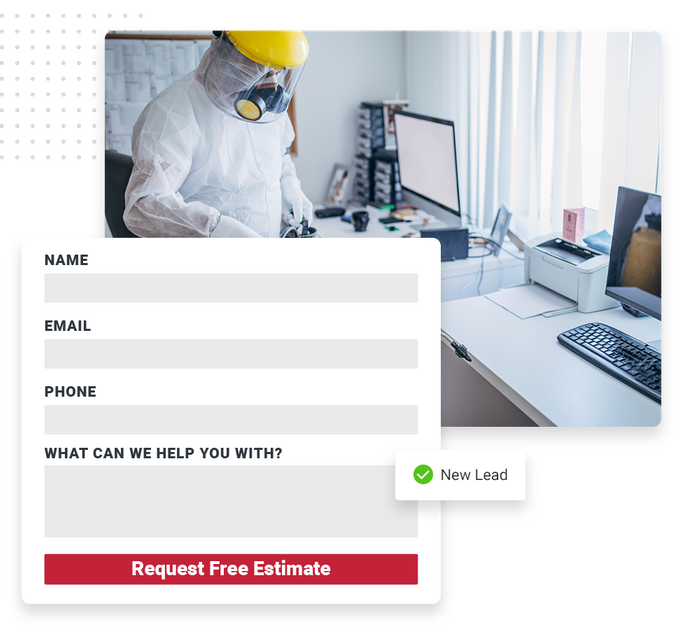 Ready-to-go pest management forms for your website
Get ready-to-go pest management forms for your website that sync with the CRM. All forms are easy to edit and customize. Forms gives you everything you need to build appointment and consultation request forms, contact forms, feedback forms and more.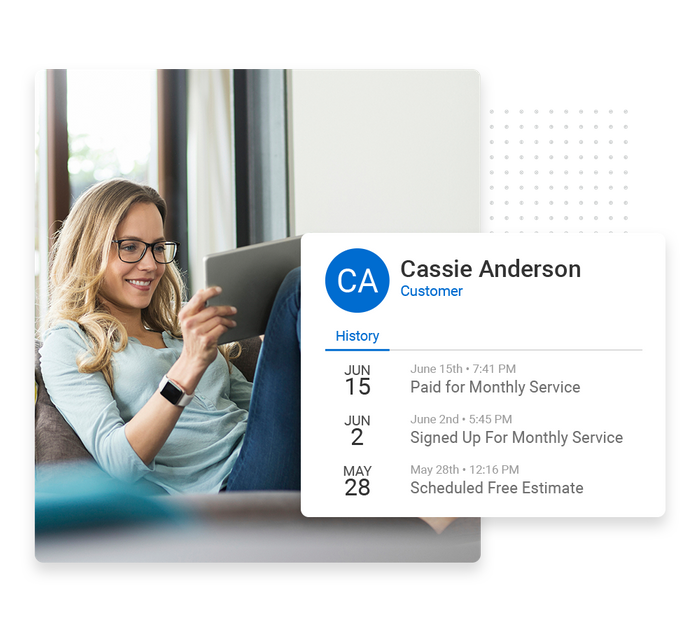 Build long-lasting relationships with your customers
Better customer management leads to better customer relationships and repeat business. Stay organized and manage all of your customers, leads, employees and more with a fully customizable pest control CRM.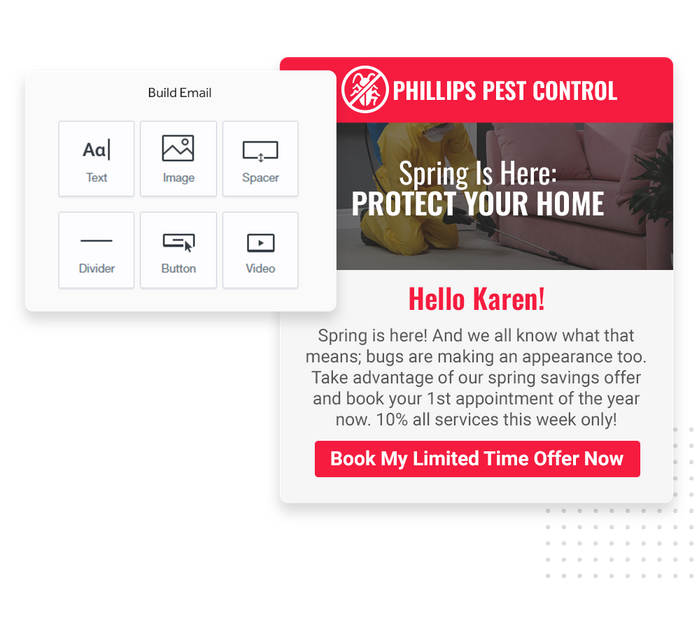 Nurture leads and get more repeat business with email marketing
Stay top of mind and turn more leads into customers with the help of easy-to-build automated email marketing campaigns. Our library of pest control email templates are perfect for sending out appointment reminders, review requests, monthly newsletters and more.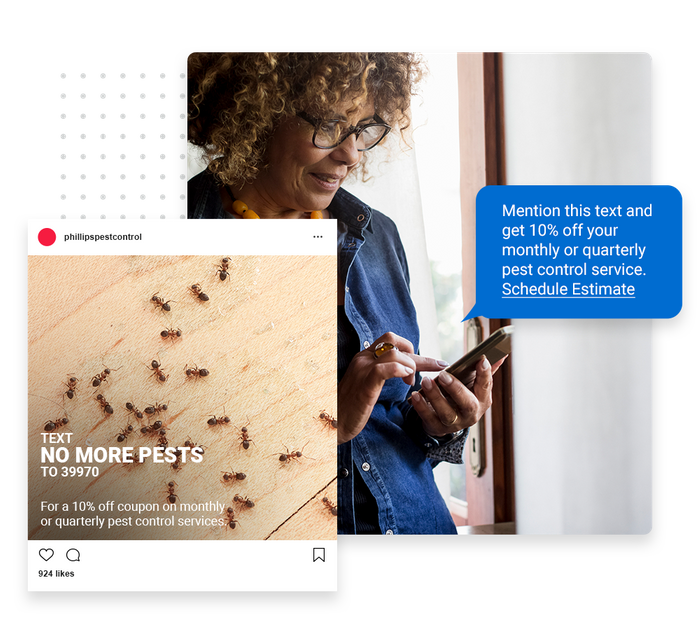 Grow your pest control business with text message marketing
Text message marketing is a great way to connect with your customers in real-time. Automated text message campaigns are easy to build and perfect. Send out appointment reminders and follow-ups, emergency updates, time-sensitive offers and more.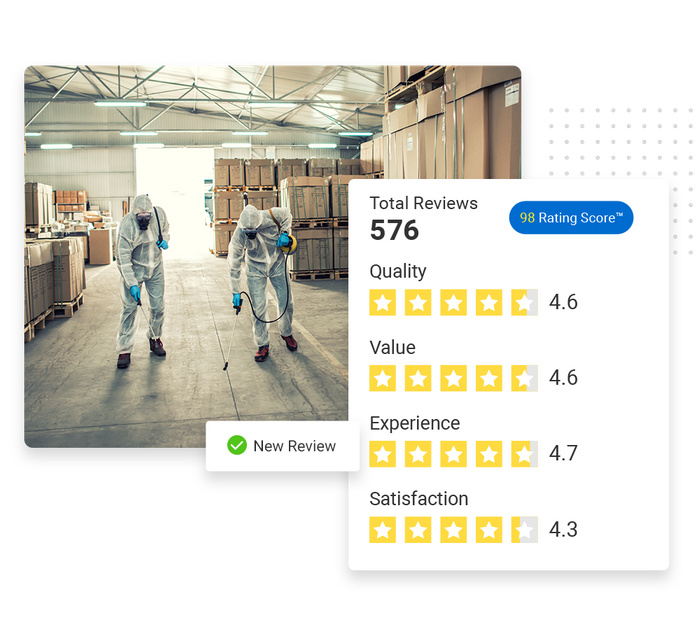 Become one of the highest-rated pest control companies in your area
Build trust with prospective customers and make a name for yourself with Reputation, your all-in-one reputation management tool. Request reviews, manage reviews from across the web, build a reviews widget for your website and more from a single platform.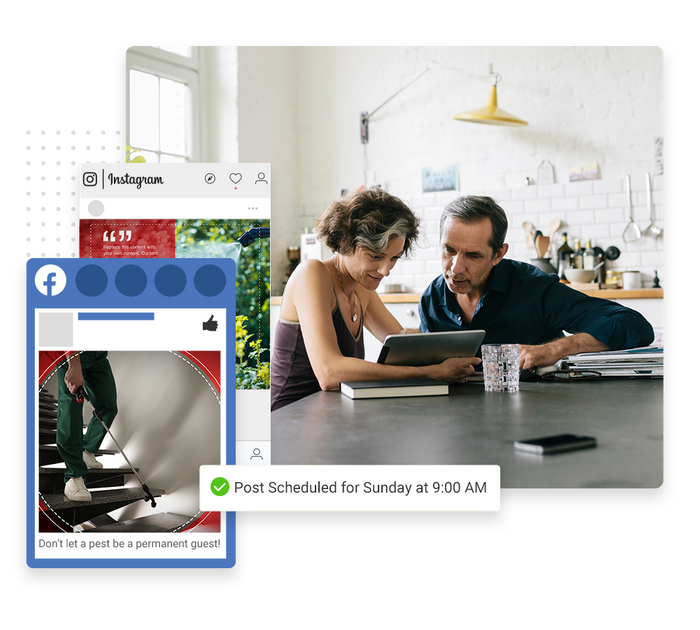 Expand your reach and connect with your community
Social media is where community connections happen online. Save time and make managing social media easier with Social. It has everything you need to create and schedule out social posts across multiple profiles at once.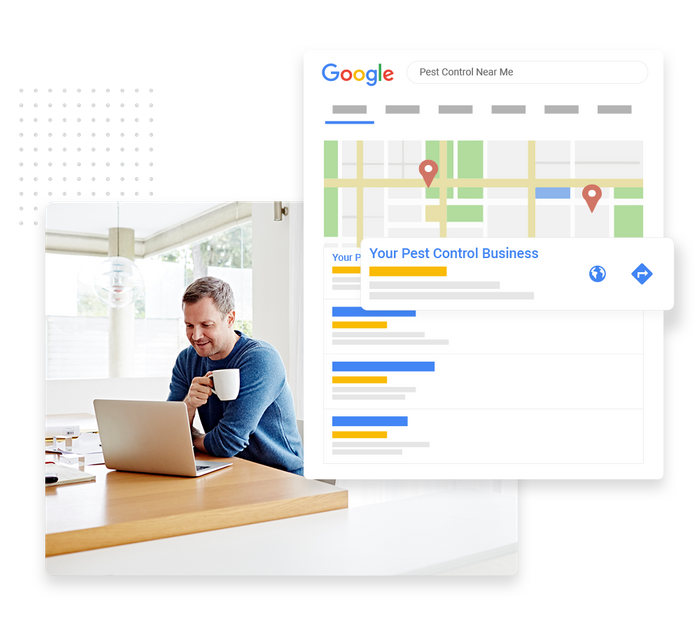 Outrank your competitors on Google
When someone searches for "pest control near me" and other relevant keywords, make sure that your company ranks at the top of the list with content marketing. Monitor your organic success and keyword rankings with easy-to-understand SEO reporting tools.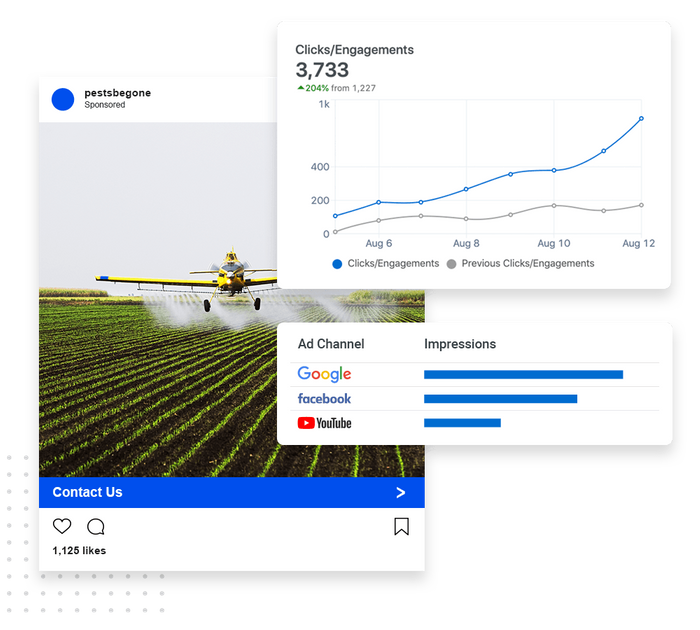 Exterminate the competition on key channels
Capture market share and drive high-quality leads to your website with multi-channel ad campaigns on all of the most popular channels, including Google, Facebook, YouTube and more. Plus, test your ads campaigns, monitor your success and maximize your ROI.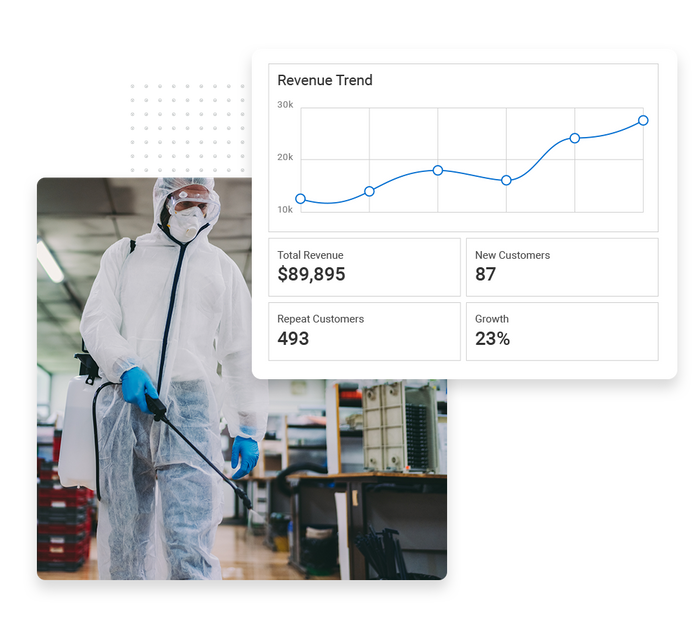 Get more out of pest control marketing
Do more of what's working for your pest control company and less of what's not with Intelligence. Get easy-to-understand performance reporting, monitoring and analytics tools to drive leads and maximize your ROI.
"I like how the dashboards are organized into categories so you can quickly get an overview of the specific stats you're looking for."
Taryn R. | Owner/Founder
"We have felt supported from the beginning. Highly recommend!"
Lisa M. | Founder
"The system provides us with all the necessary tools to monitor our campaigns"
Jim P. | Marketing Director
"Easy to use. Easy to navigate. Great integration with reporting and analytics"
Frank U. | Online Marketing Manager
"The support from the team has been helpful when learning new aspects of the software."
Anthony P. | Owner
"This is one of the best business decisions I made. This software is action packed."
Joseph T. | Owner
"Marketing 360™ was professional and has a very good platform."
Amy J. | Project Coordinator
"Marketing 360™ has a great platform that includes a lot of great information!"
Amy S. | Owner
"My overall experience with Marketing 360® has been amazing."
Steve T. | Owner
Get the tools you need to help
manage and grow

your business.