Manage and grow your
moving company
Outrank your competitors on search, get more five-star reviews, manage leads and customers, capture market share on popular channels and more.
Everything you need to help manage and grow your moving company from one platform
Manage reviews
Become one of the highest-rated moving companies in your area
Incredible SEO
Get to the top of Google for relevant keywords
Drive leads
Get leads and sales with multi-channel advertising
And so much more
Everything you need to help manage and grow your moving company from a single platform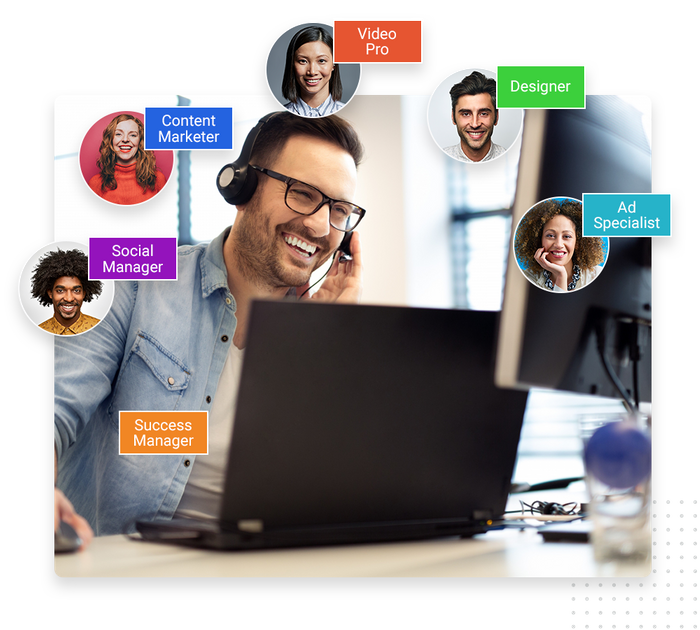 The marketing team to help you grow your moving company
Not only can you get the tools you need to help scale your moving company, but you can also get access to do-it-for-you marketing programs and a dedicated marketing team to help you grow your company. Let us focus on growing your moving company so you can focus on running it. Learn more.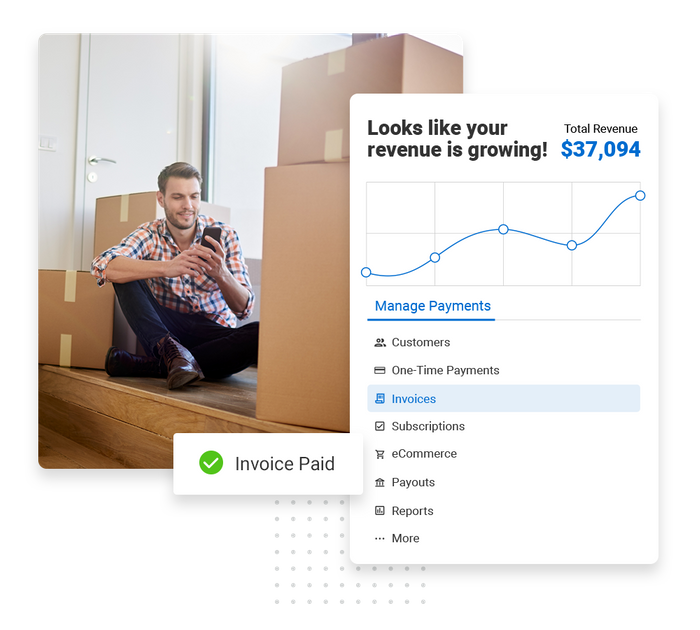 Create and manage professional invoices the easy way
Payments is your all-in-one payments and invoice management solution. Create and send professional invoices that can be paid directly, and quickly see which invoices are paid, overdue or open from one dashboard.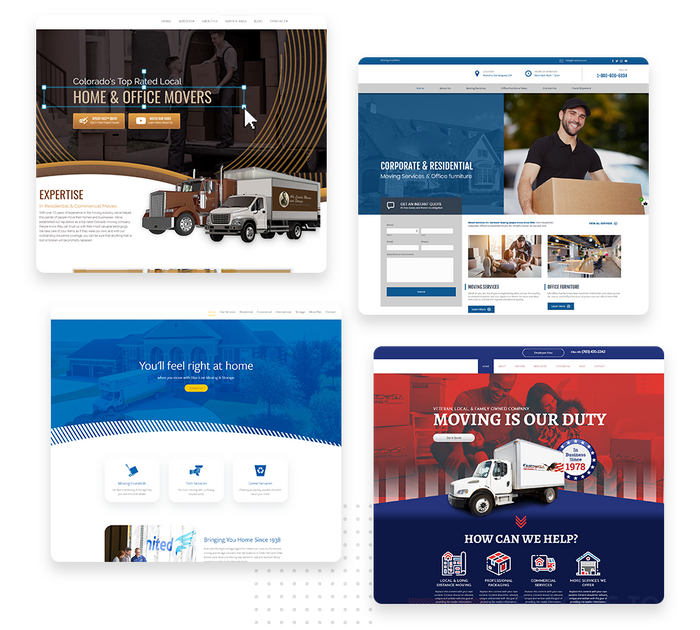 A website that sends the competition packing
Make the right first impression on prospective customers with a modern, professional moving website where they can learn about your services, request an estimate and more. Build your own with a drag-and-drop editor and a library of templates.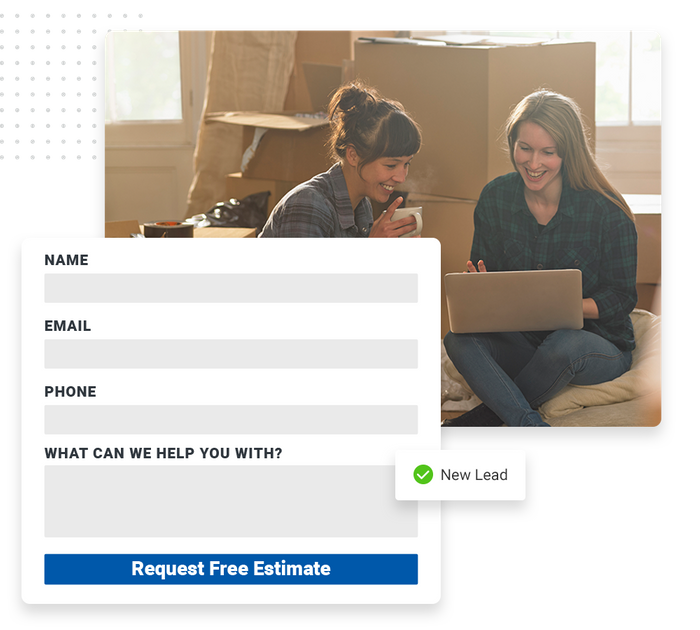 Ready-to-go moving company forms for your website
Get ready-to-go moving company forms for your website that sync with the CRM. All forms are easy to edit and customize. Forms gives you everything you need to build estimate request forms, contact forms, feedback forms and more.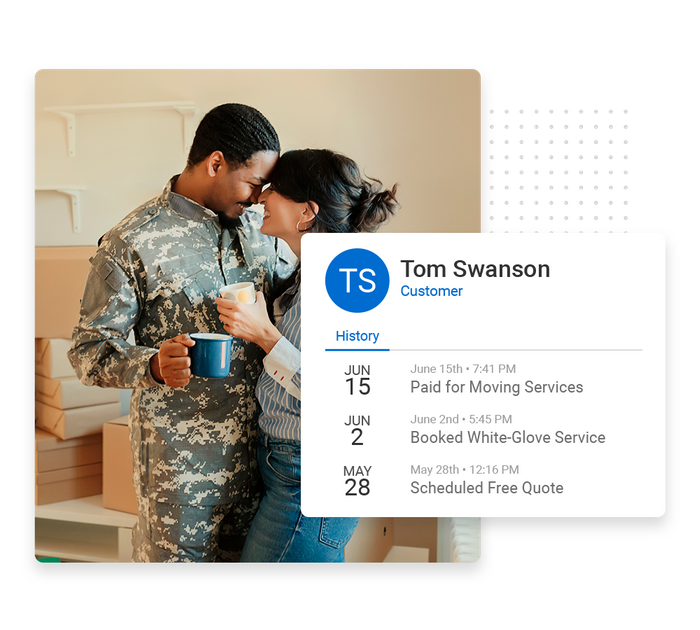 Manage life-long customers with a moving company CRM
Get more referrals and repeat business by building stronger, longer-lasting relationships with your customers with the help of Marketing 360™ CRM. Stay organized and manage leads, customers, employees and more from one dashboard.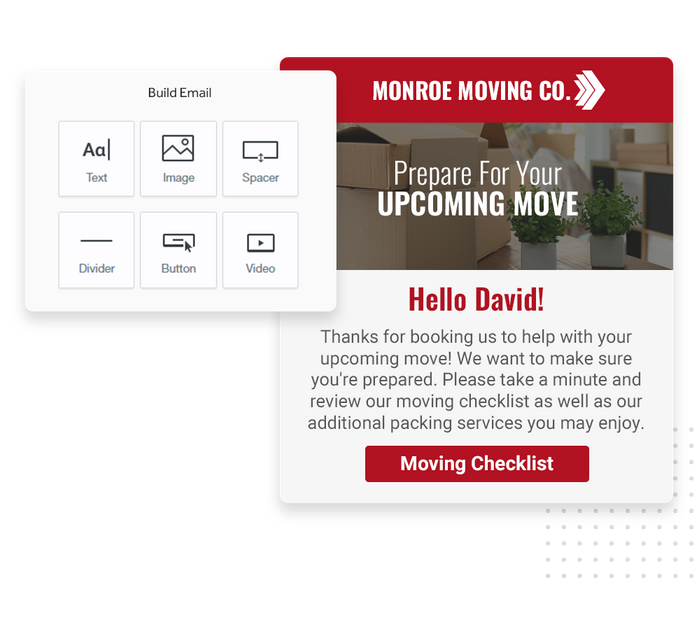 Nurture leads and customers with email marketing
Be the first company your leads and customers think of when they need moving services. Automated email campaigns are easy to build with Nurture, and they're perfect for sending out helpful tips and information, requesting reviews and more.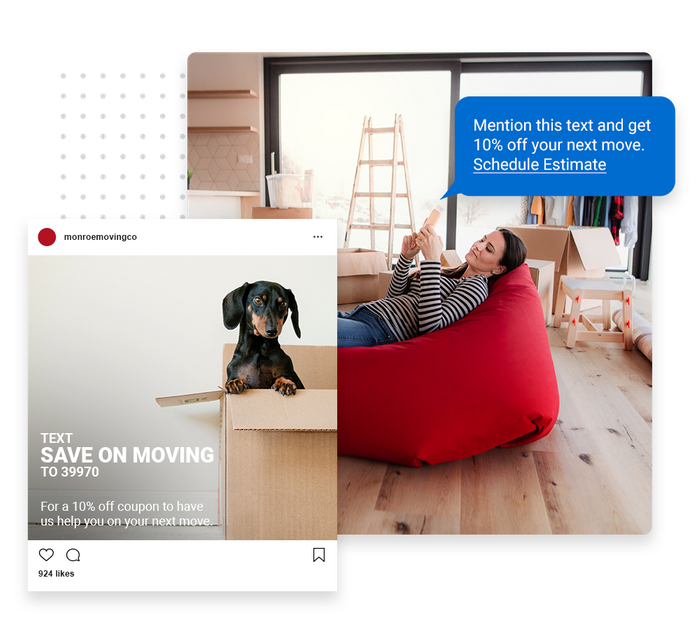 Grow your moving company with text message marketing
Text messages are the best option when you need to get the timing right. Remind customers about upcoming appointments, send real-time updates about moves, request feedback and more with easy-to-build, automated text message campaigns.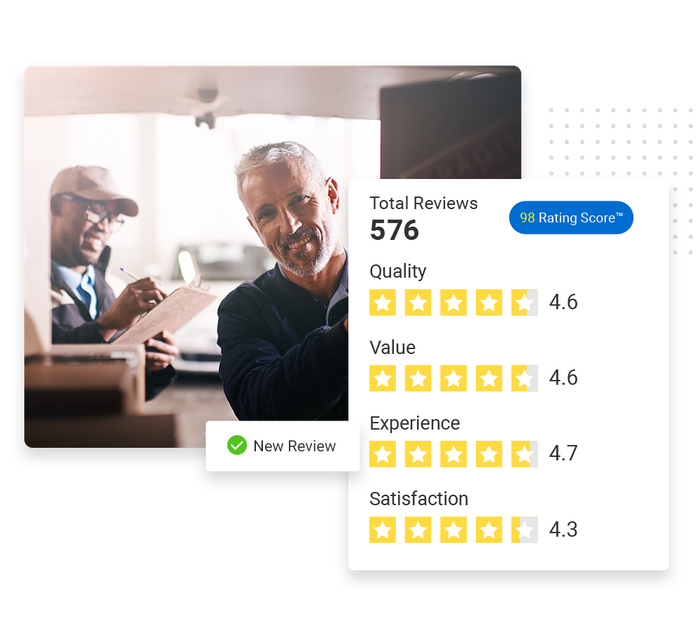 Get reviews and build a strong reputation
Reputation is the all-in-one reputation management tool you need to become the highest-rated moving company in your area. Request reviews, manage reviews from across the web, build a reviews widget to embed on your website and more.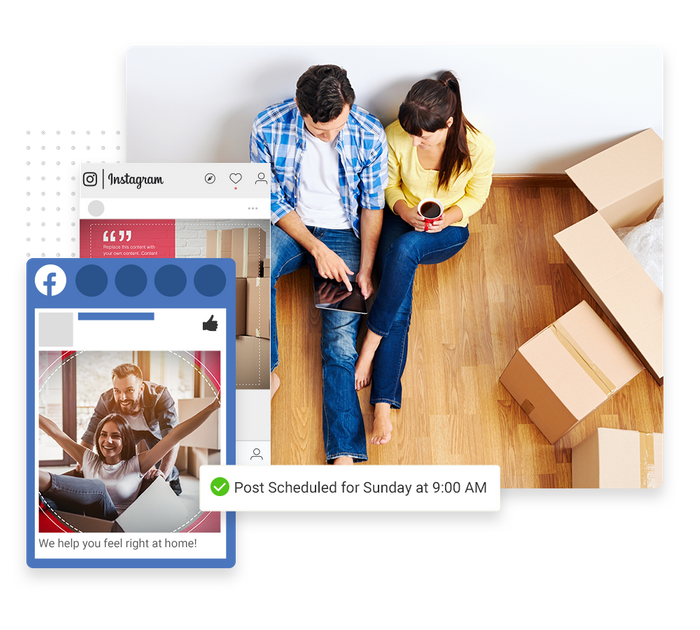 Manage multiple social profiles at once
Save time and simplify social media management for your moving company with Social. Create and schedule out social posts on multiple profiles at once, including Facebook, Instagram and LinkedIn, and get the word out quickly with bulk posting.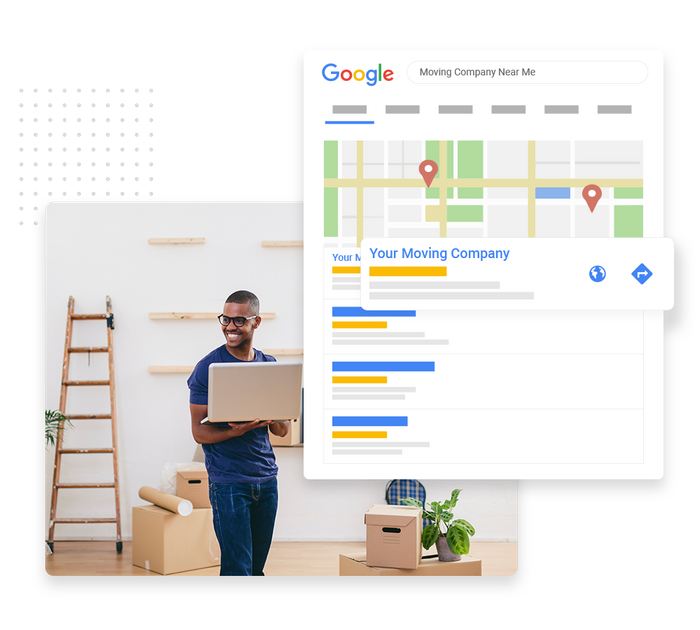 Outrank your competitors on Google
Be the top-ranking moving company in your area for relevant keywords and drive low-cost organic leads to your website with content marketing. Track your keyword rankings and organic performance over time with easy-to-understand SEO reporting tools.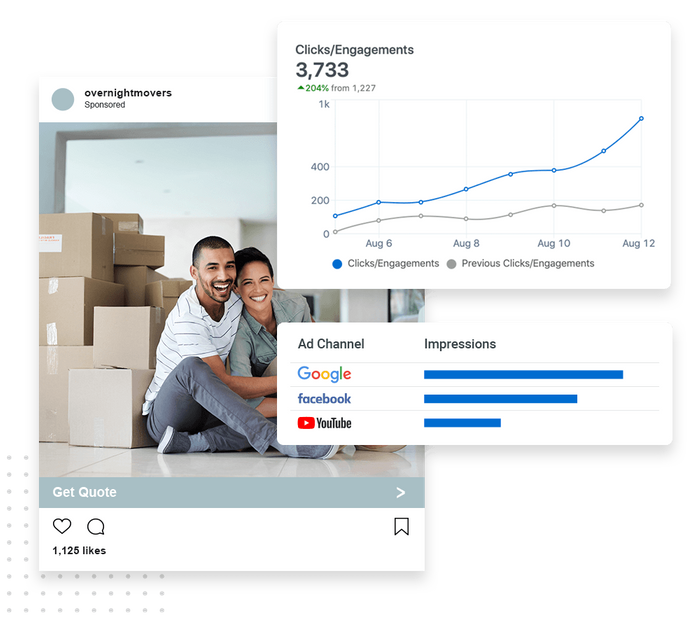 Drives leads and conversions with multi-channel advertising
Get more high-quality leads and book more moves on all of the most popular channels, including Google, Facebook, YouTube and more. Create, launch and monitor advertising campaigns from one place with Ads.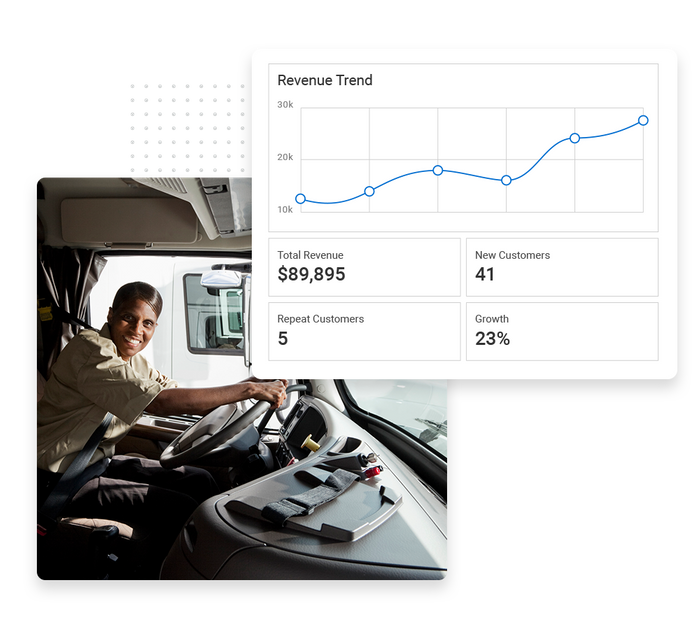 Monitor your performance and maximize your ROI
Get more out of marketing with overall performance reporting that helps you identify what's working for your moving company and what's not. Make intelligent, data-driven marketing decisions with transparent monitoring, reporting and analytics tools.
"We always know what they are working on to improve our website and search rankings."
Luke L. | President
"I like the integration with CRM. Having our customer email addresses available for use in multiple ways makes our prospecting campaigns more effective."
Lisa L. | Managing Partner
"Best marketing company in the galaxy! Lead tracking is easy to use. The phone rings like crazy."
Randal B. | Owner
"Marketing that comes full circle. Marketing 360™ does most of the work for you."
Sandra C. | Marketing Consultant
"We've only been with them for a little over a month, but we've already seen improvement over all our social media platforms."
Taryn R. | Owner/Founder
"Marketing 360™ has the tools and expertise, but what makes this experience exceptional is the customer support."
Bryan R. | Founder
"I feel the reason they are set apart is the excellent people working there along with their wonderful product"
Sue B. | CEO/Founder
"Marketing 360's intuitive dashboard allowed us to see exactly how our website was performing."
Alyssa S. | Technical Coordinator
"In the end, the best sales we ever had was during our time with Marketing 360™, and we are now back using this service."
Christopher D. | Founder
Get the tools you need to help
manage and grow

your business.