Grow and manage your
landscaping business
Increase your visibility, capture market share on popular channels, manage all of your contacts from one place and more.
Manage reviews
Get reviews and become one of the highest-rated landscaping businesses in your area
Incredible SEO
Outrank your competitors on Google and get low-cost leads
Customer loyalty
Nurture leads and customers with text message and email marketing
And so much more
Everything you need to help manage and grow your landscaping business from a single platform
Everything you need to help manage and grow your landscaping business from one platform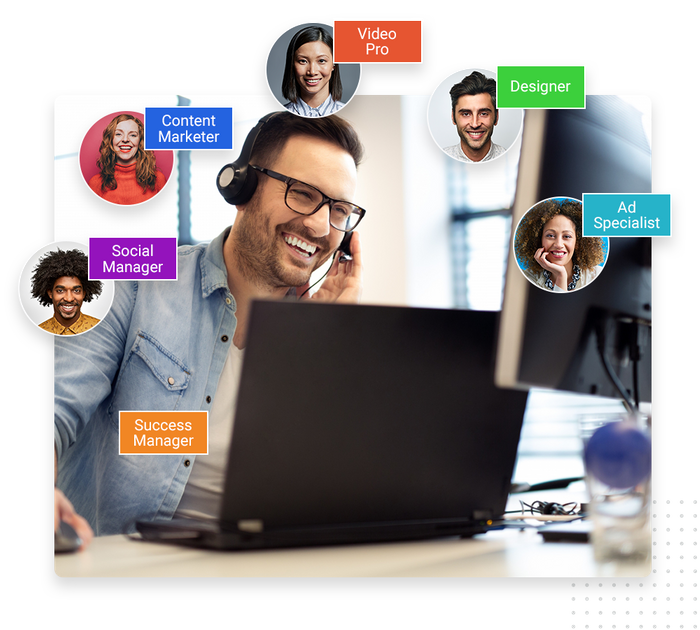 The marketing team to help you grow your landscaping business
You can get the tools you need to help scale your landscaping business, as well as access to do-it-for-you landscaping marketing programs and a dedicated marketing team — all from one platform. Let us focus on growing your landscaping business so you can focus on running it. Learn more.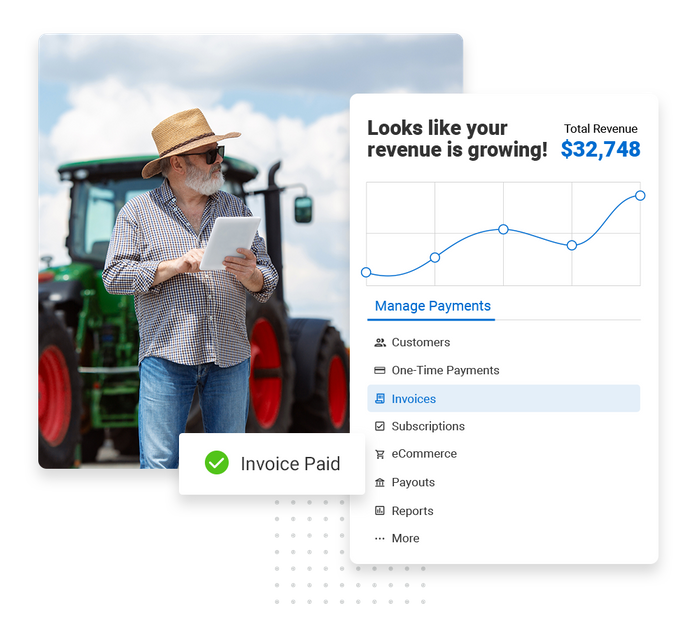 Manage payments and invoices the easy way
Easily create and send professional invoices that can be paid directly, and manage all of your invoices and payments from one place. You can also give your customers the option to pay right on your website, making it easier and more convenient.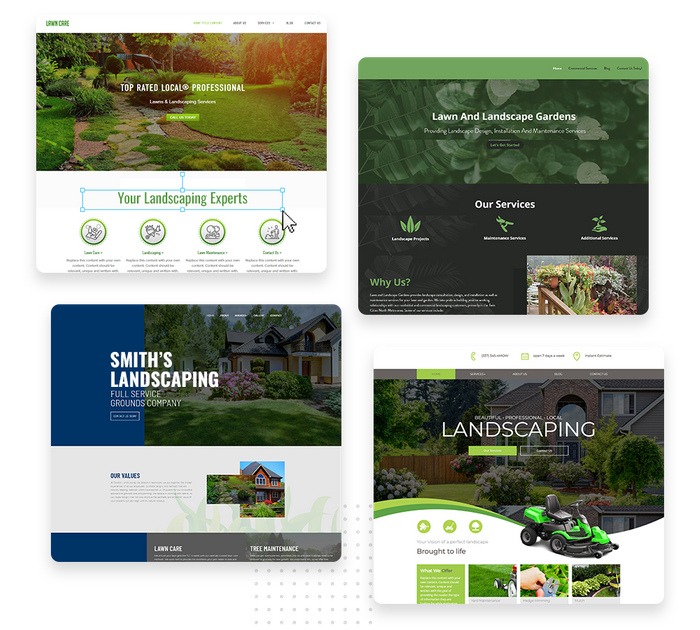 Get more customers with a well-manicured landscaping website
Make the right first impression on prospective customers with an attractive, modern website. It's quick and easy to build your own with a library of ready-to-go landscaping design templates and an easy-to-use drag-and-drop editor.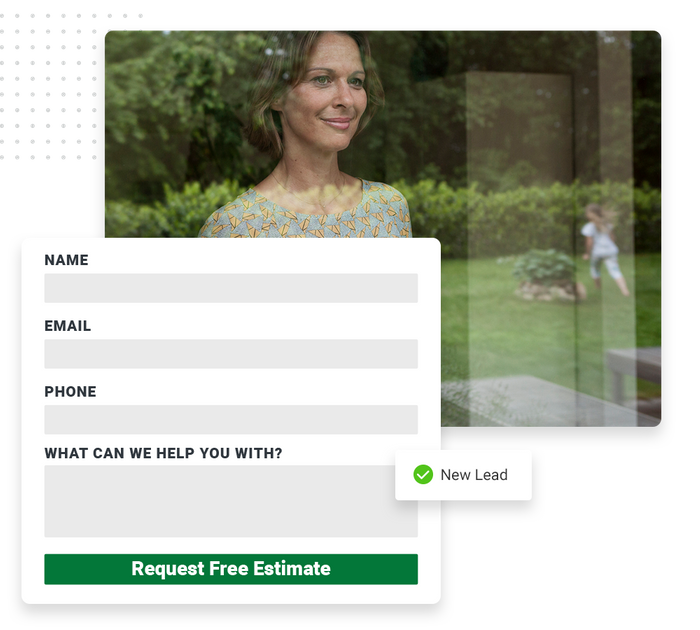 Ready-to-go landscaping forms
Get ready-to-go landscaping forms for your website that sync with the CRM. All forms are easy to edit and customize. It's the only tool you need to build free estimate forms, appointment request forms, contact forms, feedback forms and more.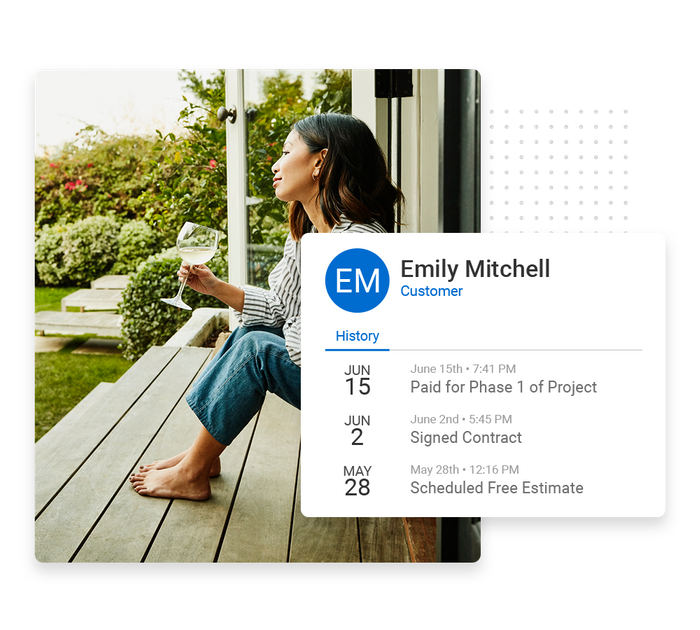 Stay organized with a landscaping CRM
Build better relationships with your customers with a CRM designed to help you keep track of leads, customers, jobs, calendars and more. A customizable dashboard gives you the freedom to manage your business and contacts your way.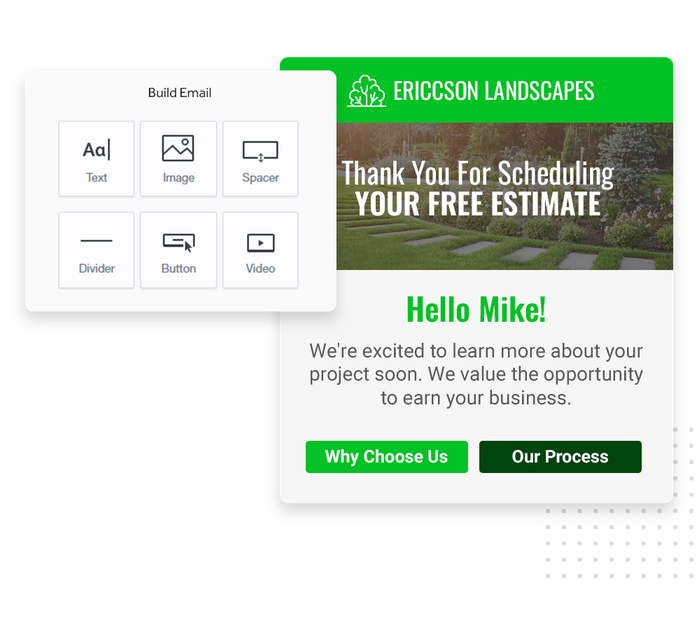 Nurture leads and build long-lasting relationships
Turn more leads into customers, and build loyal, long-lasting customer relationships with email marketing. Automated email campaigns are quick and easy to build with landscaping email templates and an intuitive editor.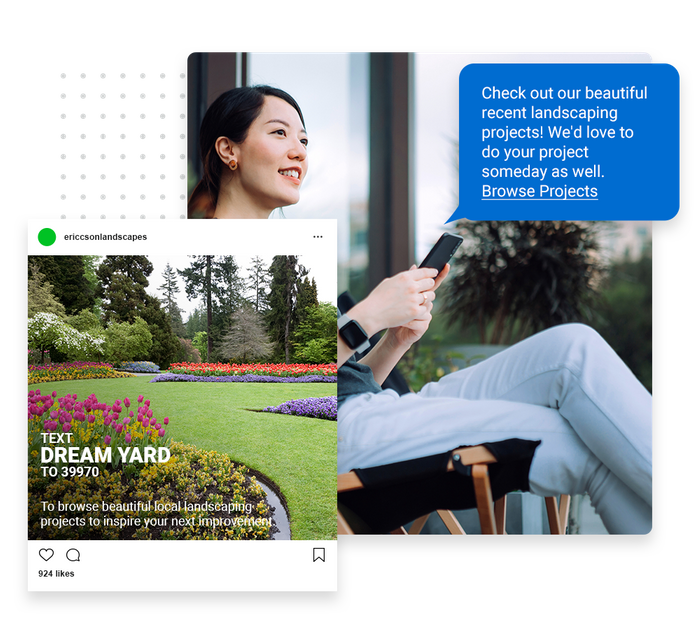 Grow your landscaping business with text message marketing
Text message marketing is perfect for generating same-day business, sending out payment and appointment reminders, requesting reviews and so much more. Quickly and easily build text message marketing campaigns in Nurture.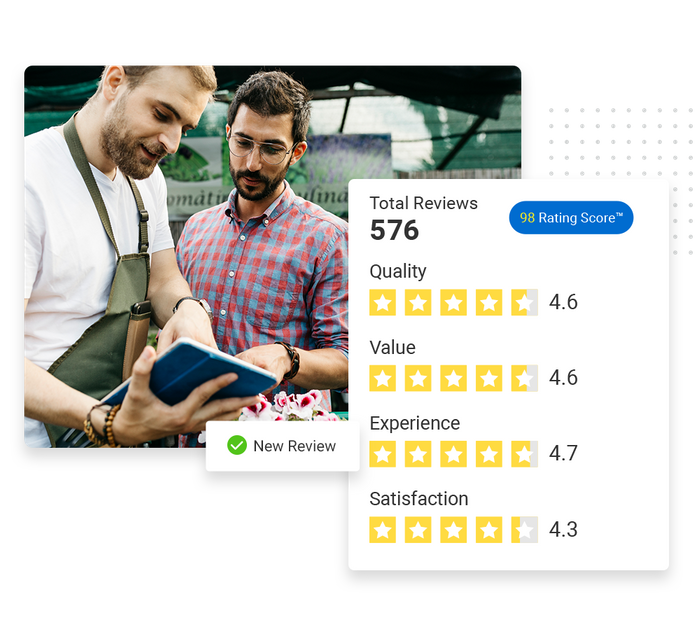 Be one of the highest-rated landscaping businesses in your area
Make a great first impression on prospective customers by building a strong reputation for your landscaping business. Request reviews, manage your reputation across the web and more with Reputation. It's the only reputation management tool you need.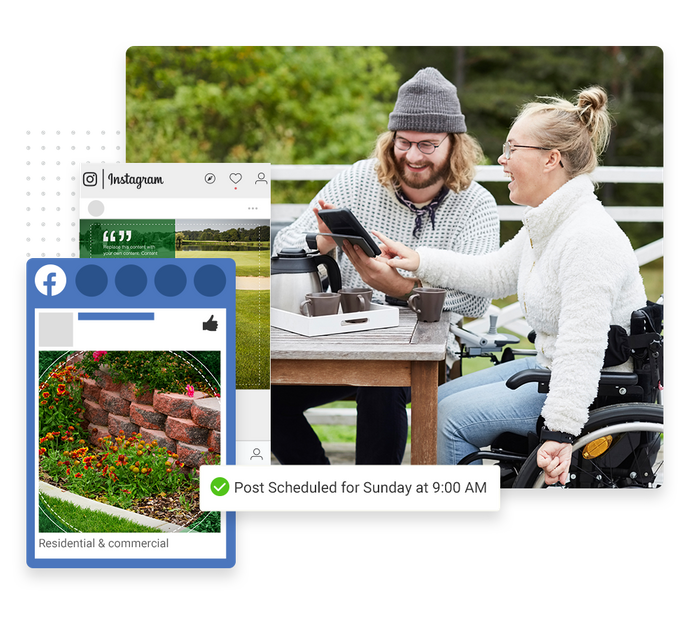 Manage multiple social profiles from one place
Staying active and connecting with your community on social media doesn't have to take a lot of time or energy. With Social, you can schedule out social posts across multiple profiles at once. It makes social media management easy.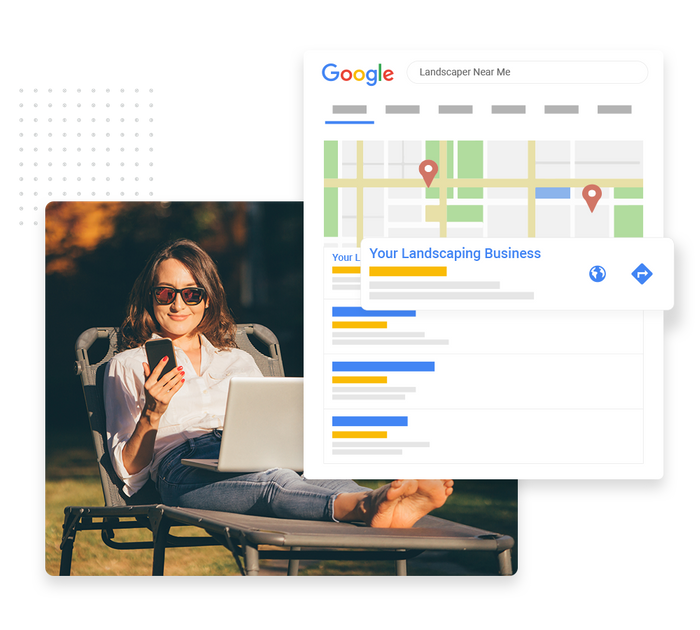 Get more organic leads and outrank your competitors on search
Content marketing can help you drive low-cost organic leads to your site, as well as increase your visibility on search engines. Plus, you'll get transparent reporting to monitor your SEO performance over time and keep track of your keyword rankings.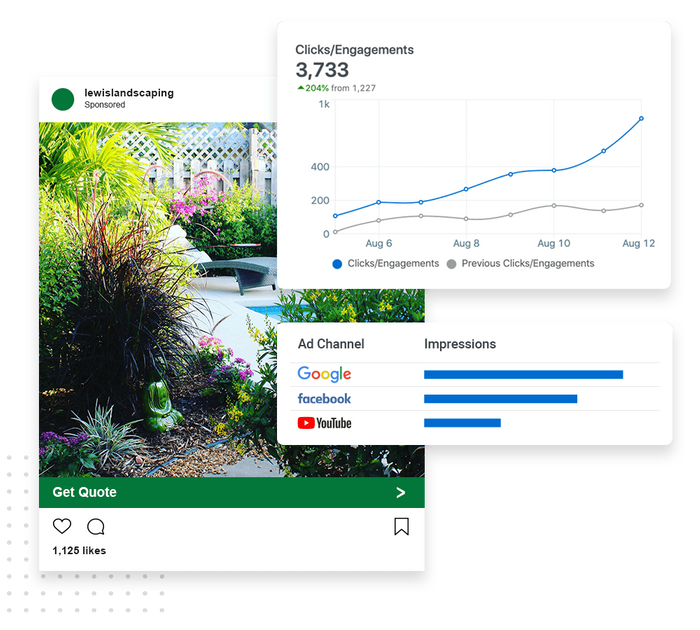 Ad campaigns to drive leads on popular channels
Dominate on Google, Facebook, Instagram, YouTube and more with multi-channel advertising. Build and launch campaigns with Ads, and monitor campaign performance with easy-to-understand reporting.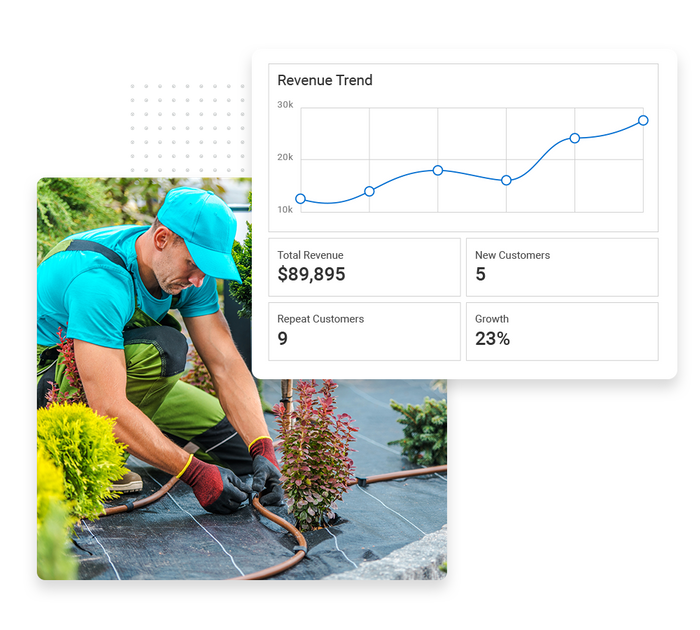 Make intelligent, data-driven marketing decisions
Maximize your ROI by doing more of what's working and less of what's not. With Intelligence, you'll get the overall performance reporting you need to make informed decisions about your marketing budget and strategy.
"The customer support is out of this world, and Marketing 360™ is a true company that cares about results. I would recommend Marketing 360™ to any business!"
Dana M. | Chief Operator
"Our new website now has a sleek overall look. It was developed with creativity and has great content."
Tracie J. | Owner
"Best small business CRM and marketing platform. I love working with Marketing 360™."
Meghan G. | Owner
"Our rep is always available and always has new ideas to help further our business marketing growth."
Luke L. | President
"Marketing 360™ is ALWAYS there for us. They answer the phone and take the time to answer any questions we may have."
Ryan R. | Owner
"The platform is strong and the marketing manager working with us provides valuable expertise."
Lisa L. | Managing Partner
"Marketing 360™ doubled my revenue this past year. Great service!"
Danny L. | President
"My overall experience with Marketing 360™ has been exceptional."
Lisa U. | Administrative Assistant
"Easy to use and navigate. Very detailed information. Really happy with the software."
Bryan J. | CEO
Get the tools you need to help
manage and grow

your business.