Everything you need to help grow your
house cleaning or janitorial business
Close more jobs, build customer loyalty and become one of the most trusted cleaning businesses in your town.
Review automation
Generate more reviews with our reputation tools
Close more jobs
Get leads, close more jobs, and collect payment
Build customer loyalty
Stay organized and manage your leads, customer data, jobs and schedules
Marketing automation
Everything you need to help automate, manage, and grow your cleaning business
Everything you need to help manage and grow your house cleaning or janitorial business from one platform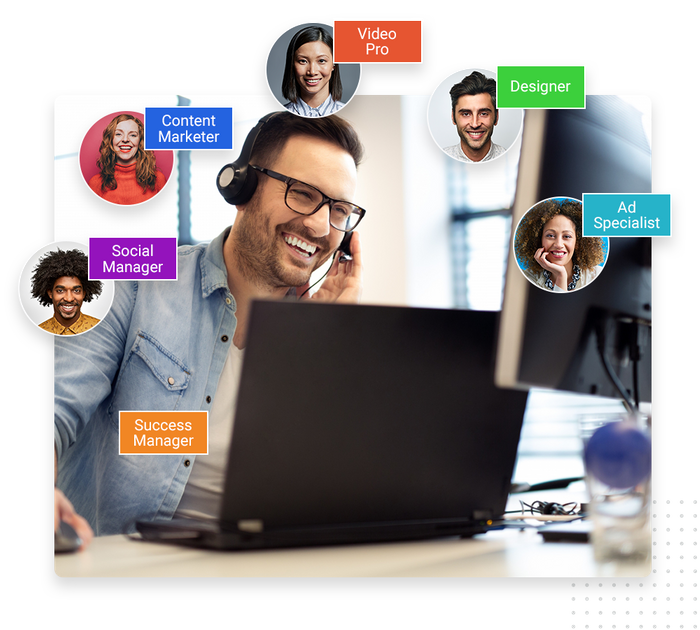 The marketing team to help you grow your house cleaning or janitorial business
You can get the tools you need to help scale your house cleaning or janitorial business, as well as do-it-for-you marketing programs and a marketing team to help you grow your business. Let us focus on growing your house cleaning or janitorial business so you can focus on running it. Learn more.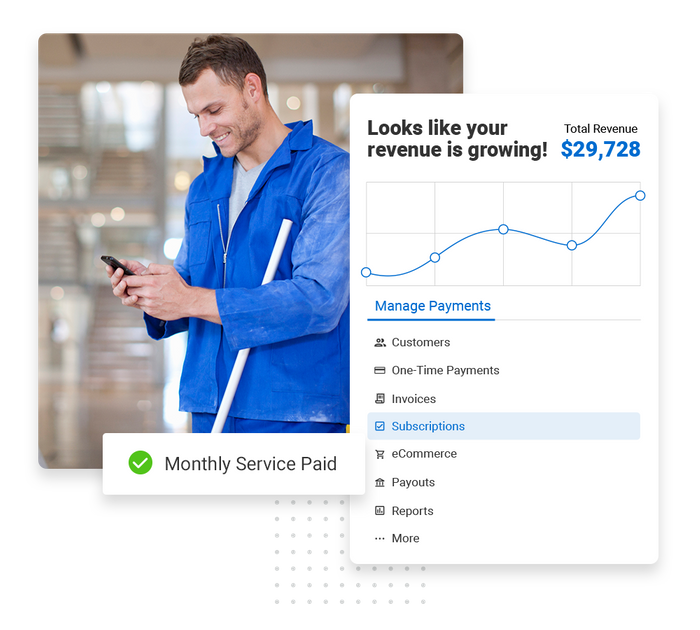 The easy way to manage payments and invoices
Payments is the all-in-one payments solution you need. Accept and manage one-time and recurring payments on your website or over email. Plus, create and send professional invoices, and quickly see which invoices are open, overdue or have been paid.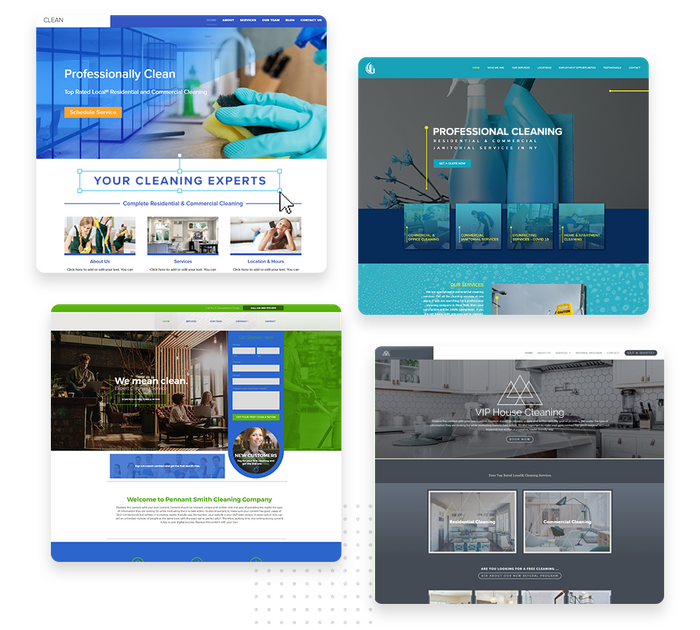 Clean up with a modern cleaning website
Convert more leads into customers with a cleaning website that makes the right first impression. Websites 360™ makes building your own website easy with a library of cleaning design templates and a user-friendly drag-and-drop editor.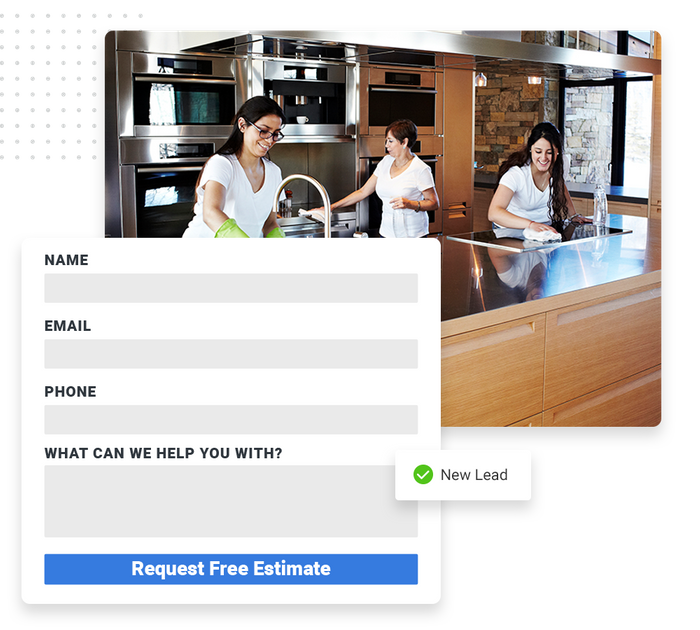 Ready-to-go cleaning forms for your website
Get ready-to-go house cleaning and janitorial forms for your website that sync with the CRM. All forms are easy to edit and customize. It's the easiest way to build appointment request forms, contact forms, feedback forms and more.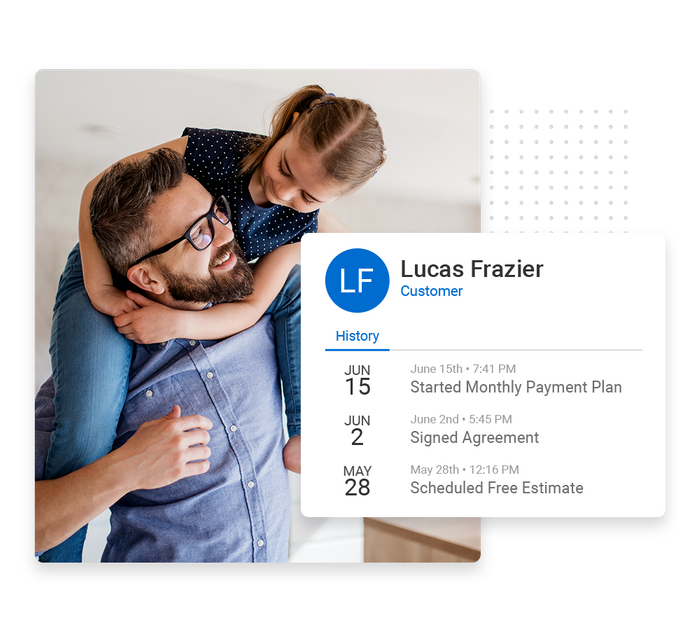 Manage your customers and stay organized with a cleaning CRM
There's a lot of customer information to keep track of — allergies, preferred scents, cleaning schedule, pets, services needed, etc. Stay organized and keep track of your contacts with a CRM designed for cleaning businesses like yours.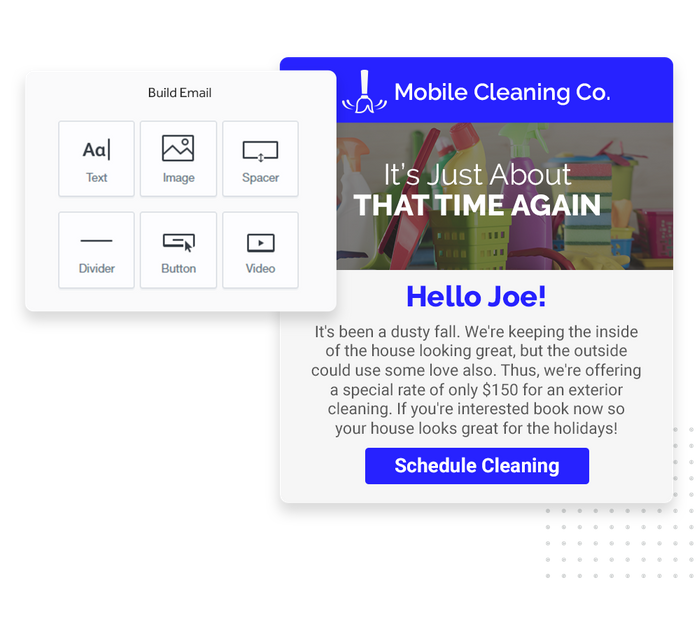 Stay top of mind with email marketing
Be the first janitorial or house cleaning business your customers think of with automated email campaigns. With cleaning email templates and an easy-to-use editor, you can create email newsletters, send out coupons, request reviews and more.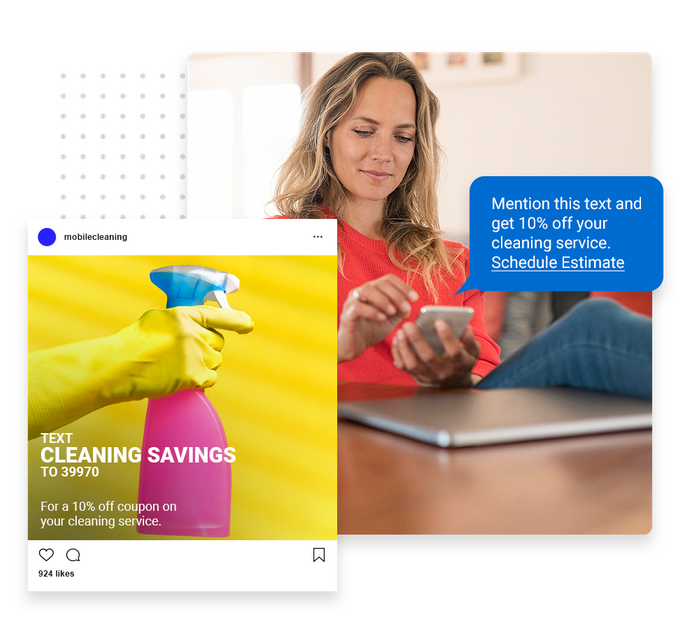 Speed up slow days with text message marketing
Have a slow day on your schedule or some last-minute openings that need to be filled? Make slow days a thing of the past and fill openings with text message marketing. Text entire lists or send one person direct messages. You can also nurture your clients with helpful cleaning tips or seasonal reminders with automated text message journeys.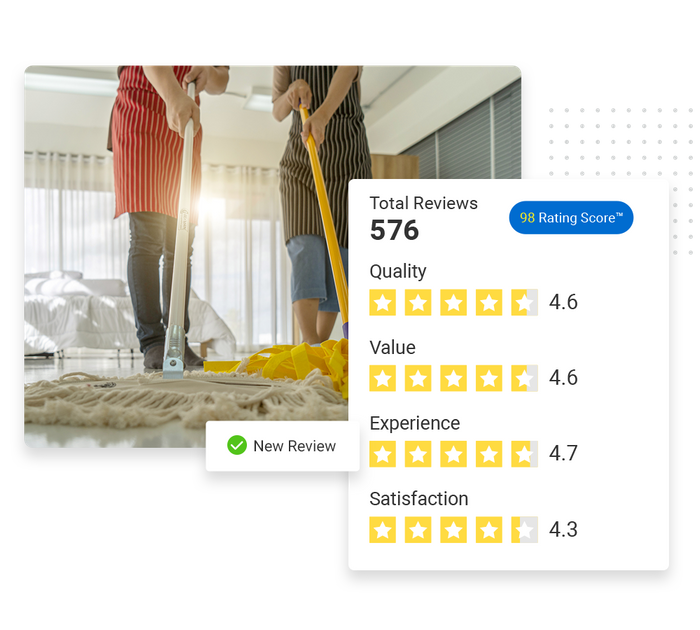 Build a squeaky clean reputation
Build trust with prospective customers and a reputation that makes your house cleaning or janitorial business stand out with Reputation. Request reviews, view reviews from across the web, create and embed a reviews widget on your site and more.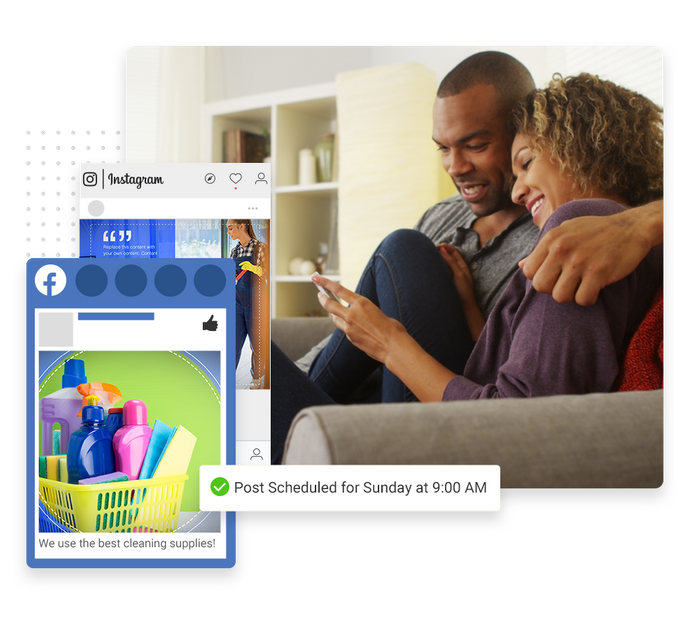 Manage multiple social profiles at once
Social media is the ideal option for connecting with your community and expanding your customer base. The Social app makes managing social media fast and easy. Save time and stay consistent by scheduling out social posts on multiple profiles at once.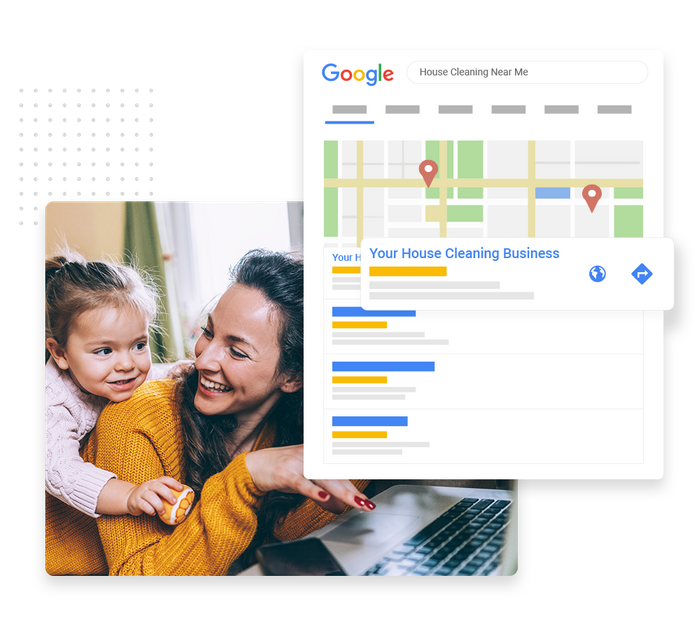 Outrank your competitors on search
Rank at the top of Google and Bing for relevant keywords and increase your organic visibility. Monitor your SEO success with easy-to-understand reporting tools that help you stay on top of keyword rankings, performance over time and more.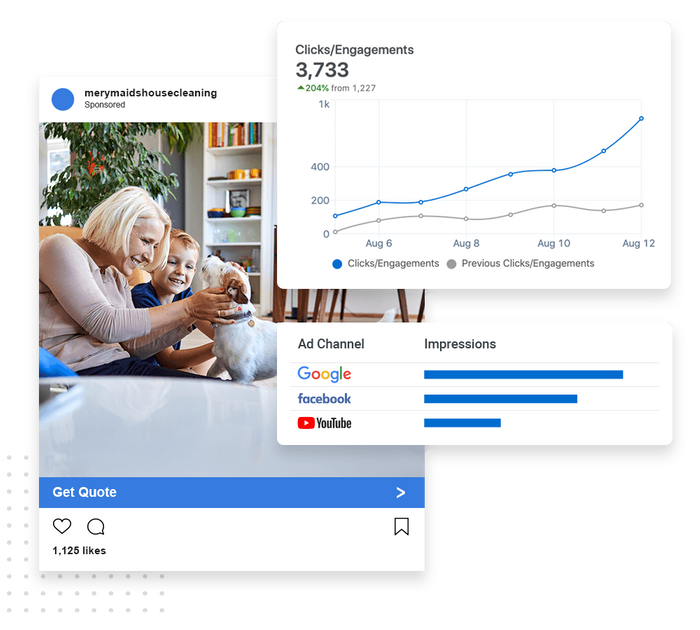 Capture market share on the top channels
Drive leads and capture market share on all of the top channels, including Google, Facebook, YouTube and more. With Ads, you can create and launch campaigns, as well as compare and monitor the success of your campaigns across channels.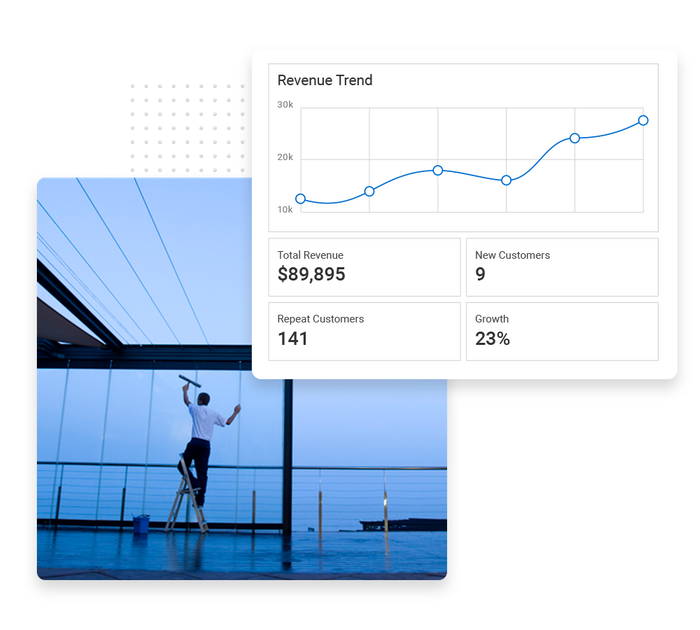 Maximize your marketing investment
Intelligence gives you the easy-to-understand reporting tools you need to gain more insight into what's working and what's not for your house cleaning or janitorial business. It's the data you need to make intelligent, informed decisions about your marketing budget and strategy.
See What Our Cleaning Companies Are Saying
"The representatives have been an absolute pleasure to be work with they have been thoughtful and very thorough and have absolutely exceeded my expectations."
Justin J. | Owner
"My website they created is awesome and so creatively put together with everything I wanted!"
Kathy G. | Owner
"Great reporting. We can track each lane of advertising"
Moses H. | President
"Must-have for business growth! Their software, in my opinion, has no flaws."
Adam H. | Project Manager
"It is very easy to use, and has so many features. The templates are easy to work with."
Bonnie S. | Director
"It is easy to navigate through and I am able to see exactly what is being done for me."
Brittanie W. | Marketing Director
"Every component that one needs to create and prosper is available in one location."
Deborah B. | Manager
"What a fantastic team to work with! I highly recommend them for your complete marketing needs."
Jennifer B. | Owner
"It's very user-friendly. I'm very happy with this software."
Jonathan D. | CEO
Get the tools you need to help
manage and grow

your business.