The
financial platform

that can automate your business
Get client acquisition, retention and marketing automation while generating more revenue, all from one platform.
Acquire clients
Capture market share and be seen as a financial expert
Content automation
Stay top of mind with powerful financial news letters
Client referrals
Build client loyalty to get more referrals and repeat business
Marketing automation
Everything you need to help automate and grow your financial business
Everything you need to help manage and grow your financial business from one platform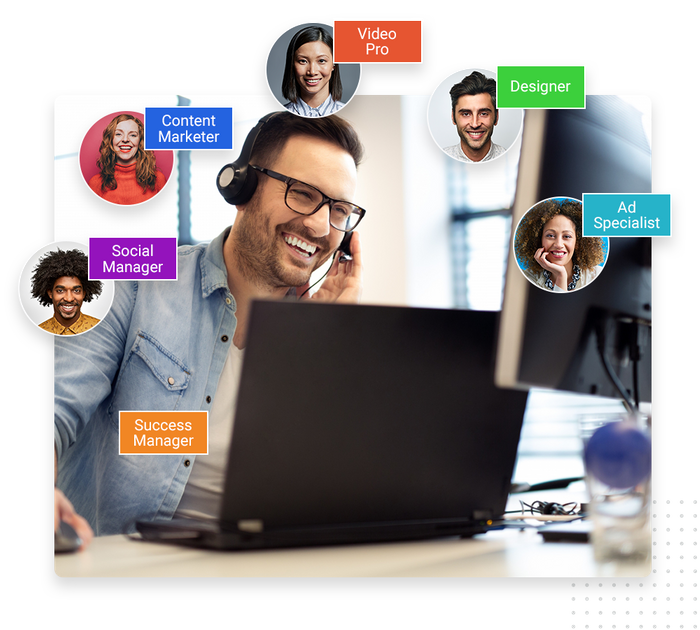 The marketing team to help you grow your financial business
Marketing 360™ can give you the tools you need to help scale your financial business, as well as do-it-for-you financial marketing programs and a dedicated marketing team — all from one platform. Let us focus on growing your financial business so you can focus on running it. Learn more.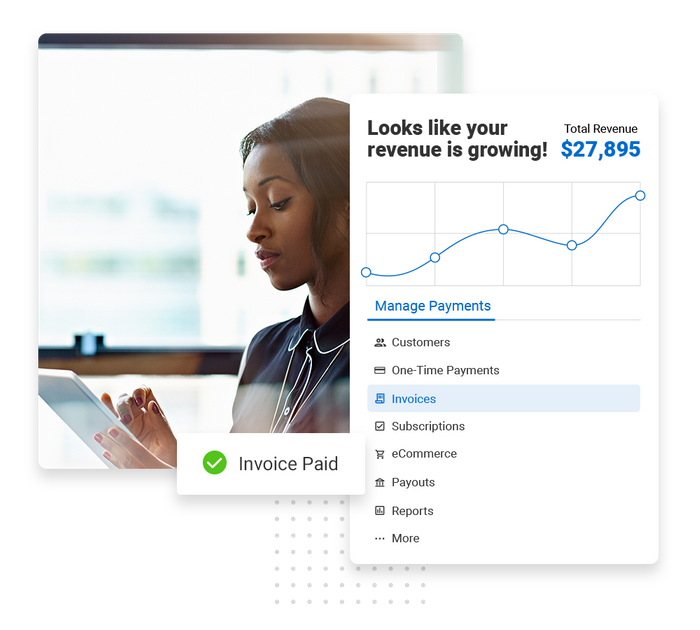 Manage invoices the easy way
Create, send and manage professional invoices that can be paid directly with Payments. It's your all-in-one invoice management solution. Plus, quickly monitor the status of all of your invoices from a single dashboard.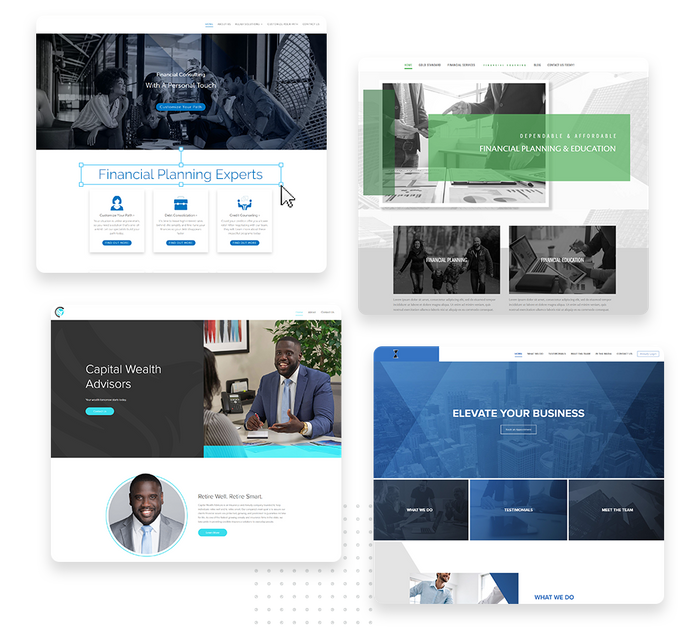 A financial website that increases your bottom line
Get more clients with a modern, professional website. Choose from a library of customizable financial design templates, and make your website your own with an intuitive website builder and an easy-to-use drag-and-drop editor.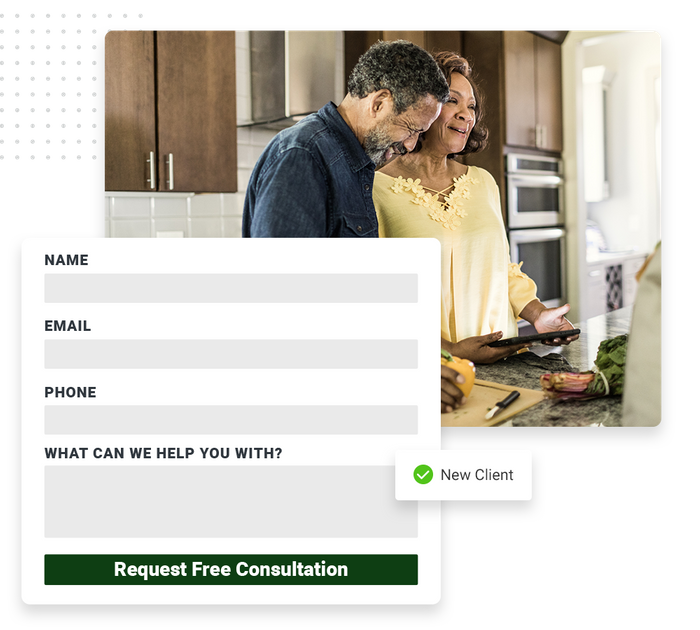 Ready-to-go financial forms
Get ready-to-go financial forms for your website that sync with the CRM. All forms are easy to edit and customize. Quickly and easily build secure consultation request forms, contact forms, feedback forms and more.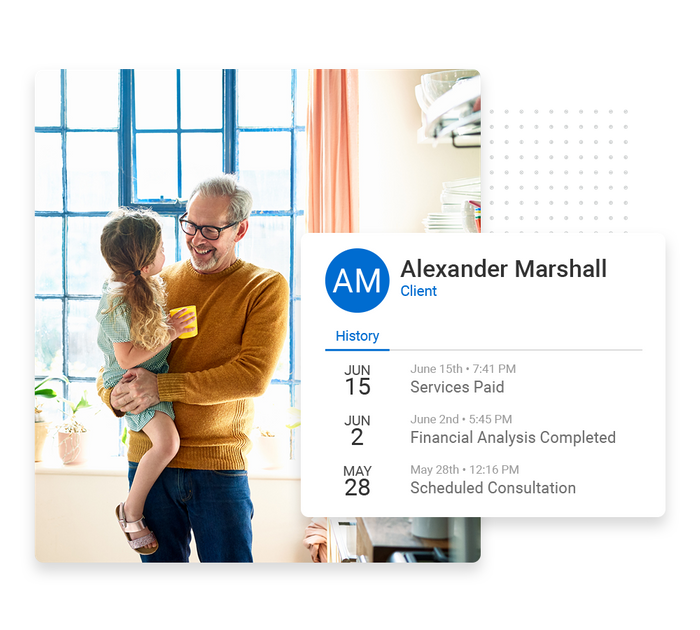 Manage client relationships with a financial CRM
With a fully customizable financial CRM, you can manage your clients and financial business your way. Plus, you'll save time and stay organized by managing all of your contacts, projects and tasks from one place.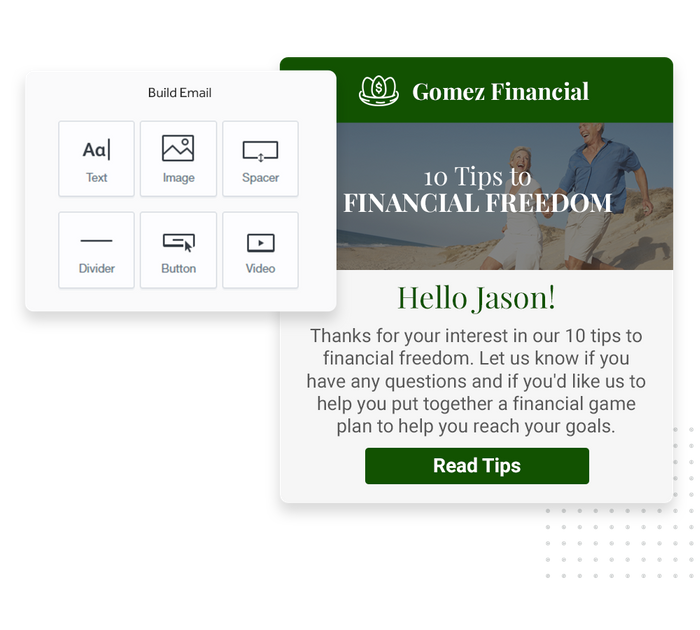 Nurture leads and clients with email marketing
Automated email journeys can be created and implemented easily with Nurture. Email is perfect for welcoming new clients, sending out updates, requesting feedback and reviews, promoting specials and events, reminding clients about appointments and more.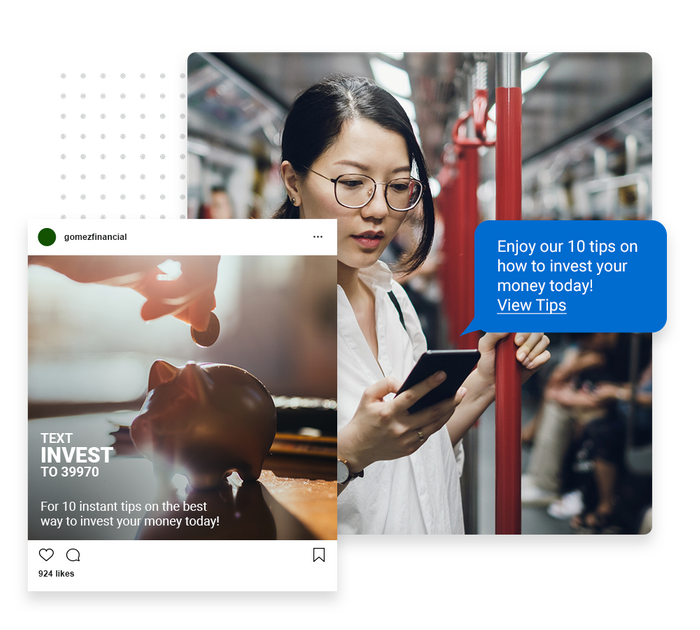 Get leads and clients with text message marketing
Most people look at texts right away. That's why text message marketing is perfect for time-sensitive communications, like limited-time offers, appointment reminders and birthday wishes. Build text campaigns quickly and easily with Nurture.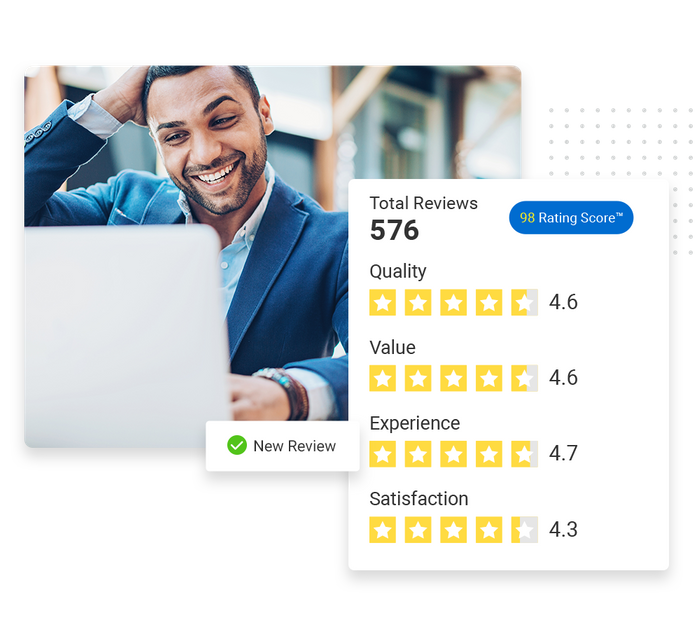 Build trust and manage your reputation
Want more control of your reputation? Reputation offers everything you need. Send requests for client reviews, monitor reviews from across the web, get a snapshot of your overall reputation, build a reviews widget for your website and more.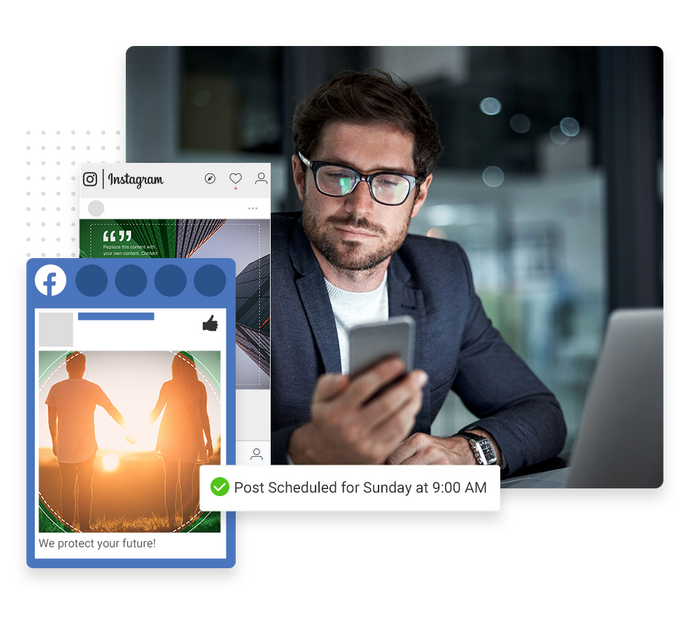 Expand your reach and connect with your community
Social media management is key for connecting with your community and expanding your client base. With Social, you can create and schedule out posts for multiple social profiles from one place, including Facebook and LinkedIn.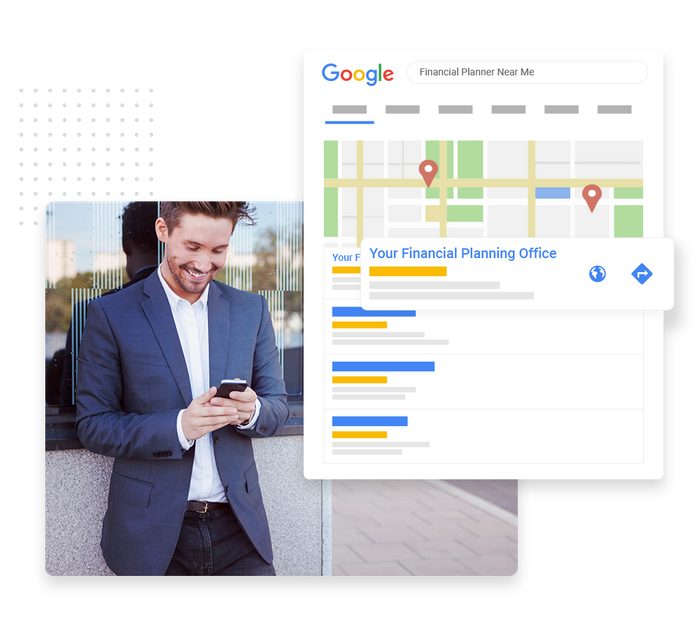 Get more organic leads and outrank your competitors
Increase your keyword rankings on Google, and build an SEO strategy to drive low-cost organic leads with content marketing. Plus, monitor your organic performance over time and fine-tune your strategy to maximize your results.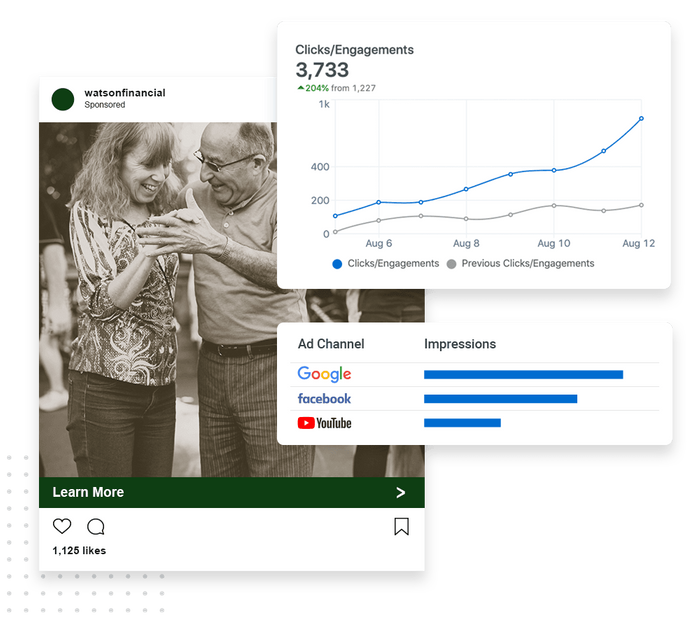 Capture market share on the top channels
Make your financial business visible on the most popular channels, including Facebook, Google and YouTube, with multi-channel advertising. With Ads, you can create and launch ads, as well as monitor campaign performance from a single app.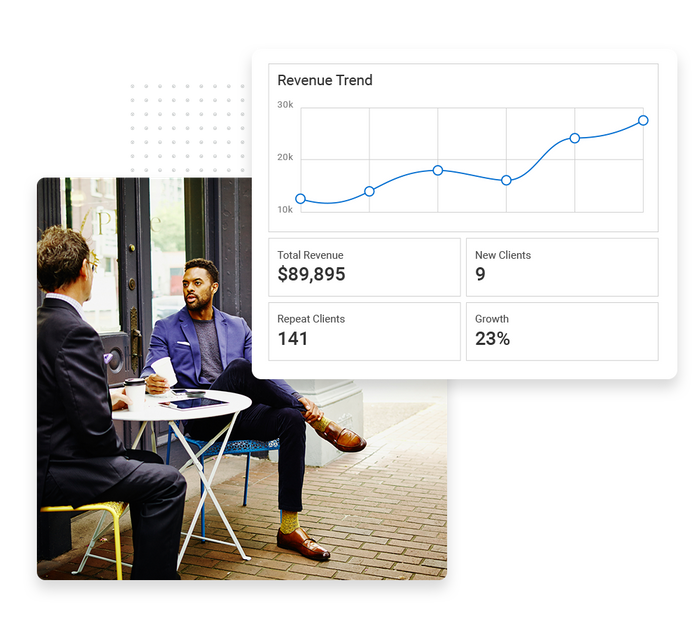 Maximize your ROI with overall performance reports
Make the most out of every dollar you spend on financial marketing with easy-to-understand overall performance reporting. Intelligence gives you the data you need to make the most of your marketing investment and get the best possible results.
See What Our Financial Platform Users Are Saying
"The people that help make my vision a reality."
Jonathon S. | Investment Committee Member
"This is an amazing product with awesome support. I highly recommend it."
Robert F. | CEO
"Marketing 360™ is a powerful tool for any agent looking to increase traffic."
Anthony C. | Financial Services Specialist
"Marketing 360™ is a true partner. Now we can see the power of our marketing efforts and make strategic pivots that will help us reach our goals."
Caroline L. | Director of Marketing
"This platform doe it all — CRM, website, text message marketing, emails, social ads, google, the list goes on and on."
Jay R. | Managing Partner
"[Marketing 360™ is a] highly recommended marketing partner."
BW W. | Marketing Advisor
"We have now been with them for over 6 months, and the difference in our online marketing, SEO and online presence is night and day what it was before."
John N. | CEO
"Our business has seen an increase from the moment that we started working with them."
Barrett B. | Branch Manager
"It has all the features for an effective marketing strategy."
Paul M. | Digital Marketing Director
Get the tools you need to help
manage and grow

your business.