The
event management platform

that helps book more events
Automate booking, event planning, and payment collection all from a single platform.
Booking reservations
Manage your booking reservations with ease
Get more reviews
Get more reviews with our reputation tools
Increase bookings
Increase your bookings with email, text, social, and search marketing
Marketing automation
Everything you need to help automate, manage, and grow your event planning business
Everything you need to help manage and grow your event planning business from one platform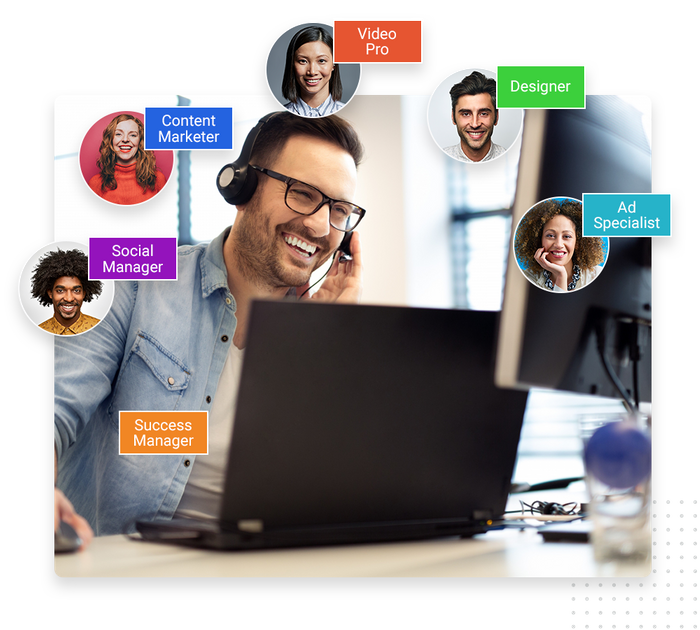 The marketing team to help you grow your event planning business
With Marketing 360™, not only can you get the tools you need to help scale your event planning business, but you can also get do-it-for-you event planner marketing programs and a dedicated marketing team. Let us focus on growing your event planning business so you can focus on running it. Learn more.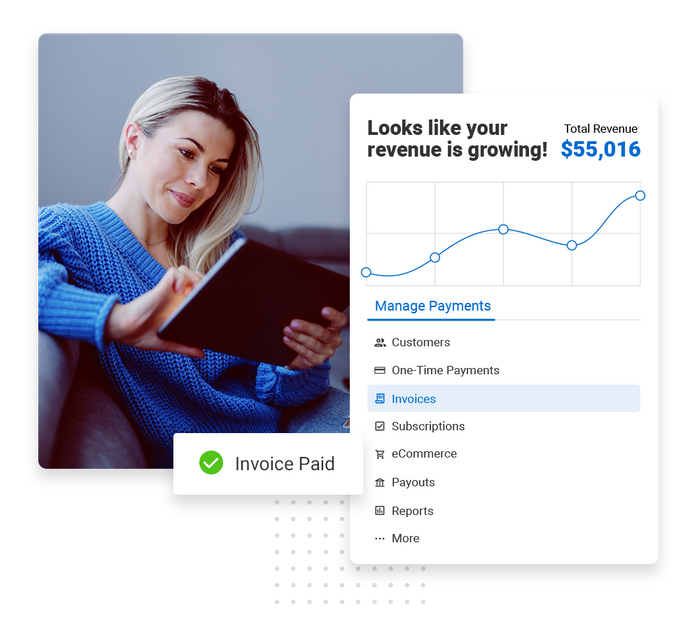 The easy way to manage invoices
Creating and sending professional invoices is easy with Payments. Invoices can be paid online, making it easy for clients to make payments. Manage all of your invoices from one dashboard, and quickly see which invoices are paid, open or overdue.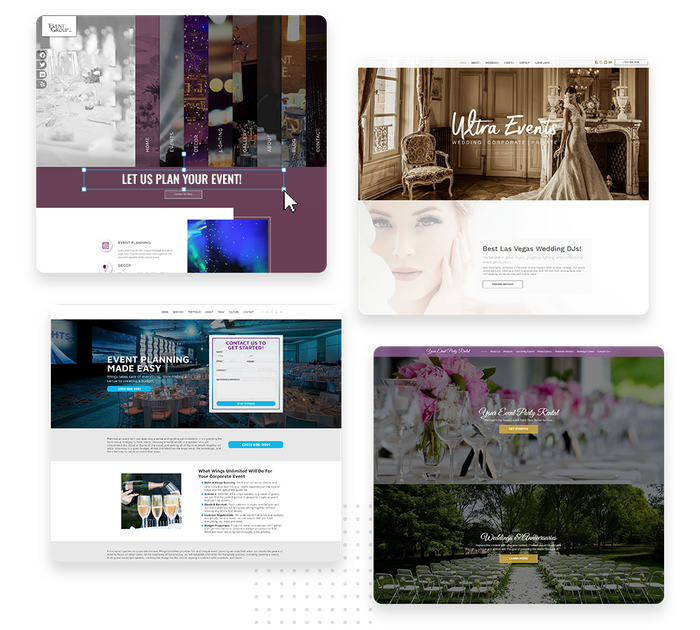 Turn leads into clients with the right website
Introduce prospective clients to your event planning business with a modern website where they can learn about you, your services, schedule a consultation and more. A library of design templates and a drag-and-drop editor make building your own event planner website easy.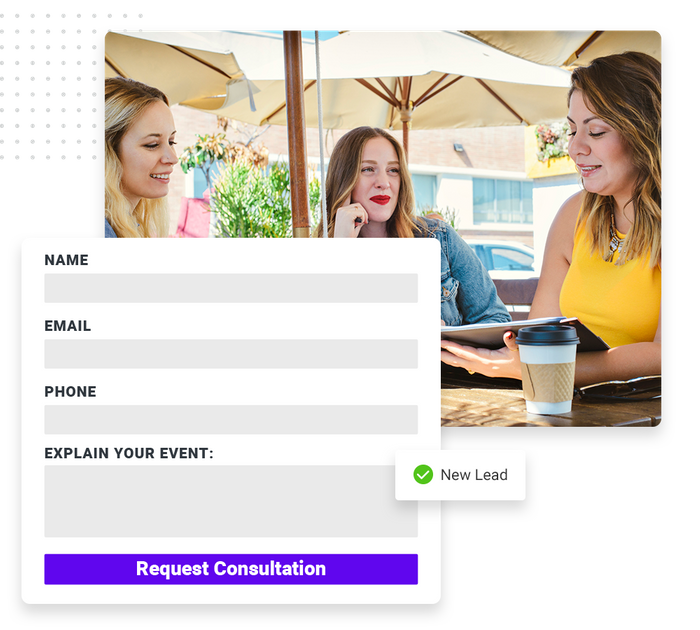 Ready-to-go event planner forms for your website
Get ready-to-go event planner forms for your website that sync with the CRM. All forms are easy to edit and customize. Marketing 360 Forms gives you everything you need to build consultation request forms, contact forms, feedback forms and more.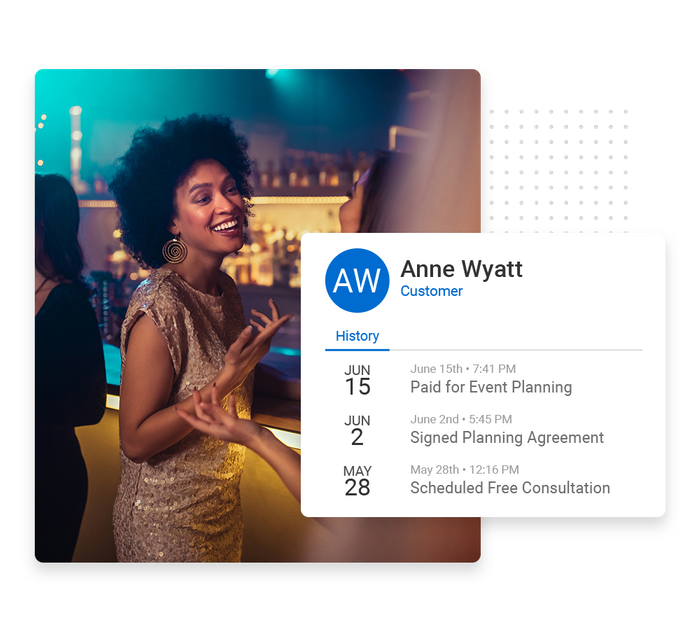 Manage all of your contacts with an event planner CRM
Build better, longer-lasting relationships with your clients with a CRM designed for event planners like you. Manage all of your contacts — leads, clients, partners, vendors, entertainment and more — from a single, customizable dashboard.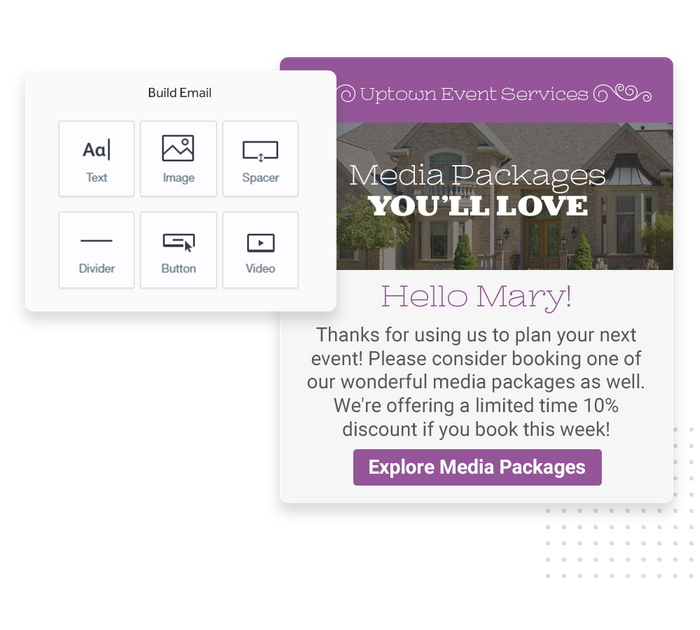 Get referrals and repeat business with email marketing
Turn more leads into clients and get more referrals and repeat business with easy-to-build automated email marketing campaigns. Email is perfect for event reminders and follow-ups, helpful tips and information, review requests and more.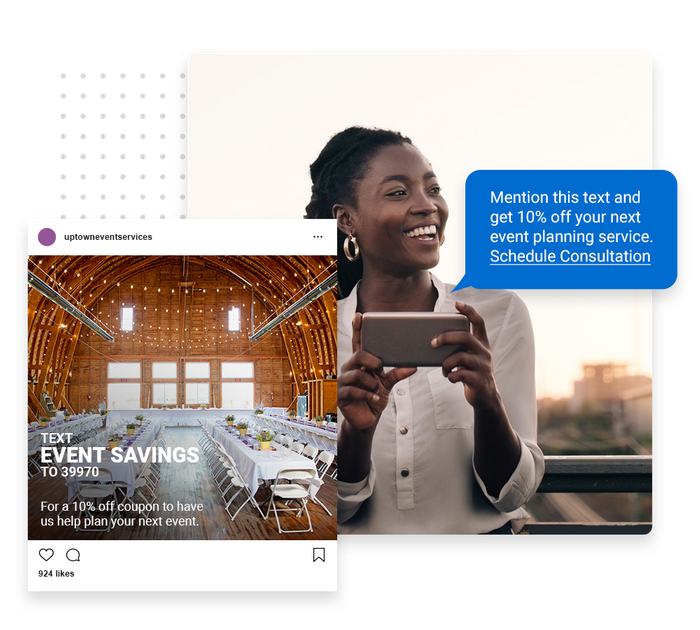 Grow your event planning business with text message marketing
Text message marketing is the ideal way to connect with your clients when you need to get your timing right. Build automated text journeys to request reviews and promote time-sensitive offers, or send direct messages to remind clients about appointments and follow up.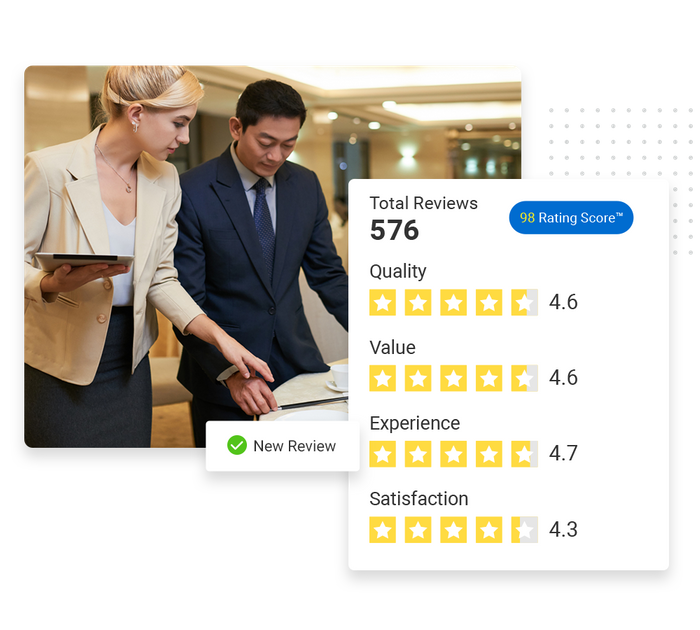 Build a strong reputation for your event planning business
Get more five-star reviews and become one of the highest-rated event planners in your area with Reputation. Request reviews, view reviews from across the web, build a reviews widget for your website and more. Reputation is your all-in-one reputation management solution.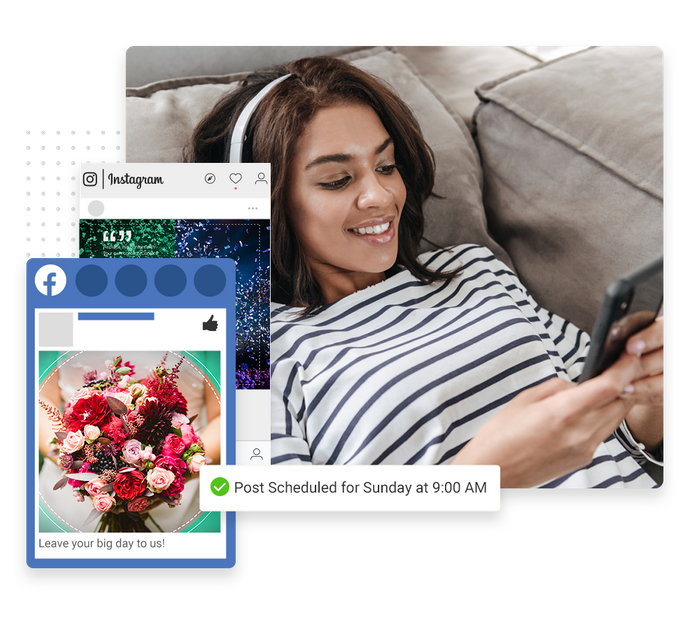 Expand your reach and build community connections
Get your event planning business in front of more prospective clients and build strong connections in your community with social media management. Social allows you to manage and schedule out social posts on multiple profiles, making it fast and easy.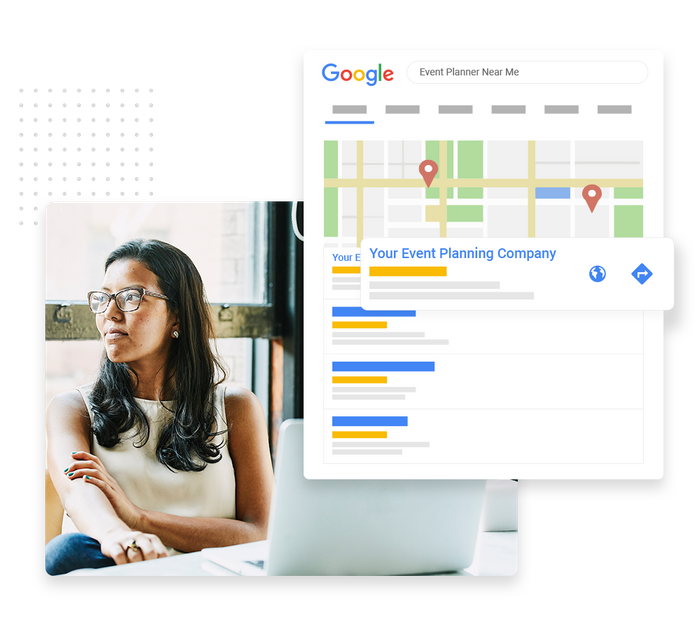 Be one of the highest-ranking event planner on Google
Outrank other event planners in your area for relevant keywords and drive more low-cost organic leads to your website with content marketing. Plus, get easy-to-understand SEO reporting tools to help you monitor your organic performance over time.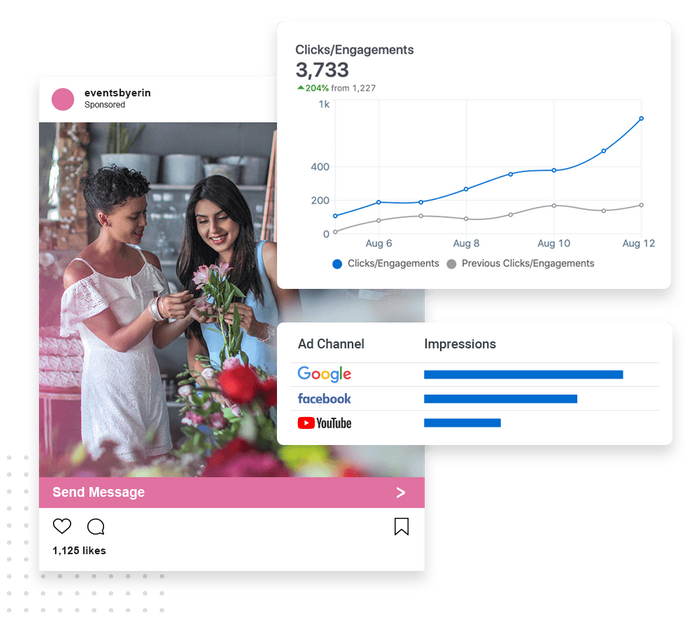 Drive leads and conversions with multi-channel advertising
Get more high-quality leads on all of the most popular channels, including Google, YouTube, Facebook, Instagram and more, with multi-channel advertising campaigns. Create, launch and monitor the performance of campaigns easily with Ads.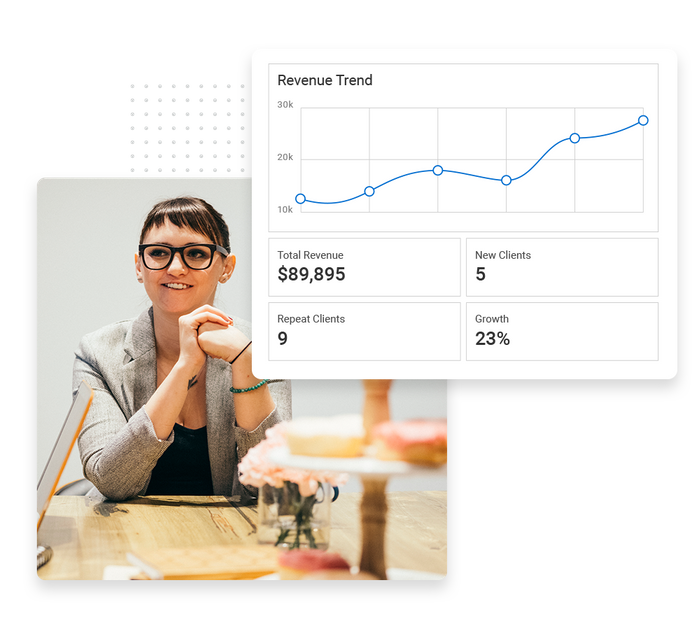 Get more out of event planner marketing
Intelligence gives easy-to-understand overall performance reporting tools to help you identify what's working for your event planning business and what's not. Maximize your ROI and fine-tune your strategy by making informed, data-driven decisions.
See What Our Event Planners Are Saying
"With Marketing 360™, I am able to view all of my Facebook, Adwords and SEO data in one easy-to-use and -access dashboard."
Meghan G. | Owner/Planner
"All inclusive/comprehensive software for all things digital marketing."
Reese T. | Director of Sales & Marketing
"Any time we have a question, we know we can call or email and have the answer almost immediately."
Kim S. | Manager
"What brought me to Marketing 360™ was a large number of features included with the software."
Joshua M. | President
"Can't beat this service and results for this price."
Michelle C. | Office Manager
"Overall the software is very affordable and the team works with your budget."
Sasha A. | Owner
"The Marketing 360™ team worked with us to ensure all points of customer engagement were tracking properly and delivering accurate results."
Caroline L. | Director of Marketing
"We are able to quickly analyze the progress and effectiveness of our various marketing programs."
Jim P. | Director
"It is has been an absolute pleasure to work with the Marketing 360™ team to improve our marketing and advertising"
Morganne H. | Executive Assistant
Get the tools you need to help
manage and grow

your business.