The
dental platform

you need to build a healthy practice
Acquire new patients, book revenue, get reviews and send patient reminders, all from one platform.
Acquire new patients
Acquire new patients with multi-channel advertising
Get more reviews
Request reviews, build a strong reputation and get more patients
Appointment reminders
Fill your calendar with appointment reminders, alerts, booking and scheduling
Marketing automation
Automate, manage and grow your dental or orthodontic practice from a singular platform
Everything you need to help manage and grow your dental practice from one platform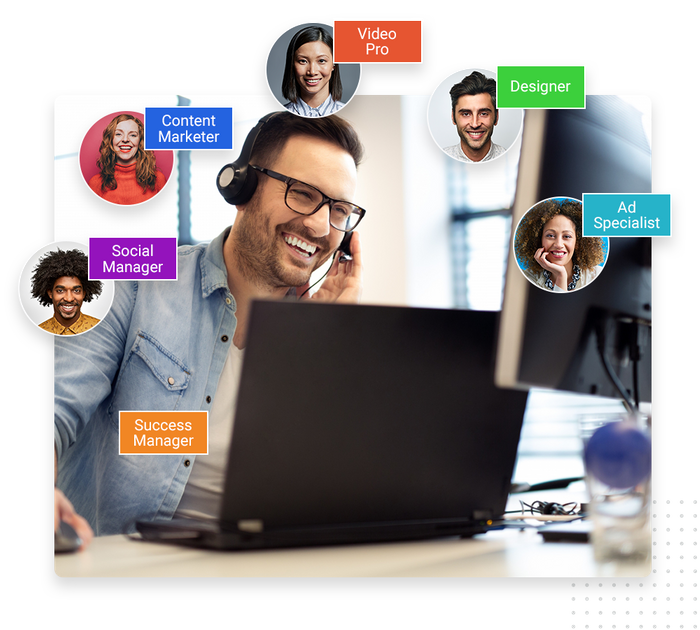 The marketing team to help you grow your dental practice
With Marketing 360™, not only can you get the tools you need to help scale your dental practice, but you can also get do-it-for-you dentist marketing programs and a dedicated marketing team — all from one platform. Let us focus on growing your dental practice so you can focus on running it. Learn more.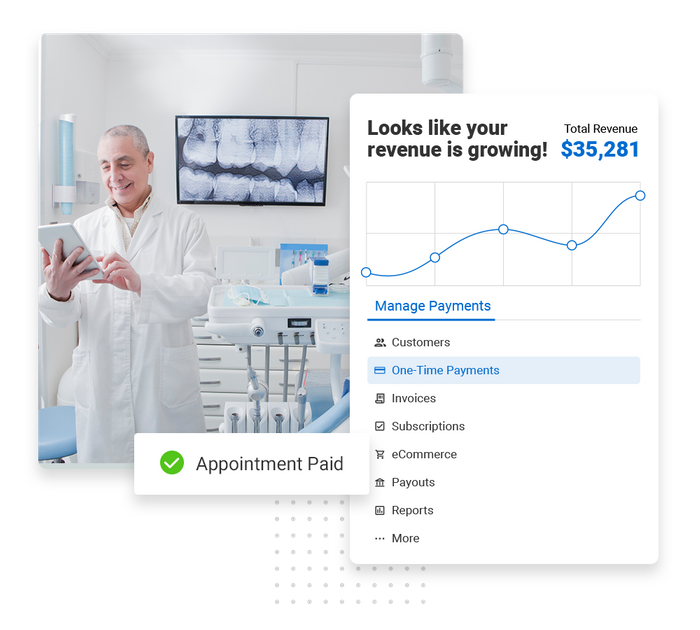 Securely accept and manage patient payments
Process patient payments online to ensure that payment is collected for every appointment. Plus, create and send professional invoices, monitor the status of your invoices at a glance, manage patient payments and more.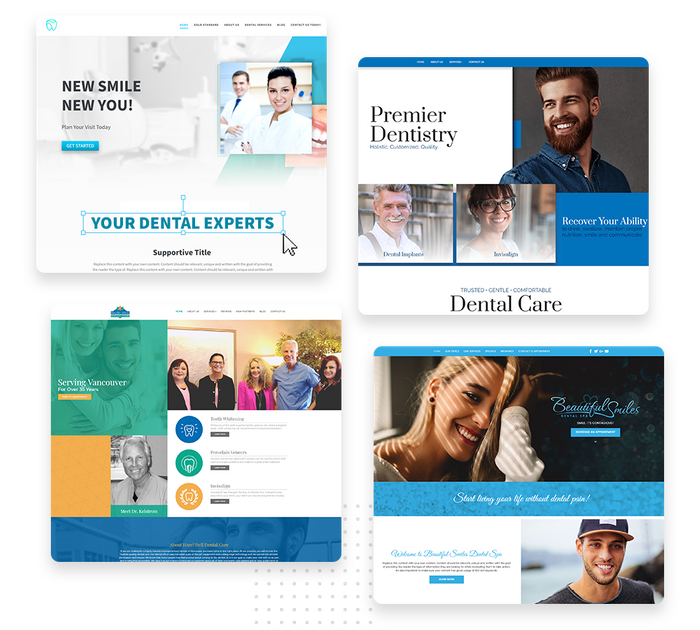 Get more patients with a modern dental website
You need a professional, contemporary website that makes the right first impression. Build it yourself with Websites 360™. A library of elegant, fully customizable dental templates and a drag-and-drop editor make it easy.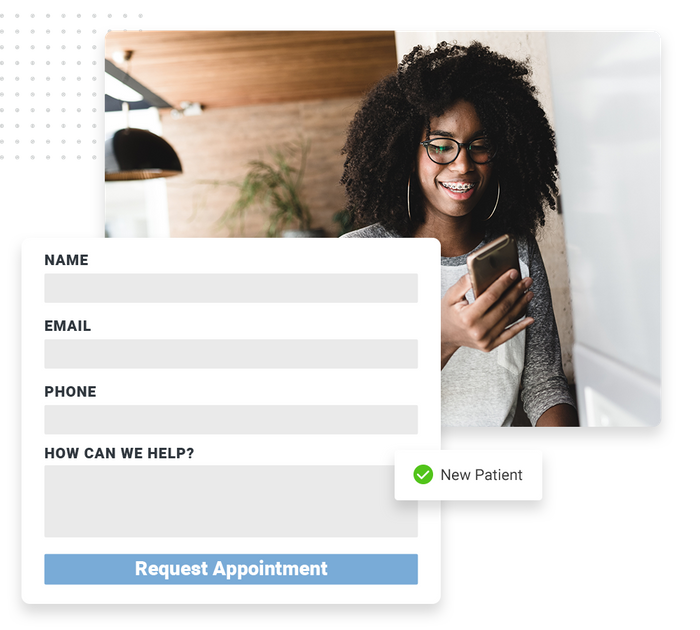 Ready-to-go dental forms
With Forms, you'll get ready-to-go dental forms for your website that sync with the CRM. All forms are easy to edit and customize so that you can build the appointment request forms, contact forms, feedback forms and more that you need to stay in touch.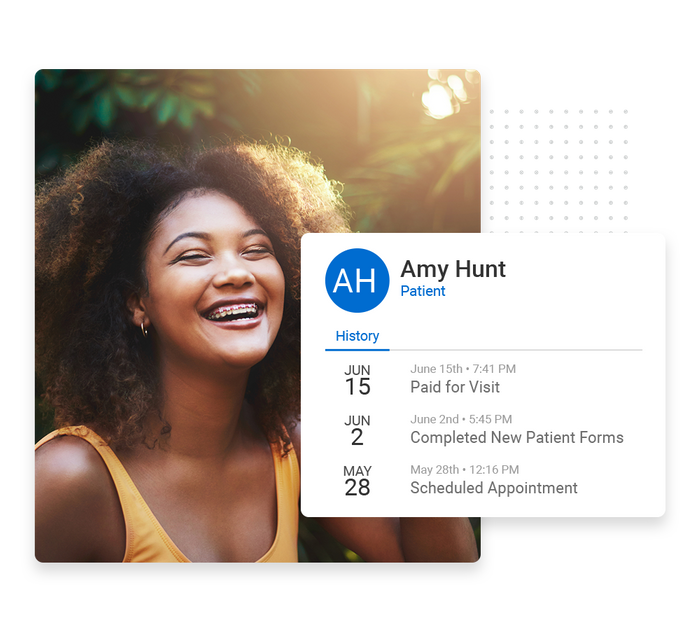 Build loyal, life-long patients with a dental CRM
Stay organized and manage your patients and practice with a dental CRM. It has everything you need to manage all contacts — leads, patients, partners, employees, etc. — as well as patient communications, calendars and more.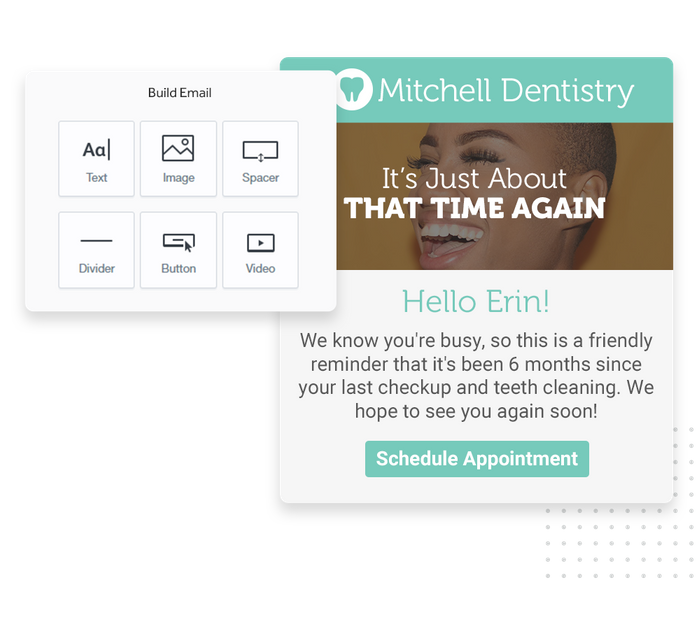 Keep your practice top of mind with email marketing
Remind your patients about upcoming appointments, get lapsed patients back, request reviews and build more personal, longer-lasting connections with your patients with automated email campaigns. Campaigns are quick and easy to create with Nurture.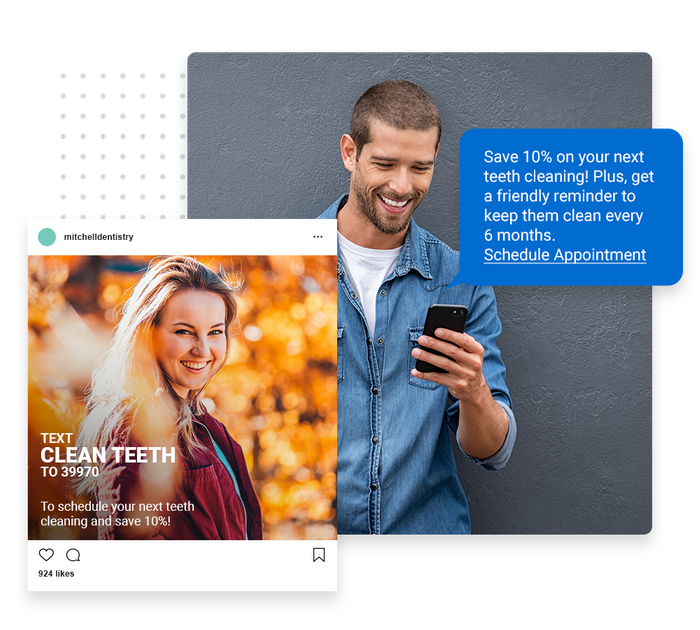 Create urgency and connect instantly with text message marketing
Having a limited-time special on teeth whitening or invisible braces? Need to remind a patient about an upcoming appointment? Want to make checking in quicker and easier? Do it all and so much more with text message campaigns. Build campaigns the easy way with Nurture.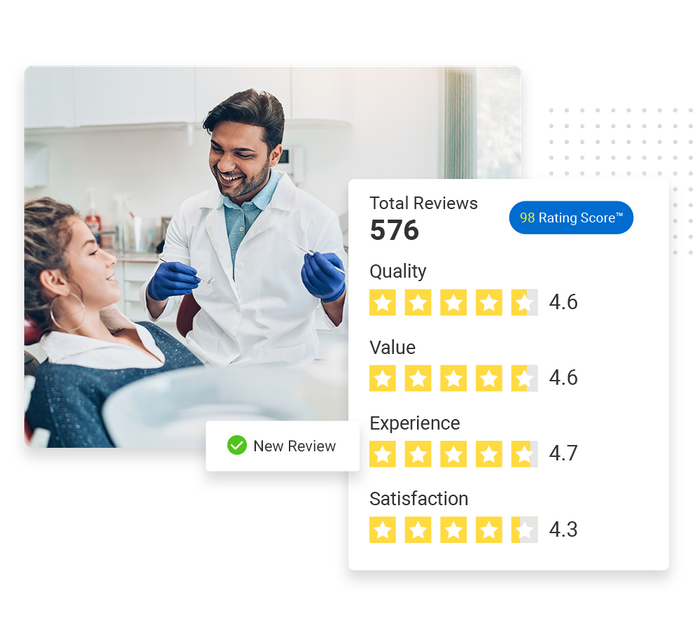 Be one of the highest-rated dental practice in your area
Build a strong reputation for your dental or orthodontic practice and get more five-star reviews with Reputation. Request reviews, view reviews from across review sources, stay on top of your overall reputation, build review widgets for your website and more.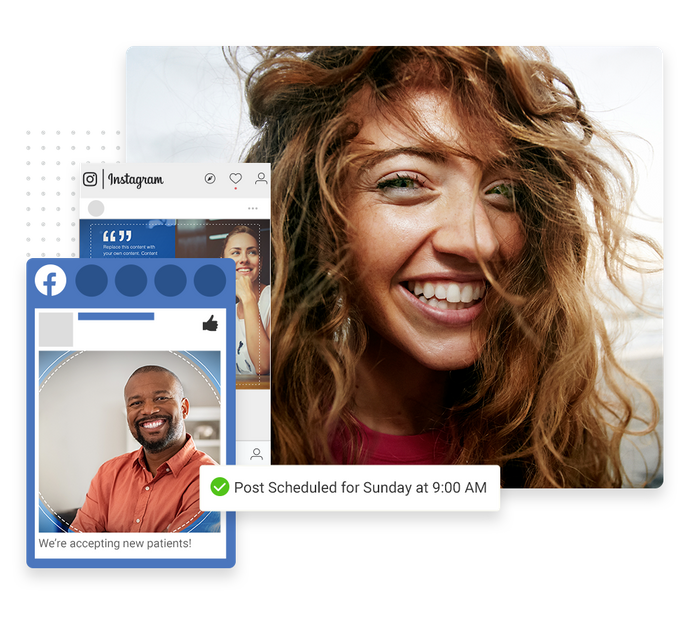 Connect with your community on social media
Expand your reach and connect with your patients across Facebook, Instagram, LinkedIn and more with Social. Create and schedule posts to ensure you're always active and posting consistently. Save time and make social media management easier.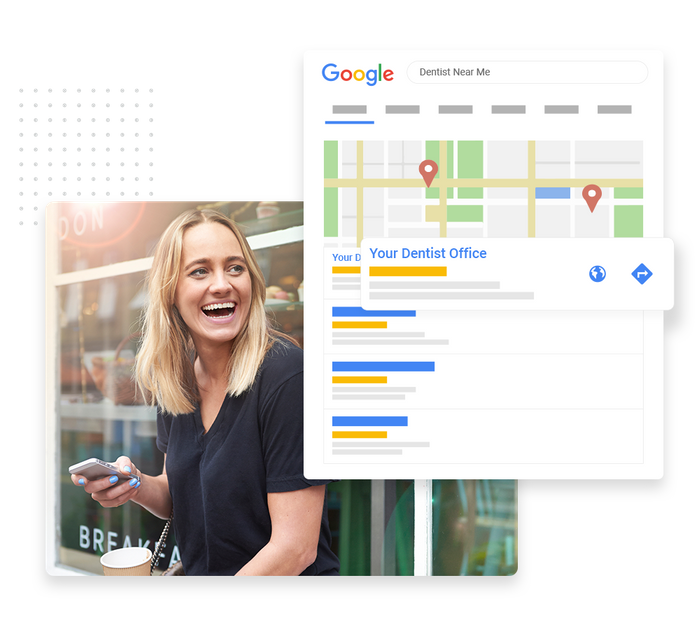 Increase your organic visibility and get low-cost leads
Outrank your competitors on Google and Bing, and generate low-cost traffic and leads with content marketing. With Content, you'll get SEO tools that allow you to easily track your keyword rankings and monitor your organic performance over time.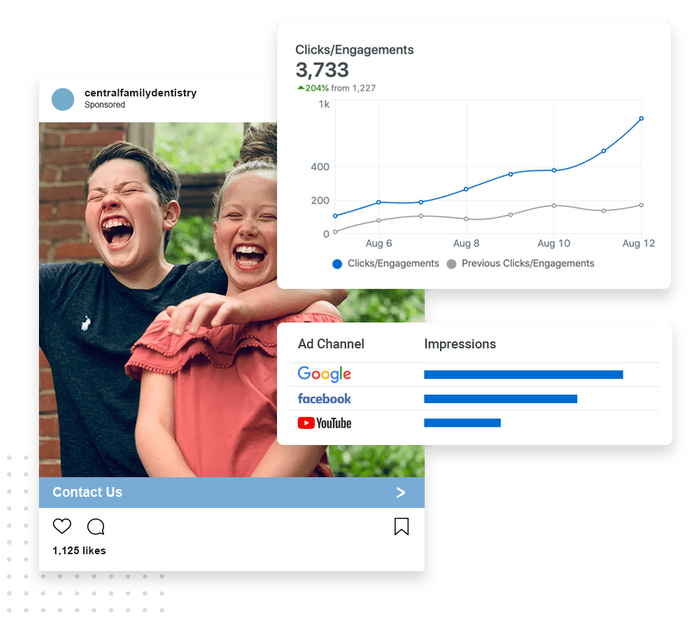 Capture market share on the top channels
With multi-channel advertising campaigns across Facebook, YouTube, Google and more popular channels, you can expand your reach and get more patients. Create and launch ads, and monitor the performance of your campaigns over time.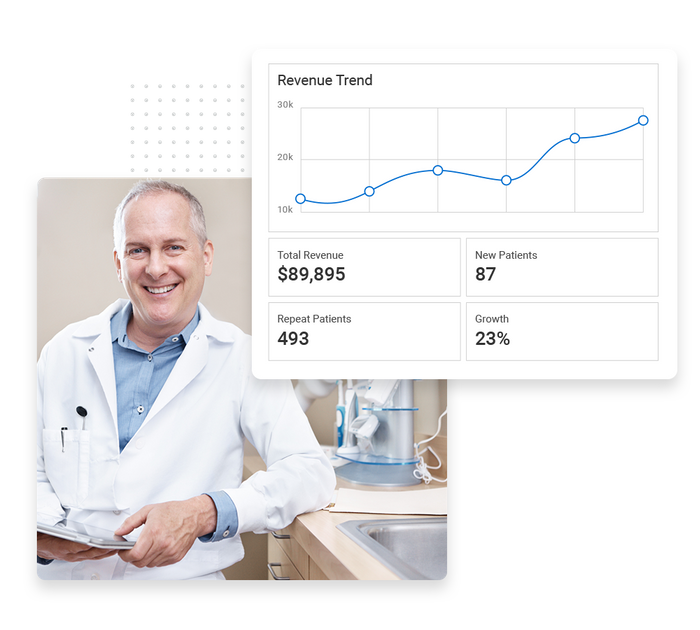 Make intelligent decisions with performance reporting
Easy-to-understand performance reports help you make the right decisions about your digital marketing budget and strategy. It's the data you need to maximize your ROI by doing more of what's working for your practice and less of what's not.
See What Our Dentist Platform Users Are Saying
"My only regret is that I didn't find Marketing 360™ sooner."
Renee D. | Practice Coordinator
"Super helpful in developing our website and continuing to improve our online recognition."
Gerard C. | Dentist
"Marketing 360™ is the best choice!"
Tracey M. | Office Manager
"Love working with Marketing 360™"
Nick K. | Owner
"The platform is so easy to use, and they have experts available to help in every area."
Michelle C. | Office Manager
"I highly recommend the Marketing 360™ team. It's worth the investment."
Sasha A. | Owner
"This software and company has been great to work with."
Hannah T. | Communications Director
"Thank you for helping me to organize and keep up with the volume of leads!"
Kathy G. | Owner
"Marketing 360™ has done a great job of creating a product that is user friendly and easy to use."
June F. | Administrator
Get the tools you need to help
manage and grow

your business.