Find the rhythm for your
dance studio
Increase your visibility, connect with your community on social media, become one of the highest-rated dance studios in your area and more.
Manage reviews
Get more five-star reviews, view reviews from everywhere and build a strong reputation online
Get leads
Capture market share and drive leads on popular channels through Ads and Content
Stay organized
Manage leads, students, dance instructors and more with a customizable CRM
And so much more
Everything you need to help manage and grow your dance studio from a single platform
Everything you need to help manage and grow your dance studio from one platform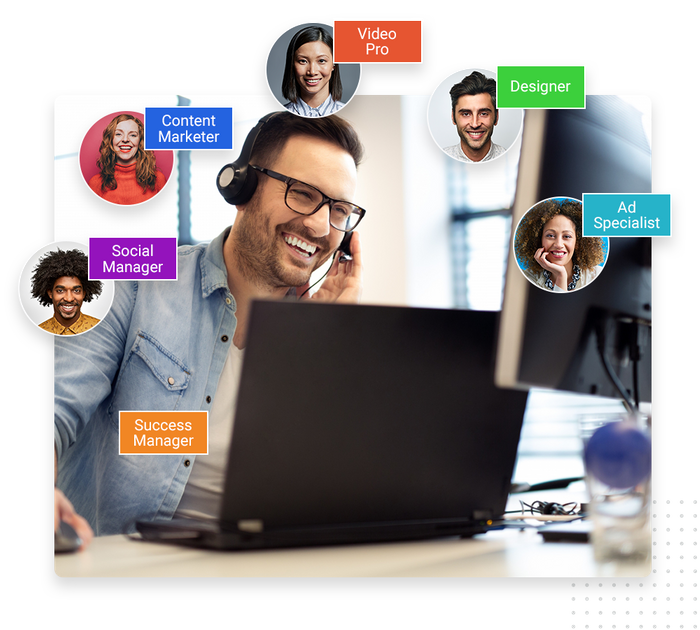 The marketing team to help you grow your dance studio
You can get the tools you need to help scale your dance studio with Marketing 360™, as well as do-it-for-you marketing programs and a dedicated marketing team — all from one digital marketing platform. Let us focus on growing your dance studio so you can focus on running it. Learn more.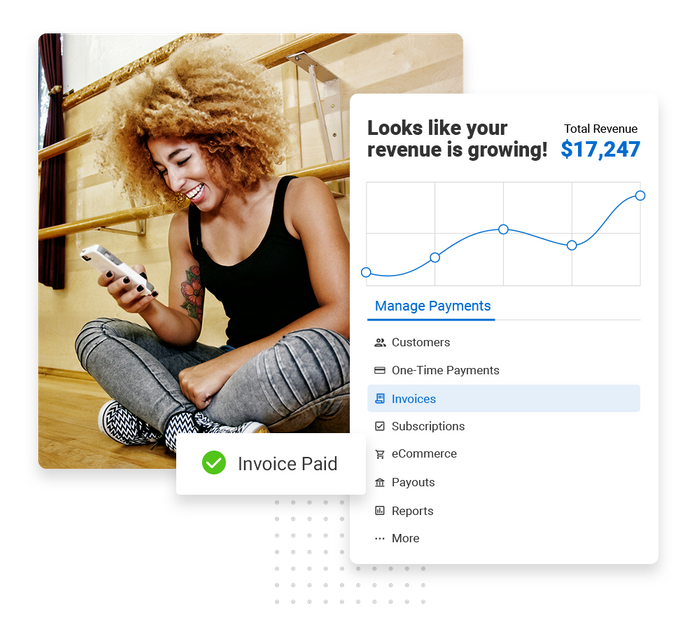 Easy payment management in your dance studio
Make it easy for students to pay membership fees right from your website with Payments. You can also manage and accept one-time payments and recurring payments, as well as create, send and manage professional invoices — all from one place.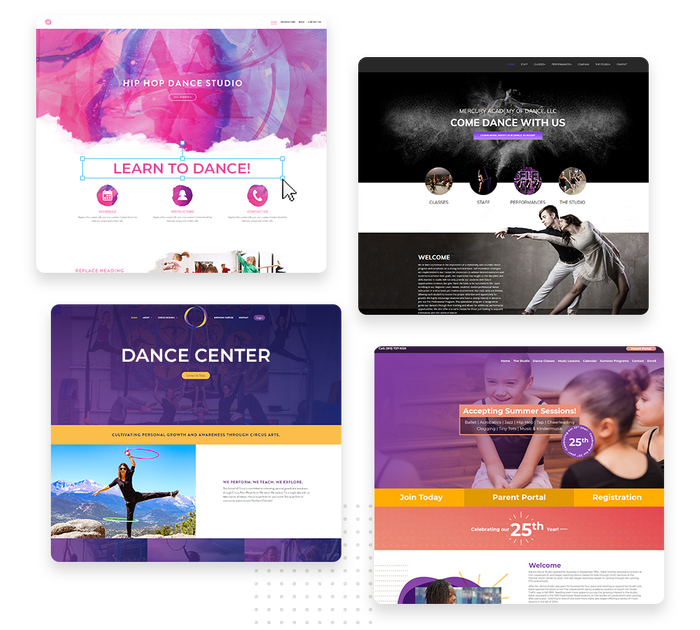 Dance circles around your competition with the right website
Introduce your dance studio to prospective students with a modern, professional website where they can learn about your classes and instructors, schedule a tour and more. Websites 360™ makes building your own website cost-effective and easy.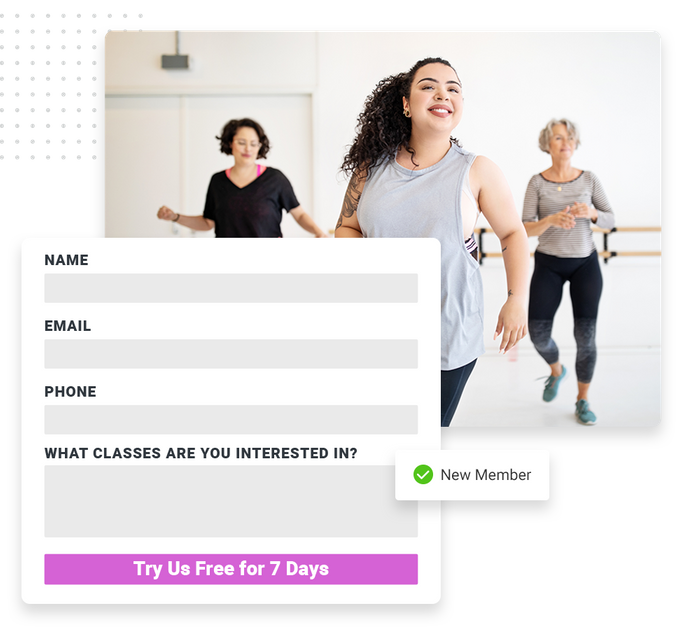 Ready-to-go dance studio forms for your website
Get ready-to-go dance studio forms for your website that sync with the CRM. All forms are easy to edit and customize. Marketing 360™ Forms gives you everything you need to quickly and easily build new student forms, contact forms, feedback forms and more.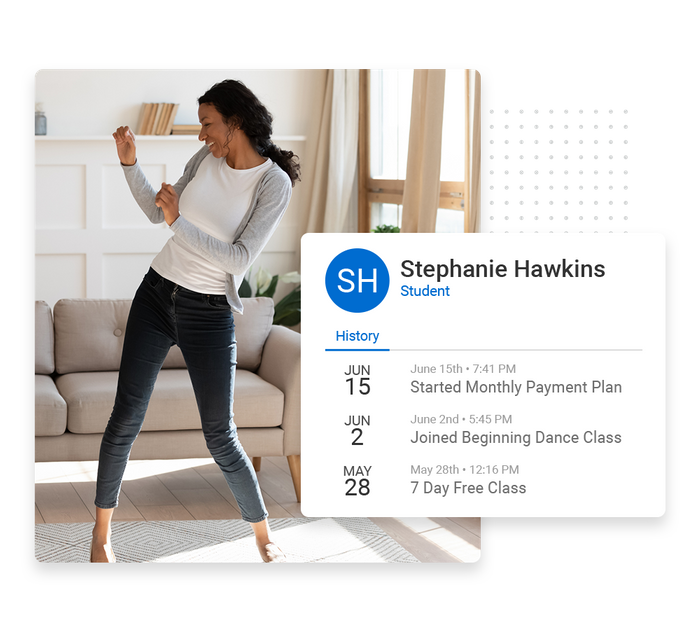 Manage students, instructors and more
The CRM has everything you need to manage all of your contacts — leads, instructors and past, present and potential students — from one place. A customizable dashboard helps you stay organized and manage your studio your way.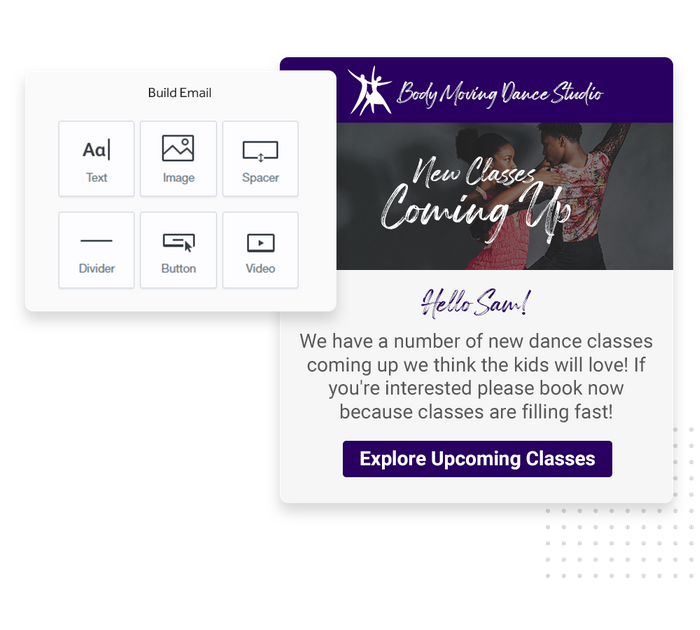 Stay top of mind with email marketing
Keep your students updated about new classes, promotions and events, send out helpful tips, ask for feedback and more with email marketing through Nurture. A library of dance studio email templates make it quick and easy to build automated email campaigns.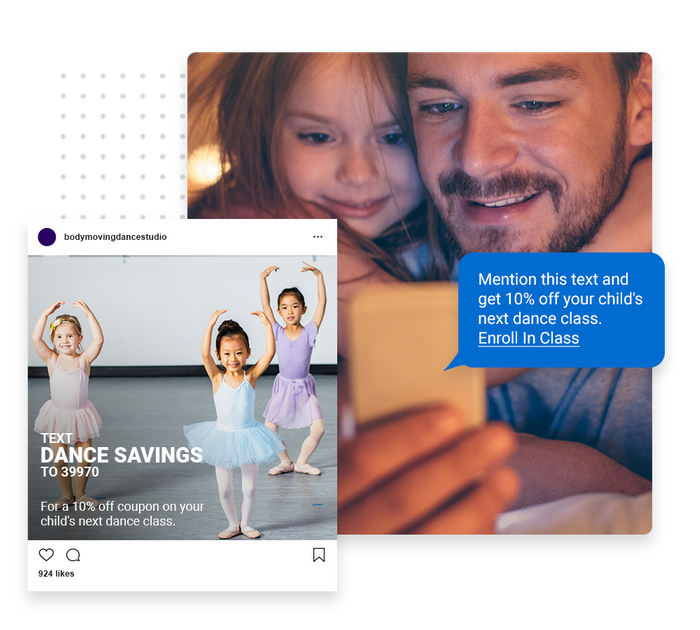 Grow your dance studio with text message marketing
Text message marketing is ideal any time you need to communicate with your students in real time, including reminders and updates, feedback requests, limited-time offers and more. Nurture makes automated text message campaigns quick and easy to build.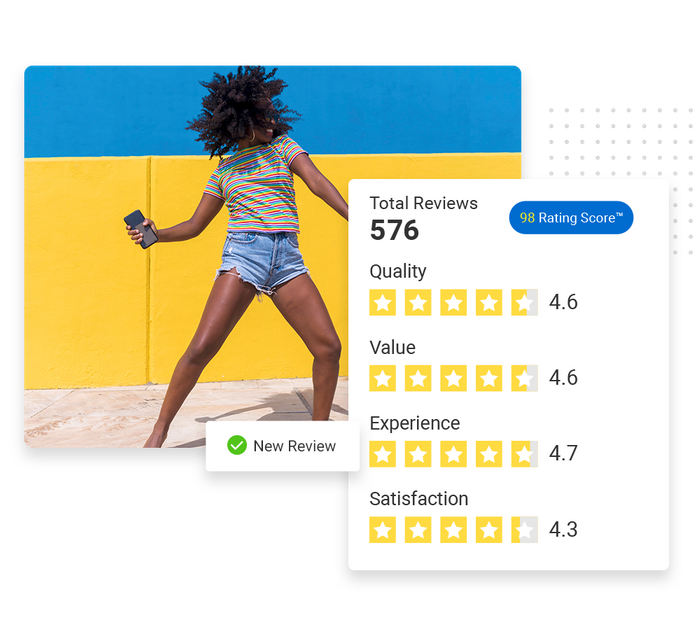 Be one of the highest-rated dance studio in your area
Reputation is the all-in-one reputation management tool you need to help get you more five-star reviews and build a strong reputation. Request reviews, view reviews from across the web, build a reviews widget for your website and more.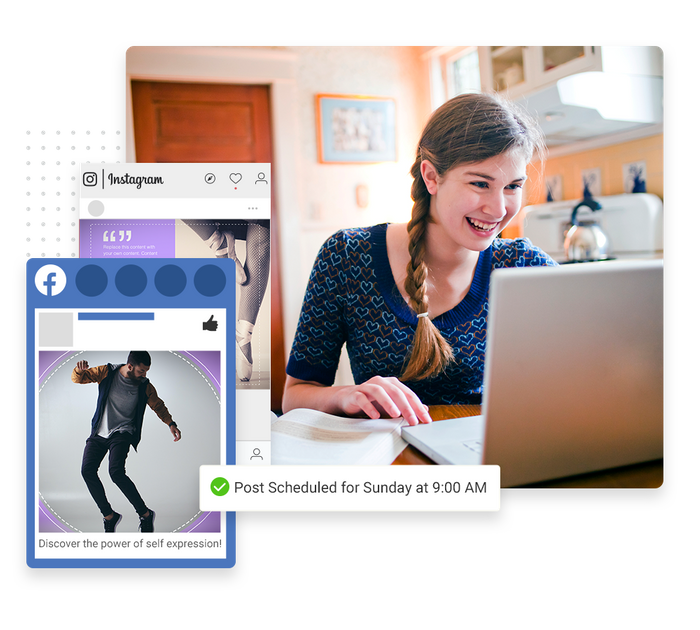 Connect with your students and your community on social
Social media is where community connections are forged online. Simplify social media management for your dance studio by managing and scheduling social posts on multiple profiles at once with Marketing 360 Social.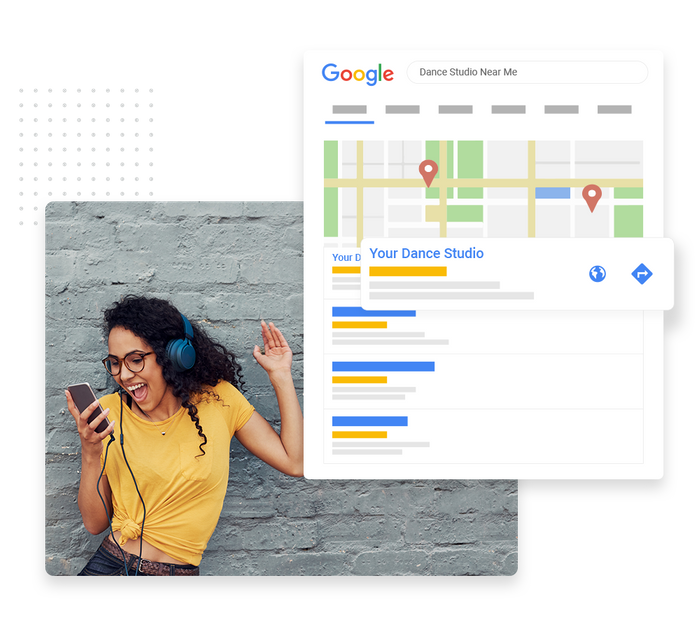 Outrank your competitors on Google
Get to the top of page one on Google and drive low-cost leads to your website with content marketing. Plus, monitor your keyword rankings and organic performance over time with easy-to-understand SEO reporting tools.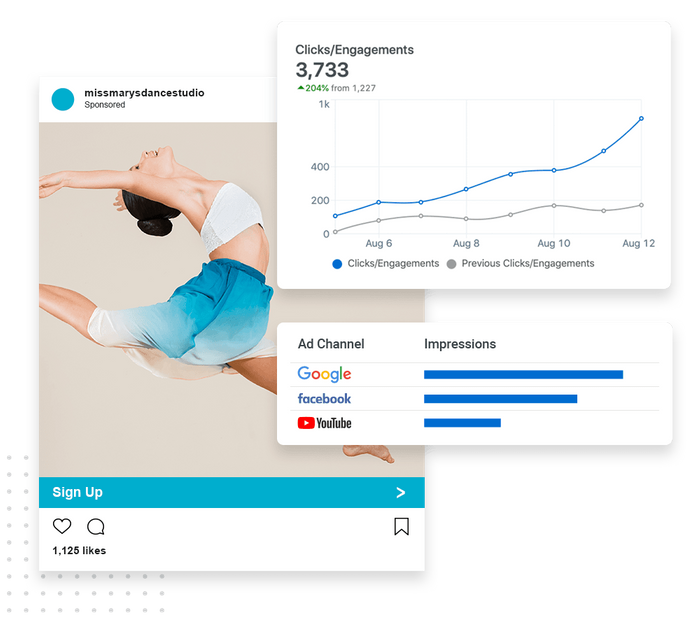 Fill up your classes with multi-channel advertising
Drive high-quality leads to your website and capture market share on all of the most popular channels, including Google, Facebook, Instagram, YouTube and more. Ads makes it easy to create, launch and monitor ad campaigns.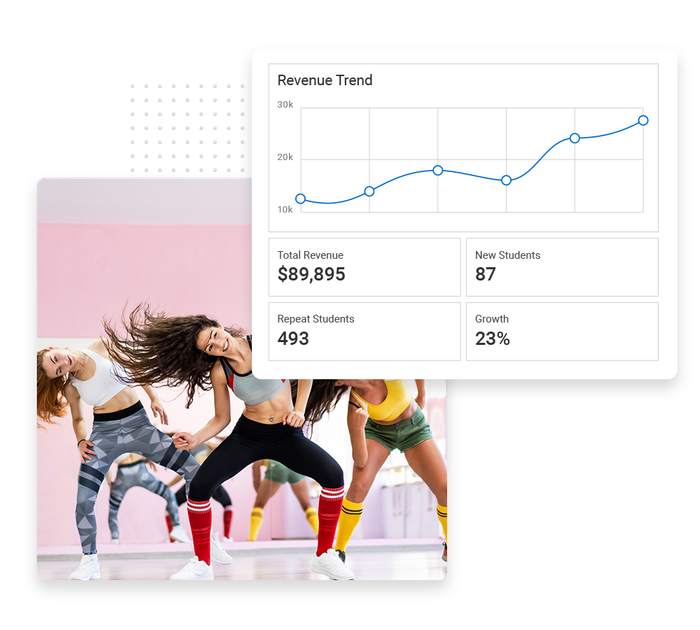 Monitor your performance and maximize your ROI
Make the most of your marketing investment by making data-driven decisions about your budget and strategy. Intelligence offers easy-to-understand performance reporting, monitoring and analytics tools to help you identify what's working for your dance studio and what's not.
"I love all of the automated features - the text and email campaigns have been so helpful to be sure that our students are regularly contacted and prompted to return!"
Torin C. | Studio Manager
"My rep is very knowledgeable and friendly as well as responsive."
Nick K. | Owner
"Marketing 360™ is awesome. Their communication, service and results are fantastic."
Michelle C. | Office Manager
"Amazing, highly recommended. They are professional and punctual on all points."
Bradford H. | Founder
"The staff is extremely friendly, efficient and readily available for marketing needs"
Sasha A. | Owner
"Marketing 360™ - the most effective way to monitor social and website analytics"
Jim P. | Director
"It's great that Marketing 360™ has so many possibilities for integrating the platform with third-party services."
Arya B. | Chief Marketing Officer
"Good value for the money. Makes it easy to access social media from a single point."
Damiano C. | Digital Marketing Manager
"Recommend Marketing 360™ hands down to anyone looking to boost marketing and advertising!"
Morganne H. | Executive Assistant
Get the tools you need to help
manage and grow

your business.