The
chiropractic platform

to align your practice
Acquire new patients, book revenue, get reviews and send patient reminders, all from one platform
Acquire new patients
Acquire new patients with multi-channel advertising
Get more reviews
Be one of the highest-rated chiropractic or acupuncture practices in your area
Appointment reminders
Appointment reminders, alerts, booking and scheduling
Marketing automation
Automate, manage and grow your chiropractic practice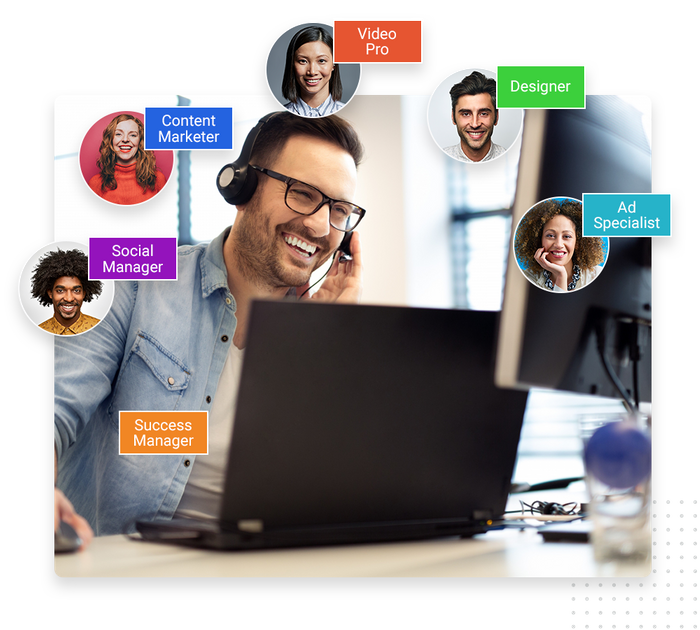 The marketing team to help you grow your chiropractic practice
With Marketing 360™, not only can you get the tools you need to help scale your chiropractic practice, but you can get do-it-for-you marketing programs and a dedicated marketing team — all from one platform. Let us focus on growing your chiropractic practice so you can focus on running it. Learn more.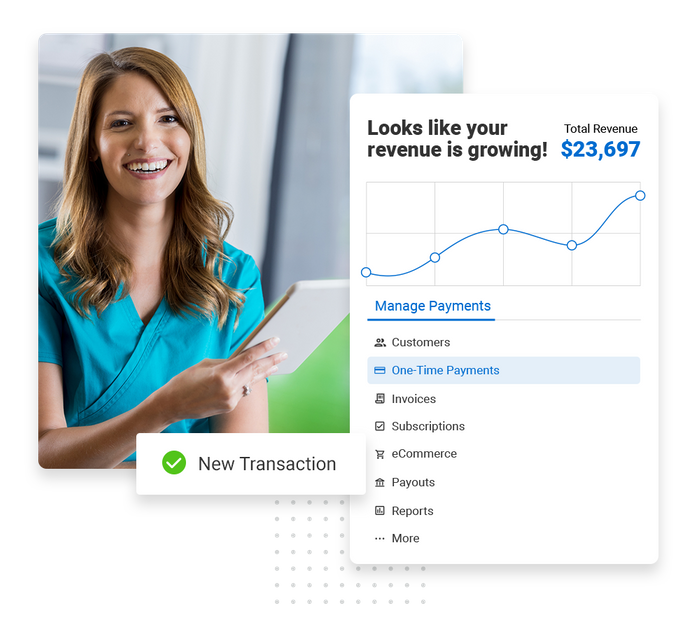 Streamline payments and invoice management
Payments is the all-in-one tool you need to stay on top of managing payments and invoices in your practice. Securely accept payment online, manage all patient payments, create and manage invoices with ease and more.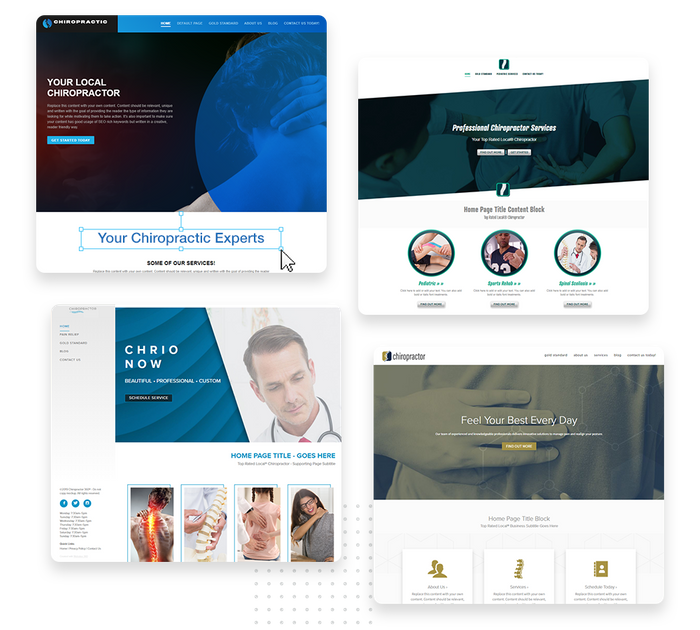 Get all the kinks out with the right chiropractic website
Get more patients with a modern, professional website. It's easy and affordable to build an effective chiropractic website for your practice with a library of chiropractor design templates and an easy-to-use drag-and-drop editor.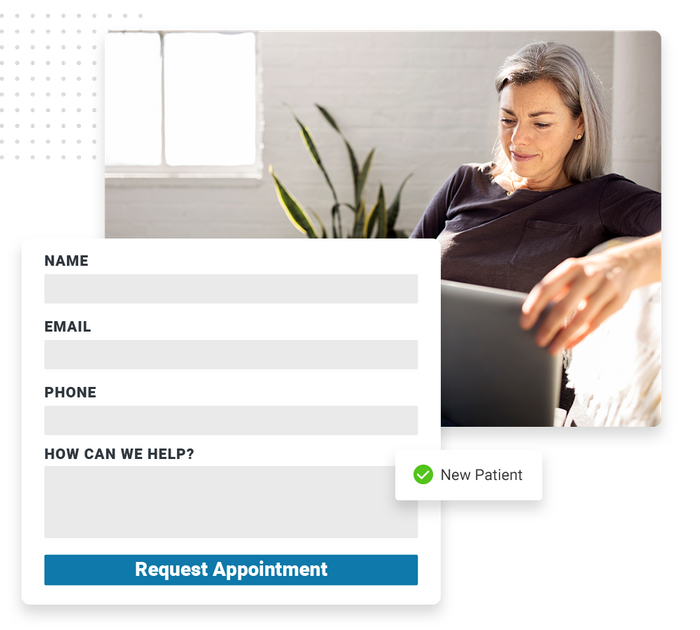 Ready-to-go chiropractor forms
Gain access to ready-made contact forms, appointment request forms, feedback forms and more for your website that sync directly with the CRM. Forms are easy to build, edit and customize with Marketing 360™ Forms.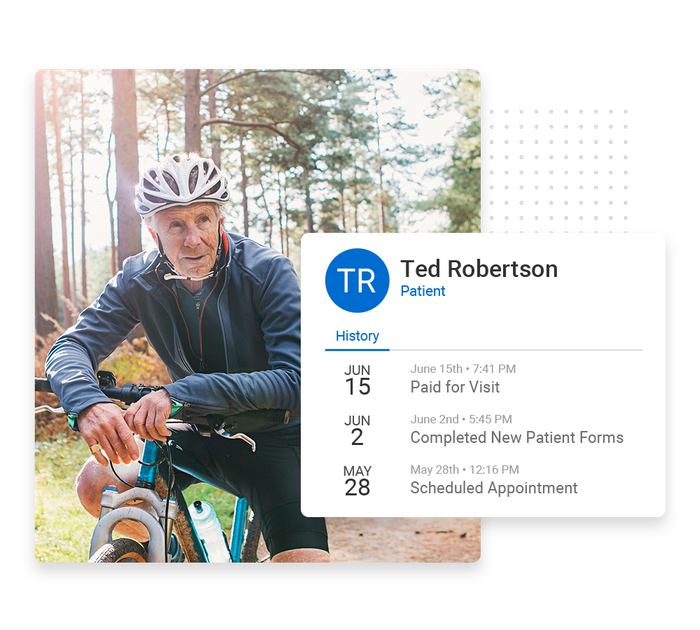 Build long-lasting relationships with your patients
Manage your patients — and your practice — with a customizable CRM. Keep track of patient communications, organize case notes, reach out to and manage referrals from other healthcare providers and more. It's the all-in-one solution you need.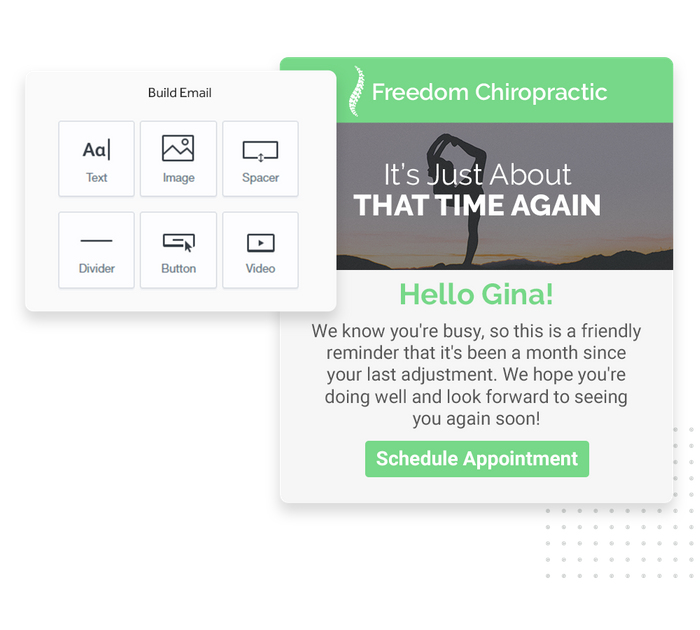 Stay relevant and build patient loyalty with email marketing
Professionally designed marketing emails are a great way to educate your patients, send appointment reminders, request feedback and reviews, promote offers and specials and more. Save time and build automated email campaigns with Nurture.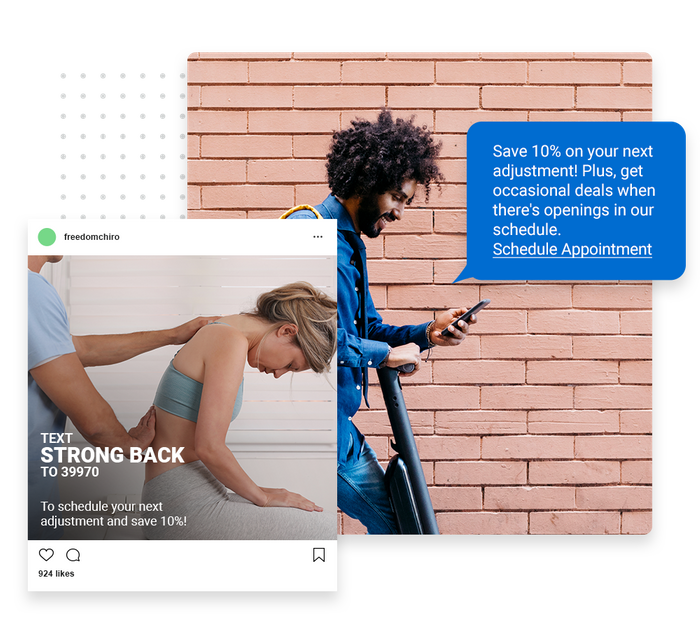 Say goodbye to no-shows with text message marketing
Speed up slow days and eliminate no-shows with automated text campaigns. They're perfect for reminding patients about appointments and payments, providing patients with emergency updates and information and more.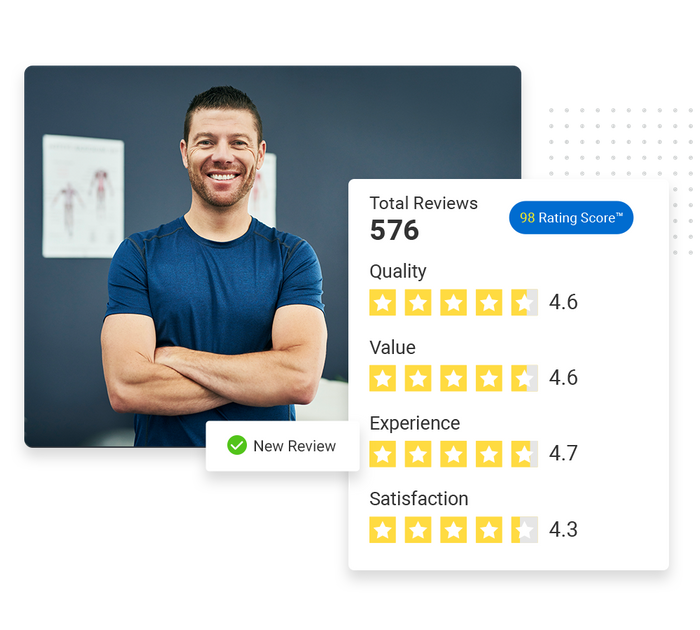 Build a strong reputation for your practice
With Reputation, you can request reviews quickly and easily, monitor your reviews across popular verified review sites, get a snapshot of your overall reputation and more. It's everything you need to be one of the highest-rated chiropractors in your area.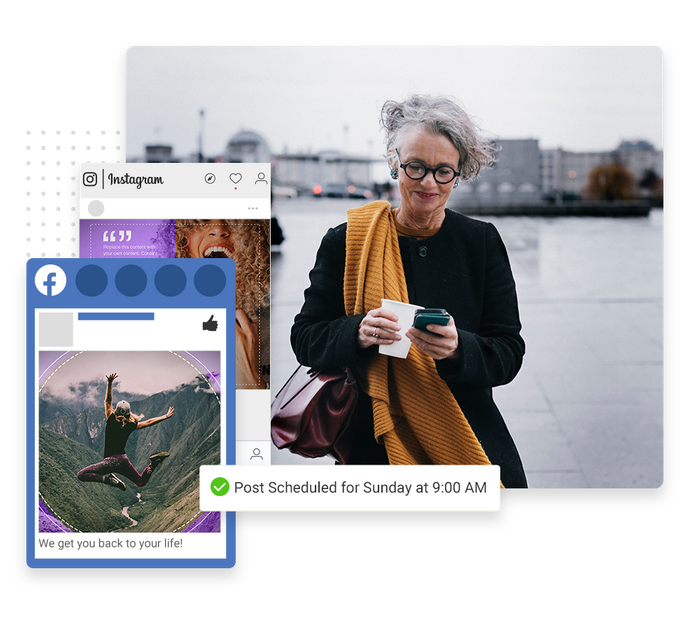 Expand your reach and simplify social media management
Build long-lasting connections with people in your community with Marketing 360 Social. From one place, you can manage your social profiles, create and schedule out social posts and more, helping you save time and stay consistent.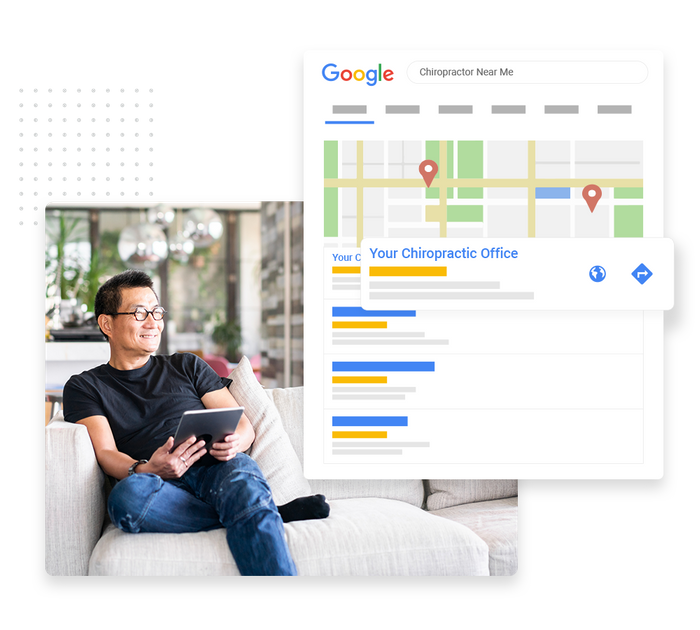 Increase your search rankings and monitor your SEO success
Outrank your competition on Google with content marketing. Plus, monitor your SEO strategy with easy-to-understand reports that make it easy to keep track of your keyword rankings and organic performance over time.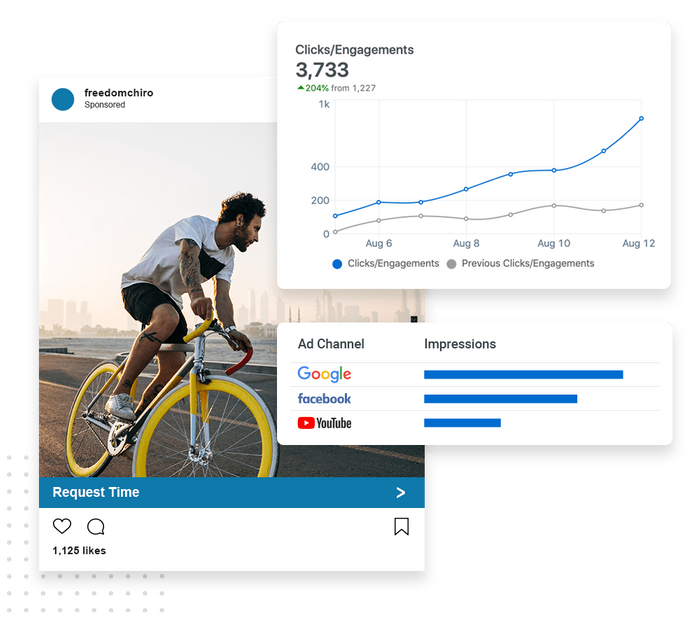 Boost leads and capture market share
Get more patients with multi-channel advertising campaigns across the most popular channels, including Google, Instagram and YouTube. Create and launch ads, and monitor the performance of your campaigns – all from a single app.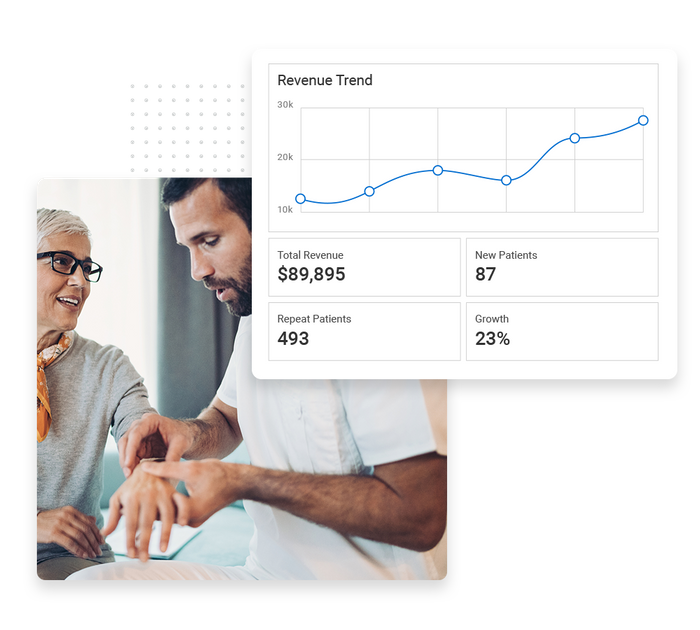 Drive results with overall performance reporting
Be in the know about what's working and what's not with easy-to-understand overall performance reporting. Intelligence gives you everything you need to make informed, data-driven decisions about your marketing budget and strategy.
See What Chiropractic Platform Users Are Saying
"Simply put, I love this program. It simplifies the market place for me."
Doug C. | Chiropractor
"If you want personal service from people who really care about you and your business, Marketing 360™ is the company that will provide it."
Stephen P. | Chiropractic Physician
"Marketing 360™ has brought our business to new heights. I love that I can use the CRM to manage contacts, send blogs & email blasts."
Amanda K. | Co-Owner
"The service is functional and proactive."
Katelyn P. | Office Manager
"Marketing 360™ took the time to listen to my business needs and help come up with a plan to help me grow."
Nick K. | Owner
"Marketing 360™ built us a new website immediately that is incredibly professional."
Michelle C. | Office Manager
"The team have been immensely helpful setting up my website, marketing emails and a market research study."
Bradford H. | Founder
"The Marketing 360™ team has helped improved our online business reputation over the past year tremendously."
Sasha A. | Owner
"It works great! Fabulous company, and the service is 10/10"
Jennifer L. | CEO
Get the tools you need to help
manage and grow

your business.