Keep your
assisted living or home health care business

young
Build a website that highlights your community and care, increase your visibility online, manage multiple social profiles and more.
Incredible SEO
Increase your visibility on search engines and get low-cost leads
Manage reviews
Make the right first impression by building an unstoppable reputation
Drives leads
Create, manage and track ads across the top channels to drive leads
And so much more
The tools you need to help manage and grow your assisted living from a singular platform
The tools you need to help manage and grow your assisted living from one platform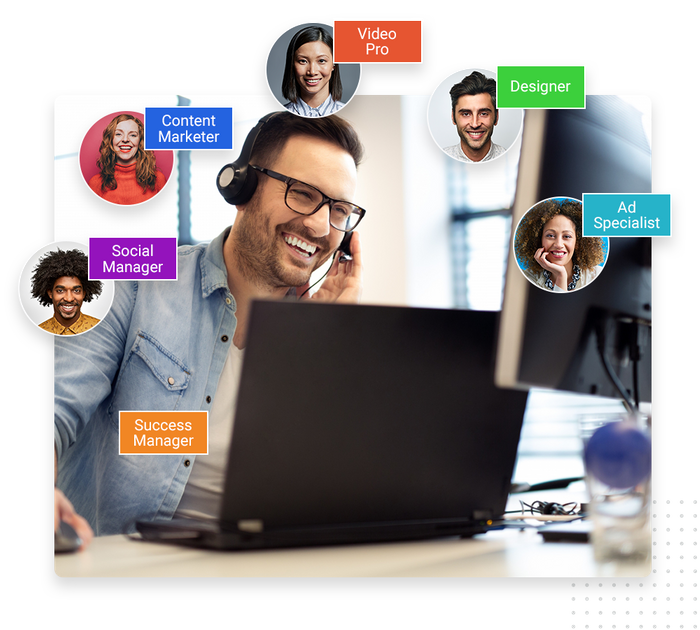 The marketing team to help you grow your assisted living or home health care company
Marketing 360™ can give you the tools you need to help scale your assisted living or home health care company, as well as do-it-for-you marketing programs and a dedicated marketing team. Let us focus on growing your assisted living or home health care company so you can focus on running it. Learn more.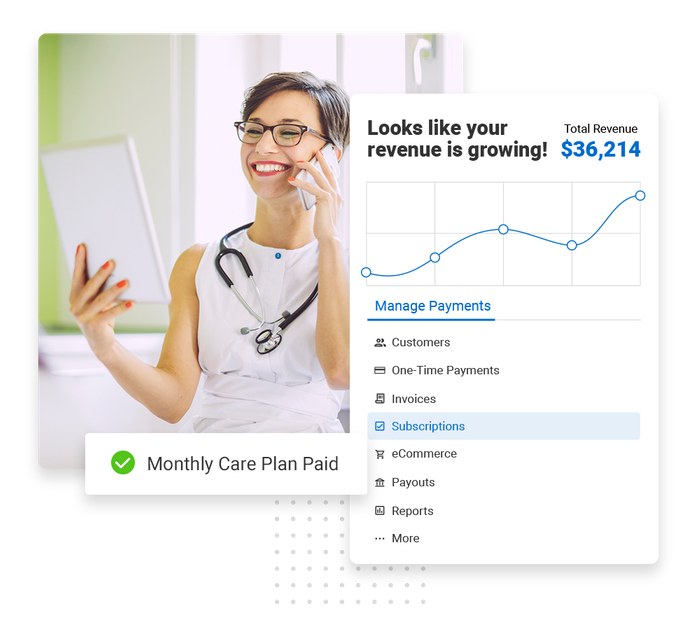 Manage payments and invoices with ease
Secure online payment processing gives your residents more options when it comes time to pay their rent. Payments makes it easy to stay organized while managing it all — payments, invoices and more — from one place.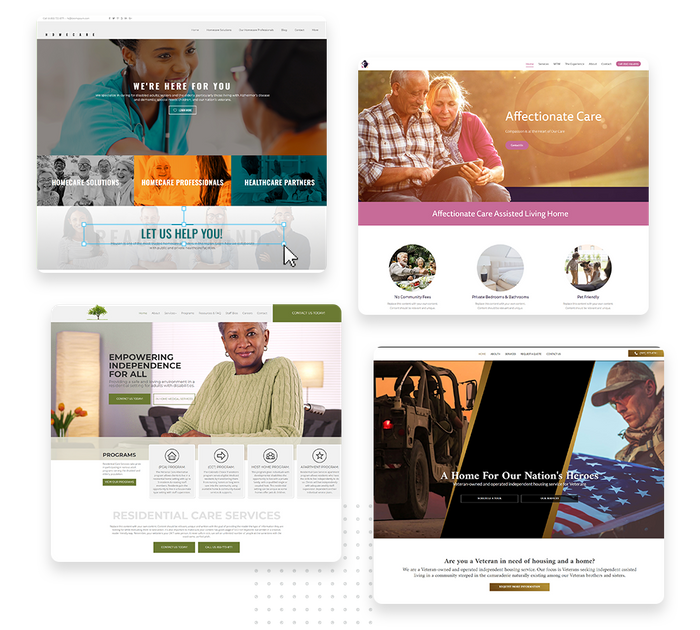 Boost your occupancy rate with the right website
Build a website where visitors can take a virtual tour of your community, schedule an in-person consultation or tour, learn about your care services and more. With an easy-to-use drag-and-drop editor and a library of design templates, it's easy!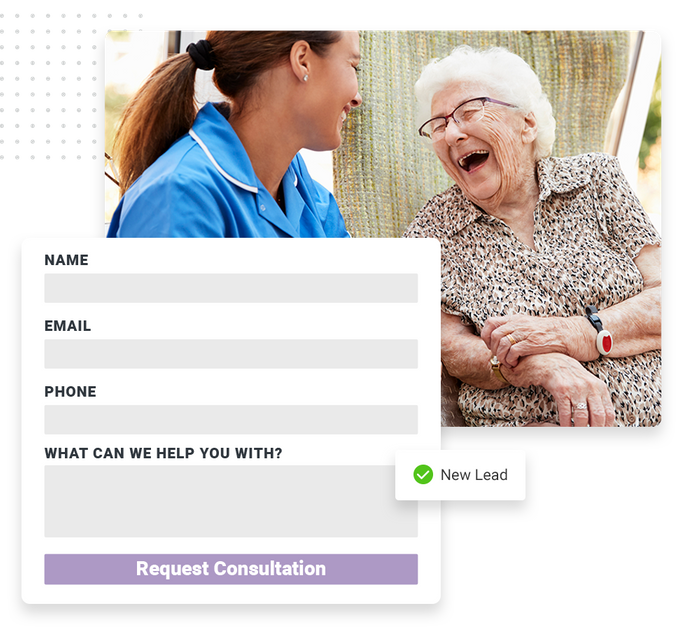 Ready-to-go assisted living forms
Get ready-to-go assisted living forms for your website that sync with the CRM. All forms are easy to edit and customize. With Marketing 360™ Forms, you can build tour request forms, contact forms, feedback forms, application forms and more.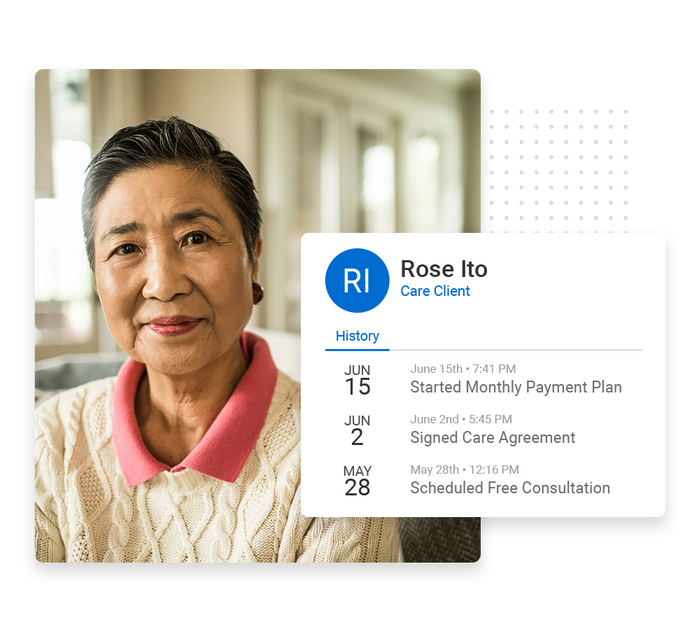 Stay organized with an assisted living CRM
Managing all of your contacts — leads, residents, caregivers, vendors, etc. — can get complicated, but the right CRM makes all the difference. Keep track of day-to-day communications, calendars and more with a customizable dashboard.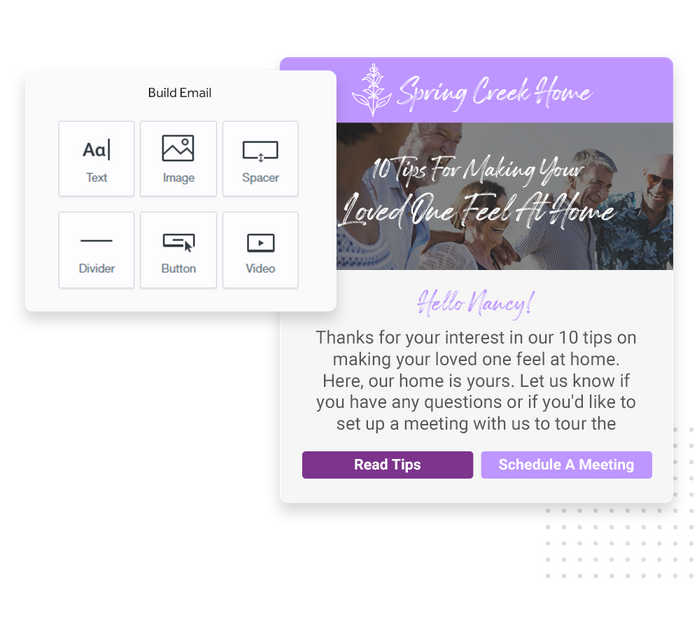 Build better connections with email marketing
From requesting reviews to announcing upcoming move-in specials, email marketing makes getting the word out easier than ever. With a library of assisted living email templates and an intuitive editor, automated email campaigns can be created in no time.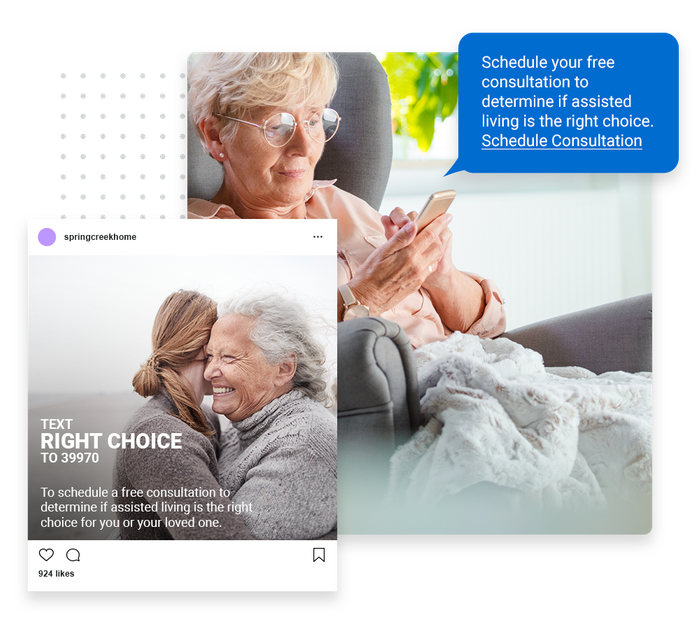 Grow your assisted living business with text marketing
Sending a text is the fastest, most surefire way to connect with leads, residents, families and anyone else you need to contact. Most people read texts immediately, and text campaigns are the perfect way to get out important information, announce events and more.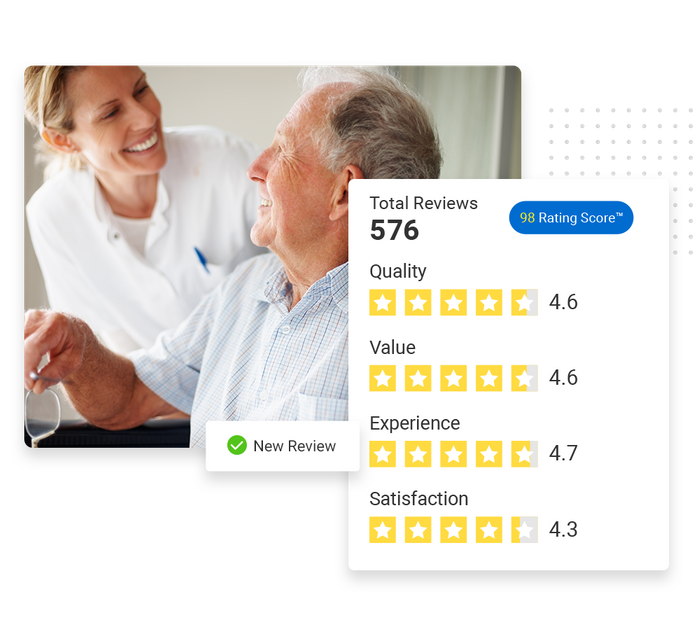 Manage your reputation and get more reviews
With Reputation, you'll have everything you need to gain control of your reputation. Build a strong online reputation by generating more five-star reviews and manage your reputation across popular, verified review sites from one place.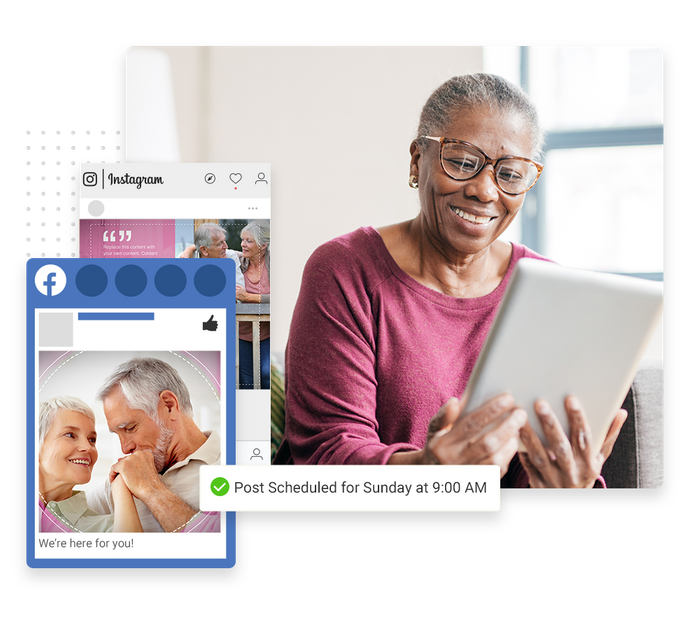 Expand your reach on social media
Managing your social presence across multiple platforms doesn't have to be time-consuming. With Marketing 360 Social, scheduling out social posts and expanding your reach on Facebook, Instagram and LinkedIn is quick and easy.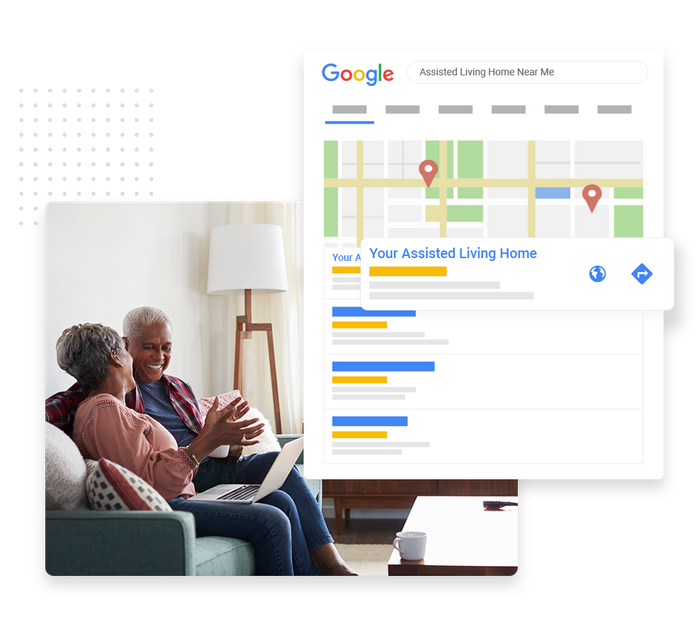 Drive traffic and low-cost leads with content marketing
Content marketing can help you dominate Google and rank on top for relevant keywords. Plus, keep track of your rankings, organic performance and more with easy-to-understand SEO reporting.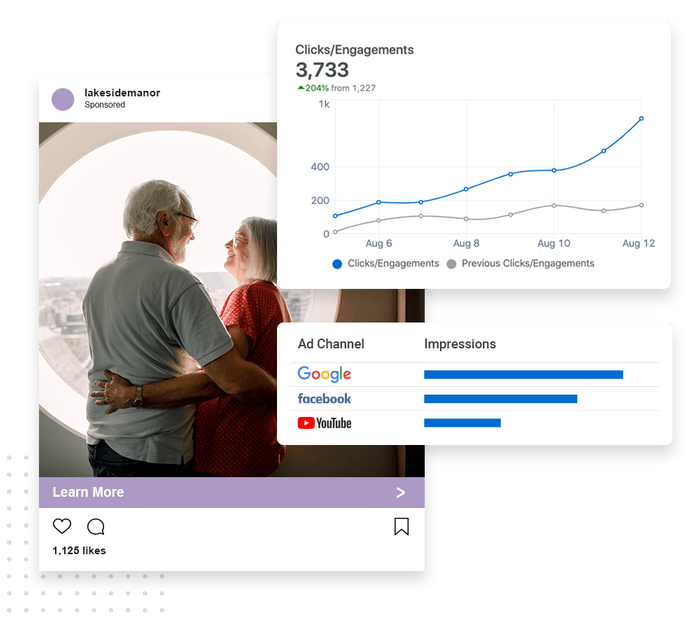 Get more leads with multi-channel advertising
Make sure that your assisted living stands out on all of the top channels, including Facebook, Google, YouTube and more, with multi-channel advertising. Create and launch campaigns, and carefully monitor ad performance to ensure you're getting the highest possible ROI.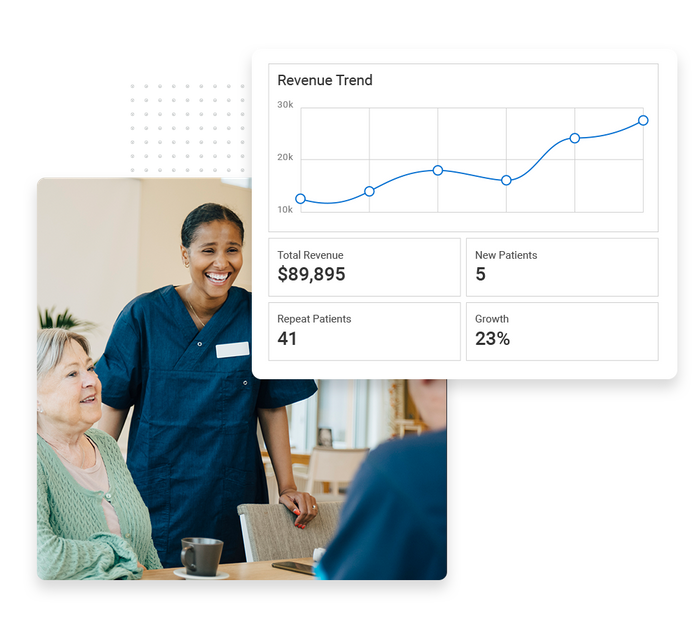 Monitor your success with overall performance reporting
With Intelligence, tracking your success and monitoring your performance is easy and uncomplicated. Get the tools you need to make data-driven decisions about your marketing budget and strategy.
"This software covers pretty much any marketing/advertising needs your company may have."
Diane M. | Sales & Marketing Manager
"It offers comprehensive functionalities for tests, target ads and campaign optimization."
Paul M. | Digital Marketing Director
"I consider Marketing 360™ as my most important and trusted business partner."
Dona S. | CEO/Owner
"The best part about this software is the ongoing support you will get with the Marketing 360™ team."
Drew R. | Owner
"Exceptional, prompt and innovative. Nothing short of fantastic!"
Katelyn P. | Office Manager
"I find Marketing 360™ to be cost effective, budget conscience, creative and very collaborative to work with."
Jodie S. | CEO
"Our future looks bright now that we finally found an online partner who actually cares about us as a customer."
Brian L. | Owner
"The software provides you with a real awareness of what is going on, therefore, giving you more control."
Laurence M. | President
"My experience with Marketing 360™ has been phenomenal. The best bang for your buck."
Jeffery C. | Sales Manager
Get the tools you need to help
manage and grow

your business.