The tools you need to help grow your
accounting firm
Increase your visibility, expand your client base, build a strong reputation, stay top of mind and more.
Be more visible
Get found on search engines, Facebook, Instagram and more.
Save time
Automated text and email campaigns help you save time and keep you top of mind.
Manage reviews
Generate and manage reviews from one place.
And so much more
The tools you need to help manage and grow your accounting firm from a singular platform.
The tools you need to help manage and grow your accounting firm from one platform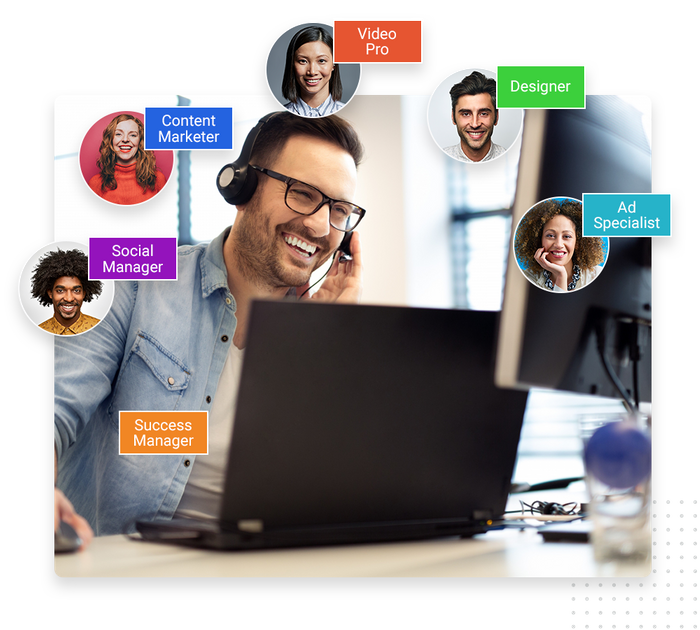 The marketing team to help you grow your accounting firm
Not only can you get the tools you need to help scale your accounting firm, but you can also get the do-it-for-you marketing programs and a marketing team to help you grow — all from one platform. Let us focus on growing your accounting firm so you can focus on running it. Learn more.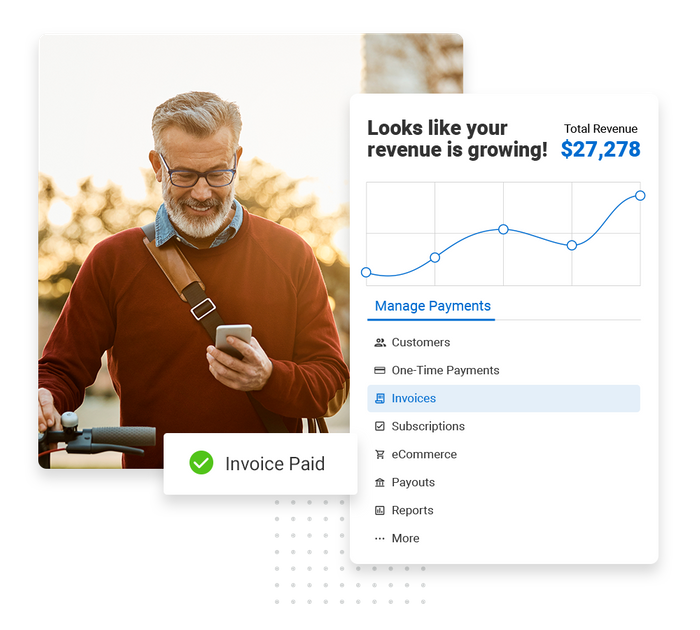 Easy payment and invoice management
Give your clients the ability to make payments on your website with leading payment solution. You can also create invoices and monitor the status of existing invoices from one dashboard, making it easy to see which invoices are open, paid or overdue.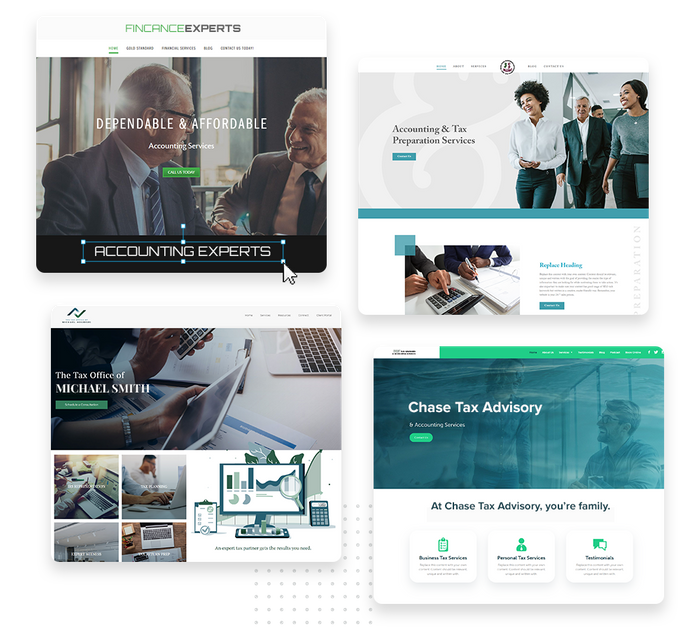 Turn leads into clients with the right website
Get a professional, modern accountant website that makes it easy for prospective clients to learn about your firm and services, book appointments and more. Attractive, customizable designs and a drag-and-drop editor make it easy to manage and update your website.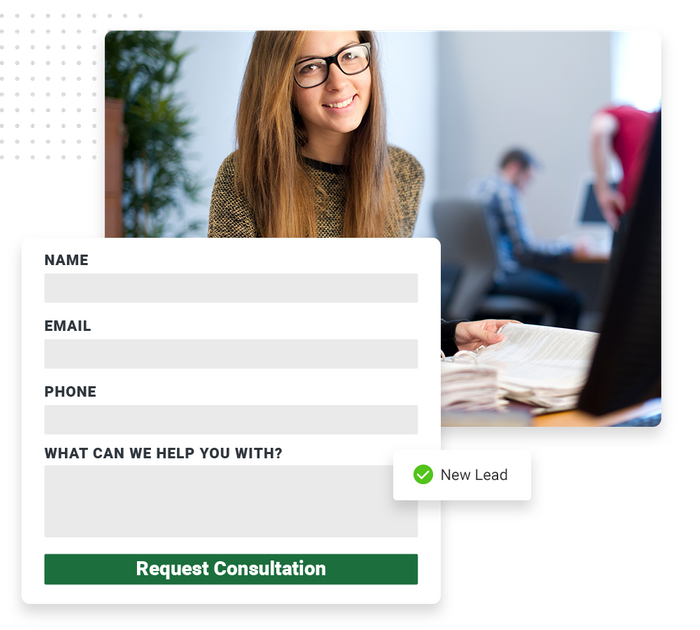 Ready-to-go accountant forms
Get ready-to-go accountant forms for your website that sync with the CRM. All forms are easy to edit or customize. It includes forms for things like free consultations, scheduling appointments, capturing feedback and more.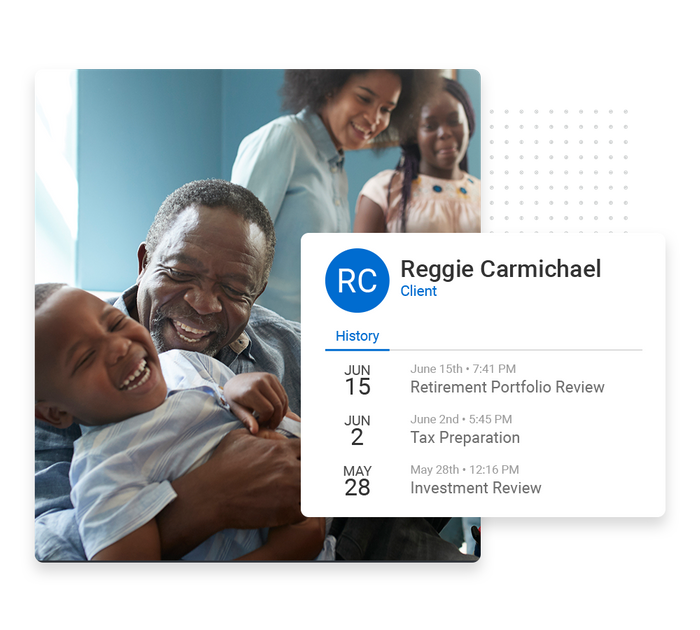 Manage lifelong clients with an accounting CRM
Use a CRM that streamlines client relationship management and is designed for CA's and accounting firms. Keep track of day-to-day client communications, schedules, tasks and contacts from a single dashboard that can be customized to your organizational style.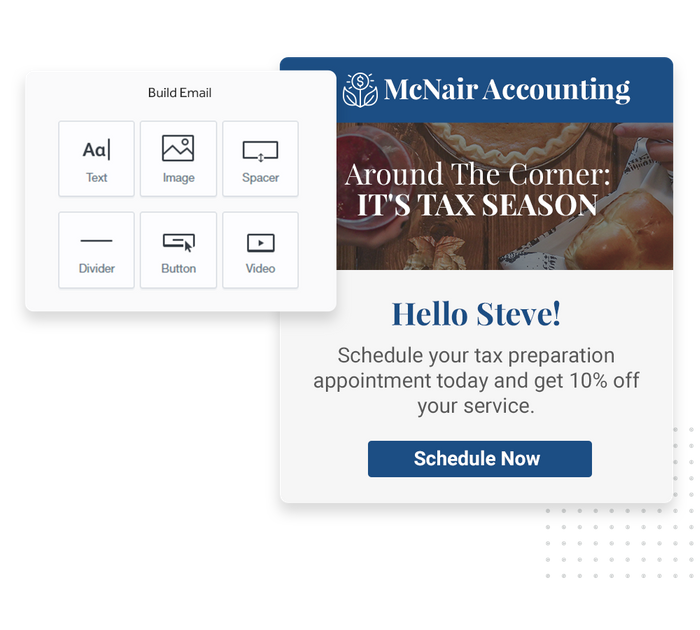 Out-of-the-box accountant email campaigns that work
Keep your clients up to date with relevant reminders, give them the information they need to get through tax season, generate more reviews and more with email marketing. Attractive, accounting firm email design templates make building email campaigns fast and easy.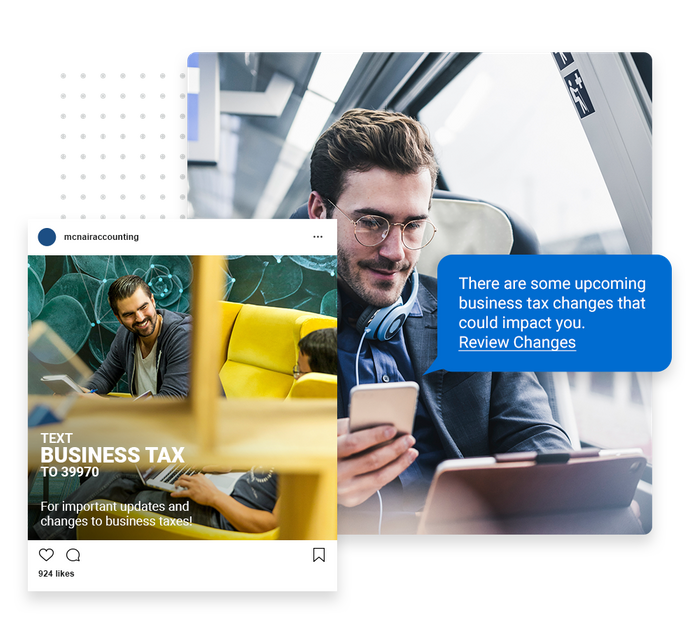 Get new clients with text message marketing
Take advantage of text message marketing to stand out and grow your firm. Text message marketing is highly effective with the younger demographic. It's also a great way to send seasonal reminders to fill your schedule in advance.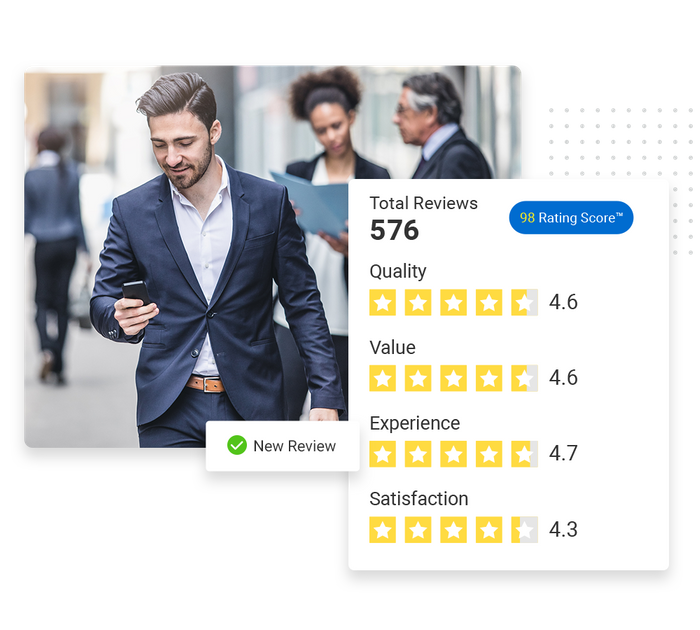 Build a strong online reputation for your firm
Make the right first impression on prospective clients by building a strong online reputation for your accounting firm. Generate and manage reviews across the web from one place and gain more control over your reputation.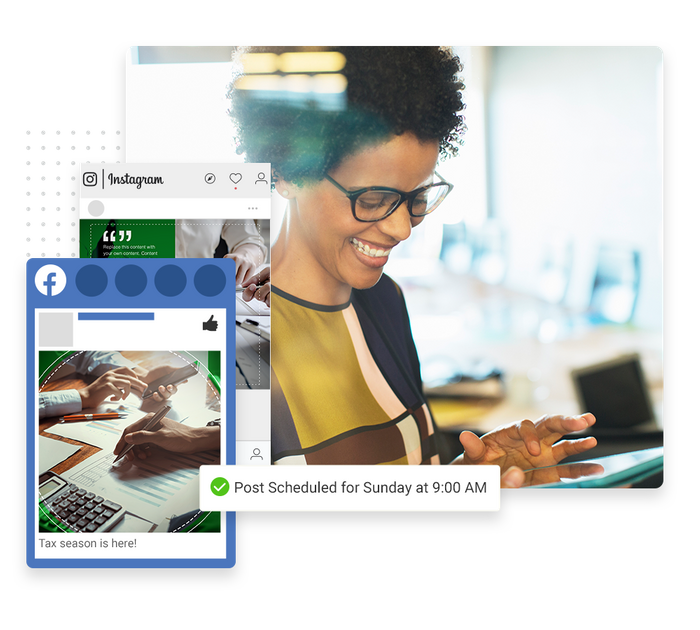 Connect with your clients on social media
Social media is perfect for expanding your reach, establishing trust in your firm and building stronger connections with your clients and community. With Social, it's easy to manage your presence across Facebook, Instagram, LinkedIn and more, and you can do it all from one place.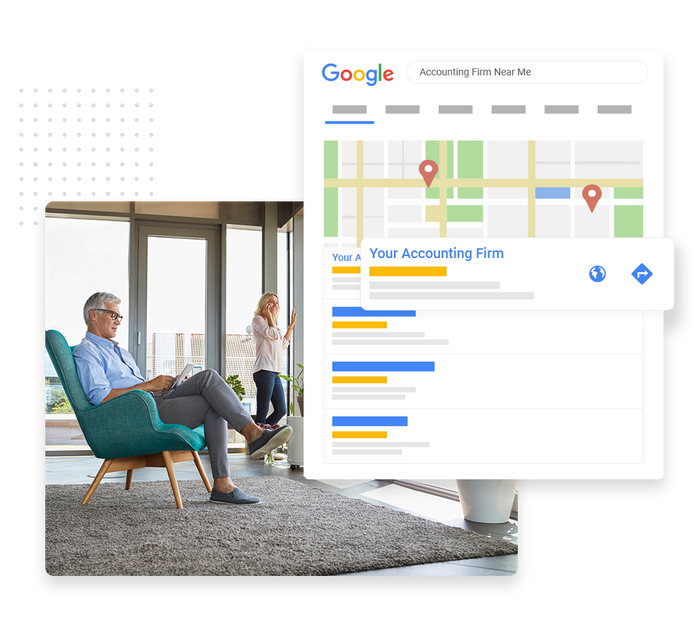 Get your firm ranked high with content marketing
Generate low-cost organic leads and get found on search engines, like Google and Bing, with content marketing. You'll also get easy-to-understand analytics to help you keep a close eye on your keyword rankings and organic performance over time.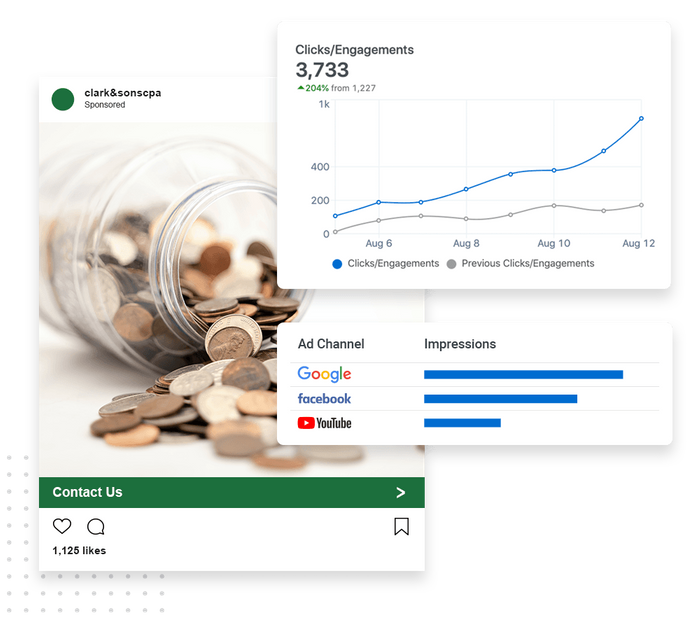 Acquire clients with multi-channel advertising
Get quality leads across Facebook, Google, Instagram, YouTube and more with multi-channel ad campaigns. Drive results and maximize your ROI by keeping track of what's working, what isn't, and letting the data guide your strategy.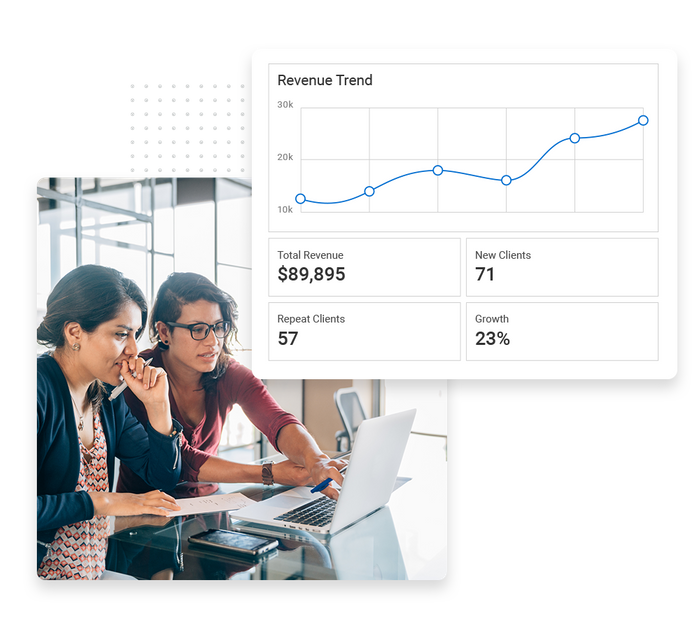 See how you stack up
Get the data you need to make informed decisions about your marketing budget and strategy with easy-to-understand analytics reports. At a glance, you can compare and contrast the performance of individual marketing channels, monitor website activity and more.
"This platform lets any motivated owner easily control their sales and marketing business — from a daily spend perspective down to a robust CRM and everything else in between."
Bruce A. | Principal Accountant
"I would not be doing the sales that I have if it wasn't for Marketing 360. I am experiencing a 6-8 times return on my investment."
Gregory D. | Director of Operations
"Marketing 360 has grown our business more than 300% in less than 4 months."
Dale M. | Managing Partner
"The combination of a web platform , CRM, virtual marketing , ad copy and email marking platform makes Marketing 360 complete the whole ecosystem that a small business needs to grow."
Pat M. | Owner
"Outstanding customer service and support."
Michael M. | Owner
"My business and social media exposure have increased significantly with their help."
Danielle W. | Owner
"The team made my website-creating experience so easy!"
Jessica G. | Administrative Assistant
"Marketing 360 is helping us make marketing a priority of our business for the first time in our 22-year history."
Chandler J. | Director of Business Development
"Since I started working with them, I have seen a big change in my business."
Greg B. | Co-founder
Get the tools you need to help
manage and grow

your business.